Comey Testifies Before the Senate Intelligence Committee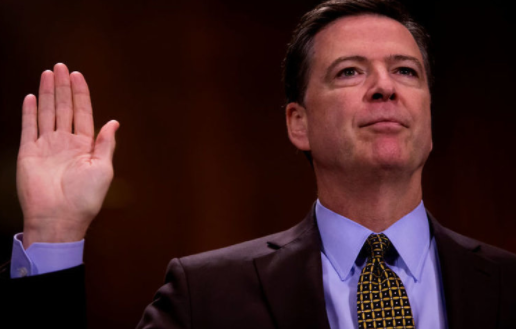 Former FBI Director James Comey testified before the Senate Intelligence Committee on Thursday in regards to the ongoing probe into Russian interference into the 2016 Presidential Election and possible collusion with the campaign of President Donald J. Trump. In the highly anticipated public hearing, Comey, who was only fired by Trump recently, revealed many newsworthy bits of information and a description of his encounters with Trump early on in the presidency.
One of the main points of discussion revolved around the accusation that President Trump asked then-FBI Director James Comey to "let go" the investigation into Michael Flynn, Trump's original National Security Advisor, and into the campaign in general. Comey testified that Trump did not directly ask him to drop the investigation into Russian meddling in the 2016 election.
Comey accused Trump of lying several times or expressed worry that Trump would lie in the future. Comey explained why he began writing memos that described these meetings with President Trump, saying, "I was honestly concerned he might lie about the nature of our meeting," and "I knew that there might come a day where I might need a record of what happened, not just to defend myself and FBI and the integrity of our situation, and the independence of our function."
He also accused the administration of trying to "defame" him, referencing the administration's claim that the FBI was in "disarray," under poor leadership, and had low morale. Comey called these statements "lies, plain and simple."
In one of the most bombshell moments of the hearing, Comey admitted to asking a friend of his to leak his own memos to the press, specifically the New York Times, in hopes of forcing the appointment of a special prosecutor. Political pundits are describing this move as a demonstration of Comey's political tact, despite the fact he led a nonpartisan agency.
The Senate Intelligence Committee referenced a tweet from Trump that said, "James Comey better hope that there are no 'tapes' of our conversations before he starts leaking to the press!" Comey said this tweet prompted him to feel the need to get his memos into the "public square."
This all comes not longer after the appointment of a special, independent counsel in the Justice Department led by Robert Mueller. Comey gave all of his memos to Mueller, who Comey believed would look into the possibility of obstruction of justice.
The ambiguity over the existence of tapes, which the White House did not confirm nor deny in a press briefing on Thursday, will likely remain in the spotlight as Comey and others in Congress call for their release. In the hearing, Comey said he hopes there are tapes and that Trump should "release the tapes."
Comey also said he believed that his firing was directly related to the President's discontent with the ongoing investigation.
Trump received some mild defense from some of the GOP senators. Senator Risch noted that Trump said "I hope" when he asked Comey to drop the investigation, but Comey said he took the President's statement as a "direction." Another argued that even if Trump was wrong, it is not necessarily obstruction of justice, an impeachable offense.
Comey was also grilled by some GOP senators on why he chose not to speak up or tell the President that a private meeting would be inappropriate, and he responded that he was "stunned" and should have been "stronger."
President Trump's personal attorney, Marc Kasowitz, came to Trump's defense not long after the hearing, saying that the President never "directed or suggested" that Comey stop any type of investigation.
He also discussed how politicians on both sides of the aisle had pressured him as FBI Director, noting that Democrats like then-Attorney General Loretta Lynch urged him to call the investigation into Hillary Clinton's email a "matter" instead of an "investigation."
This testimony will likely keep the investigation moving forward, and, next week, the Senate Intelligence Committee will interview Jared Kushner, one of Trump's advisors and son-in-law.