Hola, Senorita Martinez! Welcome to Hills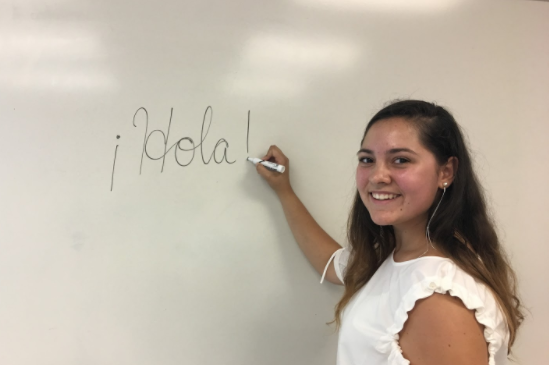 Senor Priddy's photos may be gone, but taking over room 232 and classes is the latest addition to the Pascack Hills family: Senorita Vanessa Martinez. A 2017 graduate of Montclair State University, Martinez is teaching Spanish 2 Honors, Spanish 3, and Spanish 4.
Growing up not too far from here in Morris County, Martinez learned the language through her family, speaking spanish since a young age. "We speak Spanish at home with my parents, uncles, aunts, cousins and grandma who all came from Colombia." Martinez attributes her fluency to them.
As a child, Martinez looked up to her teachers as role models and was inspired by them, so it's no coincidence she's teaching now. In the fourth grade, Martinez's teacher helped her become more confident, and able to speak in front of class. Since then, she's been leading presentations and projects, and her easy-going attitude leaves a friendly face in the hallways.
In high school, Martinez wasn't exactly the teacher's pet, but enjoyed learning, hanging out with her friends, taking two years of drama club, and even taking French. Now at Hills, she can't wait to see the upcoming play and musical, as well as check out our sports (and our Cowboy Crazies section) to get to know her students more.
Mostly teaching upperclassmen in her higher Spanish classes, Martinez says, "Not so long ago I was an upperclassmen. I feel as though I can provide helpful advice to them relating to college as well as common stresses that come with school."
When she's not teaching Spanish, Martinez enjoys being outside and active: hiking, jogging, walking, camping, and stargazing. While it's still warm outside, she takes any opportunity to take in the fresh air, a fun fact used in a true or false quiz at the start of school.
Martinez reminds students that even though she's new, she can't wait to meet everyone and encourages all of us to take a language. While it may be tough at times and challenging, it's definitely rewarding.