Sad, Stranded, and Scared: The Aftermath of the Hurricanes
A mother holds onto her young daughter's hand as they wade through the waters on their front lawn, desperately hoping that someone, anyone, will find them. The last few days the two prepared for a hurricane that would wreak havoc on their hometown in Florida, and, when it hit, it brought more destruction than the two had ever seen. With the strong gusts of wind and sheets of rain, it's obvious that the violent weather is a result of only one thing: hurricanes. In the past month alone, hurricanes, the most destructive being Harvey, Maria, and Irma, have completely destroyed parts of the U.S., its territories, and countries surrounding it.
Hurricane Harvey hit Corpus Christi, Texas August 25 through September 3. The storm led to extreme flooding in places such as Houston, and hundreds of homes were destroyed. Pascack Hills had a short fundraiser for people affected by Hurricane Harvey and asked for things such as toothpaste, toilet paper, and paper towels. Outside of the school, organizations such as the Red Cross asked for donations from people as well. However, some students believe that people may not be doing enough. "I think now that the storm is over, people don't realize the after effects, so they donate once, say 'oh I helped,' and then stop" said freshman Larissa Aquaviva.
Hurricane Irma,which occurred on September 10, led to practically an entire state having to evacuate, and causing major damage to Southern Commented [1]: Good job. Picture needed to be published Florida, where lots of students at Hills say they have family. "It's devastating seeing those photos of the aftermath of the disasters. I can't imagine what it would be like to deal with that. I think we all have to do as much as we can to help." said freshman Caity Parkes, whose family lives in Florida.
Although not making landfall in the U.S., Hurricane Maria led to a loss of power and communications with the outside world for almost all of Puerto Rico, a U.S. territory, when it hit on September 21. As of right now, there is still major flooding and damage to the territory. Lots of students agree that although it did not have a major impact on the mainland, people still need to help and donate. "Its devastating and tragic. I know someone there who went to visit her family and is stuck there until further notice." said freshman Jessica Gudin.
All in all, most people can agree that hurricane season has brought major destruction to parts of the U.S., its territories, and countries in the Caribbean. Students should remember that even though the Hurricane Harvey fundraiser is over and even if they've donated before, there are still donations needed to help places such as Houston, Florida, and Puerto Rico. "Lots of money will be needed to restore these cities," said freshman Simmie Brisman. "Everyone needs to take action."
Leave a Comment
More from the contributor(s):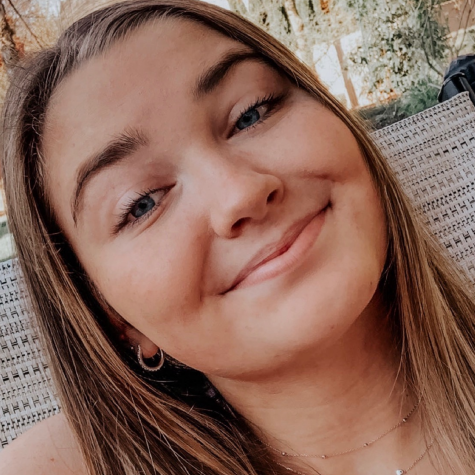 Mackenzie Blowers, Editor-in-Chief
Mackenzie Blowers is a senior at Hills and is excited to be Editor-in-Chief of the Trailblazer along with Jared Mitovich. Before becoming Editor-in-Chief, Blowers edited the College Corner section of the Trailblazer and helped manage the paper's social media. She's looking forward to working with the Trailblazer staff to continue reporting with Hills Pride.

Fun fact: She loves to travel and collects pins from every city and country she visits!