What the Las Vegas Shooting Means to Pascack Hills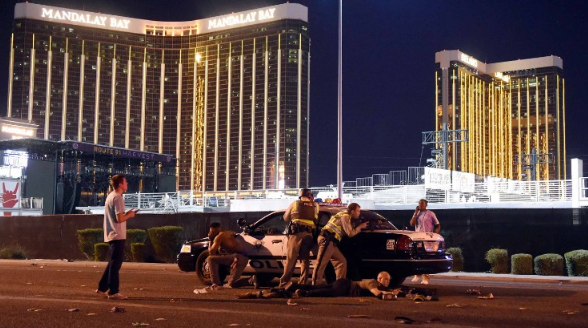 32135.
That was the number of the Mandalay Bay hotel suite that Stephen Paddock, a 64-year-old retiree of Mesquite, Nevada, checked into on September 28, in Las Vegas, Nevada. It was also the headquarters of what would become the deadliest mass shooting in modern U.S. history.
Over a period of three days, Stephen Paddock hauled a plethora of ten suitcases into room 32135, not considered unusual for a city like Las Vegas. However, inside those suitcases were hundreds of rounds of ammunition and twenty-three weapons ––  including several fully automatic machine guns which, on the night of October 1st, were used to rapidly fire upon a crowd of thousands of concertgoers 32 stories below.
The concertgoers, who had been dancing, singing, and laughing at the Route 91 Harvest country music festival all night long, suddenly had their lives forever changed on what seemed like a perfect Vegas evening, a hail of gunfire raining down on the festival. After the gunfire started, then stopped, and started again repeatedly, over 58 lives had been taken –– including the gunman, who took his own life after causing the madness. An additional 527 were injured and were rushed to several hospitals in the area, beginning an unprecedented night of tragedy, horror, confusion, and a reignited gun control debate.
Although initial investigations suggest Paddock acted alone, his actions represent what many consider the epitome of mass shootings.
After all, in a period of just twenty minutes, one person managed to significantly change the lives of thousands: the more than 58 killed, the 527 injured, and their families, friends, and communities. What's more, local and federal authorities say retiree Stephen Paddock planned his massacre down to the smallest details, including placing cameras outside and inside his hotel suite to watch for incoming police activity, locating firearms in several of his real estate-associated properties, and checking into a suite with a perfect view of the festival below, as well as the rest of the Las Vegas strip.
Nevertheless, as dawn broke some 2,500 miles away from the tragedy, classes at Pascack Hills went along as normal, despite the discussions beginning to surface.
"I think that this [the Las Vegas shooting] provides the opportunity for people in our school to learn that this is a serious situation, and we need to be careful and smart about the decisions we make regarding these types of destructive, terrible events," said freshman Ava Henrich when asked what she thought about the massacre.
Henrich also said that today's youth have matured into people who are used to these types of horrific events and that she believes that factor is a tragedy on its own. Although far away from home, the shooting sparked significant conversation through the halls of Pascack Hills.
When 9th grader Julia Capparelli was asked if she felt desensitized to, or more used to, tragedies such as those in Las Vegas and around the world, she said, "not necessarily, because a tragedy is still a tragedy – whether it has happened once or one hundred times."
However, Lauren Eusebio does feel more desensitized to gruesome events she hears about. Referring to the Las Vegas shooting, Lauren said she feels less likely to be shocked by tragedies  "because the U.S. continuously fails to establish adequate gun control laws, the frequency of events like these is not surprising in the least." She also said that she feels "like almost every week there's something new" and that "history is like a circle, with the U.S. continuously doing the same things yet expecting different results."
After many on social media criticized the president and his party for their inaction regarding gun control, President Trump said that "we will be talking about gun laws as time goes by," during his address to the nation on October 2nd.
Overall, people say they hope that the Las Vegas events showed that shootings are a significant problem in the United States, and that action will be taken locally and domestically to prevent such disasters like those in Las Vegas from happening again. And, whilst this specific shooting in Las Vegas was nowhere near New Jersey, the general consensus by Pascack Hills students and staff was that as these types of tragedies continue to occur more and more often, the level of awareness should not go away. Many also expressed gratitude to the police authorities in Las Vegas for saving countless lives on October 1st and also for local authorities for doing everything they can to keep Pascack Hills safe.
Leave a Comment
More from the contributor(s):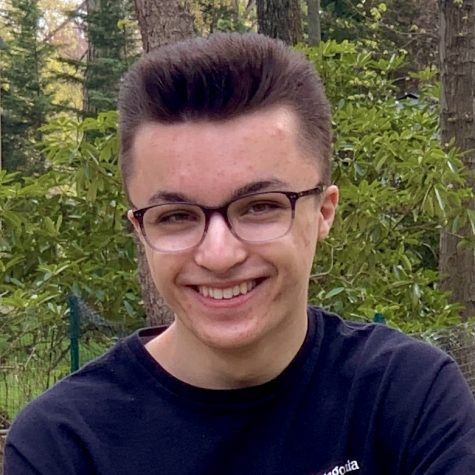 Jared Mitovich, Editor-in-Chief
Jared Mitovich joined the Trailblazer his freshman year as a staff writer. He has helped manage the Trailblazer's social media since his sophomore year, and in his junior year he edited the Opinion section. Now in his final year of high school, Mitovich is looking forward to working with Mackenzie Blowers as Editor-in-Chief along with the entire Trailblazer staff. You can follow him on Twitter at @jmitovich!

Fun fact: Mitovich once met a presidential candidate.