A Fall Show Preview: Bonnie and Clyde
Fall might be the time for apple picking, Halloween and Thanksgiving, but it's also the time for the Pascack Players to perform their annual fall show. This year, they are performing Bonnie and Clyde, a musical chronicling the story of the infamous outlaw lovers Bonnie Parker and Clyde Barrow.
Historically, Bonnie and Clyde were infamous criminals, known for robbing and killing others in the United States during the Great Depression. It is believed that they met in West Dallas in 1930 and instantly became smitten with each other. This sparked relationship lasted until they were killed in Louisiana on May 23,1934 by four Texas police officers who were after them.  
For the musical, some creative liberties had to be taken, but still presents an accurate portrayal of the infamous lovers and their later decay.
The musical takes place during the Great Depression in Texas and features a musical score that can only be described as a combination of rock, country, and a little bit of blues.
"Bonnie and Clyde is the perfect type of show for a fall show," said Peter Fournier, director of the drama program at Pascack Hills.  "It's the perfect type of show in terms of separation between leads and ensemble.  It gives everybody a solo or two."
Fewer students are often involved within the fall show, which is why Fournier decided this title would fit the season best. He described Bonnie and Clyde as "a fun and modern day rock show" and "the best of both worlds." Fournier also said that fall auditions were full of surprises, including Yemie Woo's audition for Blanche Barrow, Clyde's sister.
Yemie Woo is a freshman at Hills and has been a part of the theater program at her middle school. Fournier said that her audition "blew him away" during callbacks and that he knew that she was perfect for the role.
"I'm really excited and I know it's going to be a good show but I'm nervous too," Woo said about her role.  
Woo said that she is most excited for the song "God's Arms," which is a pivotal song and dance number.  However, she felt that the group needed to work more on transitions to prepare for opening night.
Elisa Falanga, the junior who plays Bonnie Parker, is excited for all of the songs in the show.  Her favorite song is "Dyin' Ain't So Bad," which Bonnie sings toward the end of the show.
"I think this Pascack Hills pool of talent is very fitting.  A lot of the characters are made for certain people," Falanga said.
To prepare for her role, Falanga said that she rehearses her lines and drinks lots of tea with honey to preserve her voice.  She also practices her Southern accent for her performance.
Grady Johnson, a senior who plays Clyde Barrow, said that he prepares for his role by working on his vocal range and pacing himself so he can conserve his voice, since Clyde has a higher pitch range.  
"The songs are probably the best part of the show," Johnson said.  "They're really fun and upbeat."
Johnson also said that rehearsals have become a lot more intense since the start and that the cast has gone from being laid back to "being kicked up ten notches."
"Come out and support us," Johnson said.  "It's a fun and entertaining show.  It's my favorite, and in my opinion, the best show we've put on."
The show runs from November 2 through November 5 at 7-9:30 p.m. on November 2-4 and at 2-4:30 p.m. on November 5.  Tickets are now available at brownpapertickets.com.  They are available for students for $10 while general admission costs $15.  Tickets are also available the day of the show at the door, but those tickets will be more expensive.
Leave a Comment
More from the contributor(s):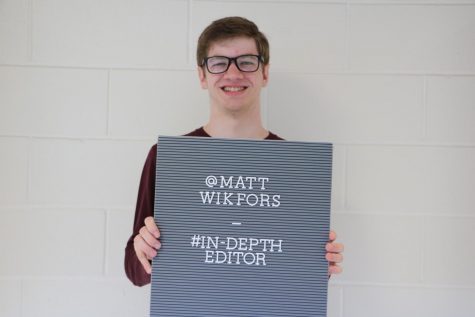 Matthew Wikfors, In-Depth Editor
Matt is a senior and this is his second year as the In-Depth editor for The Trailblazer. Matt is excited to lead writers into hard-hitting journalism and write exposés. Although he's sad his time is ending soon, he knows that his proteges will do well, but until then, he is ready to teach them all he knows!