Montvale Discusses Movie Theater, Townhouses; Woodcliff Lake Plans Affordable Housing
Local development throughout Montvale and Woodcliff Lake continues to boom, with plans for lower-cost housing, single-family condominiums, and possibly a shopping center next in line for both Bergen County boroughs.
In several locations across Woodcliff Lake and Montvale, mayors Carlos Rendo and Michael Ghassali have approved planning to build hundreds of townhouses, rentals, and homes, a large portion of them designed for median-income families.
After a series of negotiations, Woodcliff Lake put to rest a long-lasting dispute over the minimum number of affordable units the town is required to build. In what the mayor called a "win-win", Woodcliff Lake lowered the amount from 552 to 386 separate residences.
As a result, Woodcliff Lake is building 16 rental homes that will be located along Broadway. Several existing properties throughout the town have been renewed to retain their middle-class friendly status for another 30 years, too.
The new focus on affordable homes isn't just limited to Woodcliff Lake, however. Just a town over, Montvale has also presented a large plan to rezone existing properties and create new ones suitable for working-class families.
Across from Wegmans, over 300 houses are planned to be constructed, part of a large multi-use development that will replace the existing Mercedes Benz headquarters. An additional 80 reasonably-priced housing units will be built a few streets away on Paragon Drive.
What's more, the development planned across from Wegmans would not be solely residential; developers have proposed the construction of a hotel, theater, office space, and a shopping center, too.
Although these developments are still being negotiated, Pascack Hills student Samantha Iriarte says that she thinks that "those places [the multi-use complex] would get a lot of business and make Montvale a more popular place to be" and that they "would increase the business of Wegmans."
Freshman Melissa Maday also says that "it's a good idea [building the multi-use complex] because it will add more jobs and help the economy." However, Maday also believes the cons outweigh the pros, suspecting that "adding a building like that would add more cars, creating even more traffic in the area with the still-limited parking."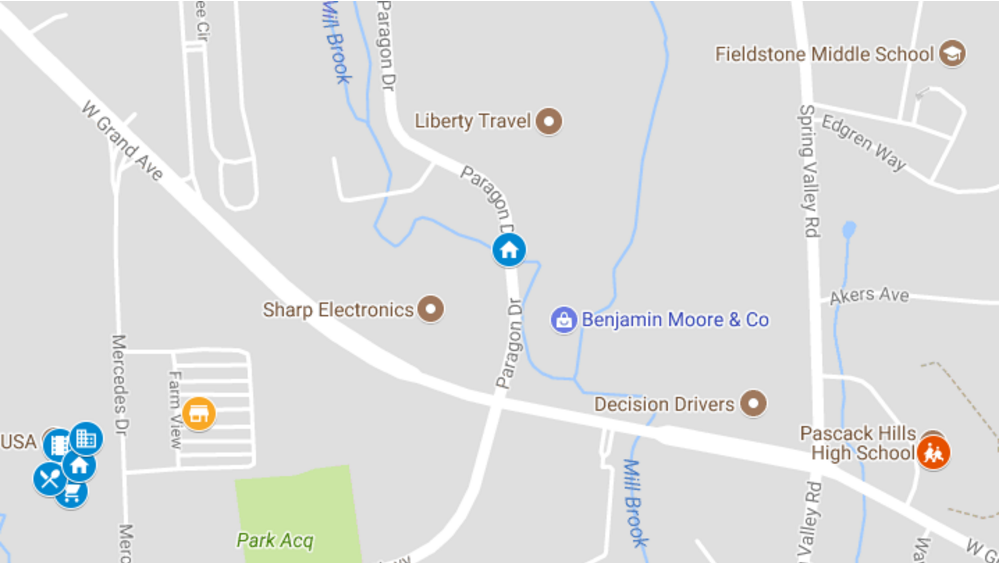 A map of where the proposed shopping center and townhouses (blue) would be located in relation to Wegmans (yellow) and Pascack Hills High School (red). Photo credit: Google My Maps.
In the past 5 or so years, Montvale and Woodcliff Lake have been booming in new local developments, including the construction of Wegmans, the Bristal Assisted Living, and Life-Time Fitness. However, not everything has gone according to plan. A proposal by Woodcliff Lake Mayor Carlos Rendo to transform Broadway into a downtown-like area was met with disapproval by residents, who cited that they did not want that kind of development in the area. Shortly after its proposal, the plan was dropped.
As the Montvale Planning Board continues to question the proposal for the townhouse-shopping center-theater complex, it should be noted that any development will not happen quickly. In the meanwhile, Pascack Hills students will continue to be able to go to Wegmans for lunch as well as other spots in the area.