Amazon's Futuristic Grocery Store Opens to the Public with No Lines or Cashiers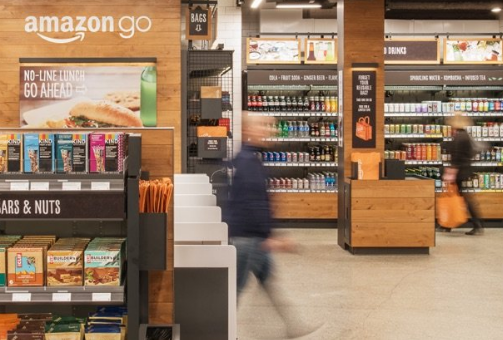 Is the future of shopping here? Many seem to think so.
On January 22nd, Amazon opened its prototype grocery store to the public in Seattle. Over two years in the making, Amazon Go is a grocery store for the future; it implements today's tech to give customers a brand new, "fresh" shopping experience –– a new way to get the ingredients for that delicious cookie recipe. This experience is summarized by the store's "Just Walk Out" slogan. But how exactly does it all work?
First of all, shoppers have to download the Amazon Go app prior to entering the store. This app is connected to their Amazon account and is required in order to register purchases. It works hand-in-hand with the physical store, which corresponds with the virtual app by using what Amazon calls "the world's most advanced technology." The result is a fluid shopping experience.
With the app installed, shoppers can enter the store. There, they are greeted by a row of subway-like entry gates, where they can scan a personalized QR code accessible via the app in order to begin shopping.
QR code scanned successfully, shoppers can simply take items off the shelves as if they were taking items out of their fridge. Lining these shelves are prepared foods, meal kits, groceries, and liquor. Although it may seem simple, behind it all is a remarkable –– but slightly complicated –– technology. Every time a shopper picks up an item, it is added to their "virtual cart." If they decide that item is unnecessary, simply placing it back on a shelf will remove it from the cart. This is possible because of the weight sensors built into the shelves that can detect each item's position and the hundreds of cameras hung from the ceiling that can track each shopper's location. Basically, in Amazon's vision of the future, there are no barcodes.
There are still employees, however. A blend of Apple Store techy and supermarket clerk, Amazon Go staffers wear orange puffers, know the kinks of the store's advanced technology, and are happy to help their customers.
When a shopper has completed filling their virtual cart (in real life, they put food in an orange, reusable grocery bag), they can walk through the gates by which they entered the store. Doing this will charge the purchase to their Amazon account and complete a successful trip void of lines and cashiers.
Although the Seattle Amazon Go store is currently one-of-a-kind, it won't stay that way for long. Amazon plans to open around twenty stores over the next two years. However, the store does have its drawbacks, including the fact that it does not accept food stamps as a means of purchasing and the fact that the Amazon Go app is unavailable on older smartphone models. As technology becomes more and more widespread, however, the latter issue will likely become less and less of a problem.
Overall, Amazon Go may or may not set be the role model for the next generation of shopping. With more and more stores shuttering their doors everyday, it could be difficult for Amazon to turn the tide around and counter the realm of online shopping.