The National Walkout at Pascack Hills High School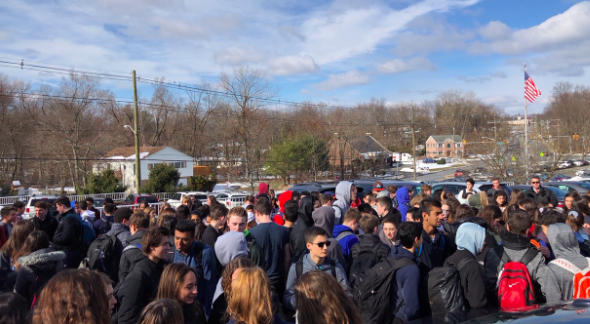 Ever since the tragic Parkland school shooting and other school shootings across America, teenagers and numerous American citizens have raised their voice in their opposition towards gun violence and the loose gun laws. After the rally at the Florida Capitol on February 21, a National Walkout has spurred into many schools in America to support the Parkland survivors movement. On March 14, students from Pascack Hills High School joined other schools to silently protest gun violence and honor the students who lost their lives during the shooting.
Pascack Hills High School had a delayed opening at 10 in the morning on Wednesday, and students, teachers, and administrators from the school all gathered together to leave the school for 17 minutes to honor each of the Parkland shooting victims. Students held signs with slogans, expressing their beliefs and thoughts about the situation schools are facing with safety.
"I think many people in the administration support the reasoning behind the walkout, and they have said that they would support it. I just hope that people will still do it," said sophomore Gabe Broadman, an advocate against gun violence and one of the members who started the petition in our school.
During the walkout, students including sophomores Sean Sheikowitz and Avery Paulen as well as senior Olivia Lein presented speeches, voicing out their opinions in regard to the government's action and giving a moment of silence to the students and teachers who were unable to survive the shooting.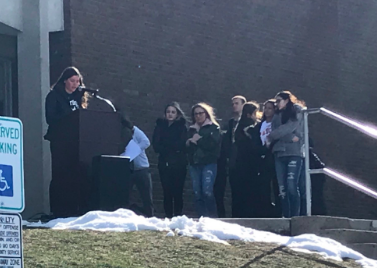 Photo Credit: Suha Niyas
A photo of one of the students giving a speech about today's walkout and the issues that surround it.
"I believe it is fantastic that I work in a place where the student body can unite and organize in support of a super important issue," said English teacher Jamie Marootian-Miller.
Overall, the school walkout was a success with most of the students and administration walking out of the school, silently listening to the speakers, and giving a moment of silence to the ones who have past.