Shooter Dead and 2 Students Shot in Maryland High School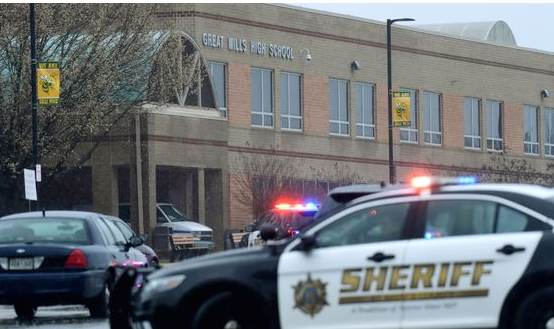 Less than a week after Great Mills High School students walked out to protest against gun violence, they fell victim to the deadly epidemic. Shortly before classes began and a normal school day appeared to be beginning, shots rang out as Austin Wyatt Rollins, who was armed with a handgun, shot two students: One male and one female. A school resource officer later returned fire and killed Rollins, who is presumed to have been a former student at the Maryland school.
It was the 17th high school shooting in the US this year as the cry for gun control continues to grow louder. However, school safety measures prevented the scene from escalating, as a school resource officer responded in less than a minute and fatally wounded the shooter.
Two students were still injured: A 16-year-old was critically injured and a 14-year-old was seriously injured. Eventually, the shooter himself was confronted by Blaine Gaskill, the resource officer; he was either killed, not known if it was by Gaskill or himself.
Many Pascack Hills students could be heard talking about the shooting throughout the school day and their frustration with the lack of gun control. This shooting comes as Vice Principal Tim Weiland sends out an email to students letting them know there would be an "active shooter drill" sometime during the week of March 19. Nevertheless, Hills students were still shaken up by the news coming from Maryland.
"I never like hearing about these things, especially after what happened in Parkland," freshman Matthew Bourghol acknowledged upon learning about the Maryland shooting. "But I'm thankful that [the shooting] was stopped before it got worse, because who knows what might have happened?"
Many students from inside Great Mills High School recounted the traumatic experience, comparing the gunfire to the sounds of something falling off a shelf. People also began to cry, and teachers huddled students into classrooms as the school went into lockdown. Yet, this is just another shooting in this terrible epidemic hitting America a bit too hard.