Make Our Schools Safe Inc.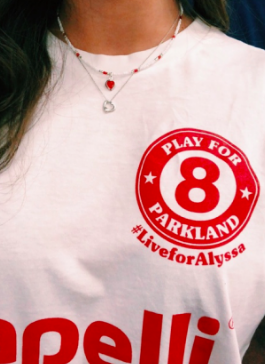 After the tragic shooting that occurred at Marjory Stoneman Douglas High School on Valentines Day, many were immediate in their call for change. One of the leading forces for an advancement in gun control is Lori Alhadeff, mother of 14-year-old Alyssa Alhadeff, one of the 17 victims murdered in the shooting. Alhadeff has put all of her energy into making sure firearms stay out of the hands of dangerous people so no one else has to experience the same pain she suffers. Although she cannot change what happened on February 14, she vows to make a difference and make schools safer for children all around America.
Alhadeff created a non-profit organization, Make Our Schools Safe Inc. The foundation's mission is to make schools safe for every student, everywhere, all the time, by implementing regulations and practices to ensure safety. The foundation will educate students and staff about the best possible practices to keep everyone safe. Alhadeff expressed that she would like all classrooms to have a clearly-known "safe-zone" for students to retreat to incase of an emergency.
One of the many game-plans the foundation has in mind is to make sure every school is safe by assigning its own personalized safety procedure. There will be many people around to help each and every school in perfecting their plan. Alhadeff said in an interview with Refinery29 that "Every school is different, every campus is different. These experts will go to schools and formulate a game plan."
The organization will also be making grants to schools to implement the best practices possible in leading to the safest possible schooling. On Sunday March 18th, local indoor sports complex, Superdome Sports, in Waldwick NJ hosted an event honoring Alyssa Alhadeff,  a prior Woodcliff Lake community member,. Over 600 people bought tickets before the event and more people attended the event by buying tickets at the door. All proceeds of the event went to the Make Our Schools Safe foundation.
Because this tragedy hit so close to home,  the community came together in helping advertise the event on Facebook and through word of mouth. When all was said and done, the Make Our Schools Safe foundation was able to collect an amazing total $27,000 in donations. This event was just the beginning of the donations to help fund the Make Schools Safe Inc.
Close friend of Lori Alhadeff and Woodcliff Lake resident, Nancy Bachman, said, "I absolutely support this amazing effort Lori and many others are putting into this foundation. I truly believe that it will make a difference in our future and we will see a day where students do not need to fear for their lives at school any longer."
Nancy shares this belief with people not just in the area, but all over the country, as the cry for stricter gun laws is getting louder and louder.
Alhadeff's organization is making a mark all over the country and it is only the beginning of the movement for change. In New Jersey, where the Alhadeff family lived for years before moving to Florida, a bill was passed called the Alyssa Law. The Alyssa Law, named after Alyssa Alhadeff, implements panic alarms in state schools incase of dire emergencies. This bill was created after the Sandy Hook Elementary massacre but was vetoed twice by New Jersey's former Governor.
Although Alyssa can no longer be here today, her legacy will live on and will be a large influence for change and safety all around America.