United States and Allies Launch Strikes Against Syria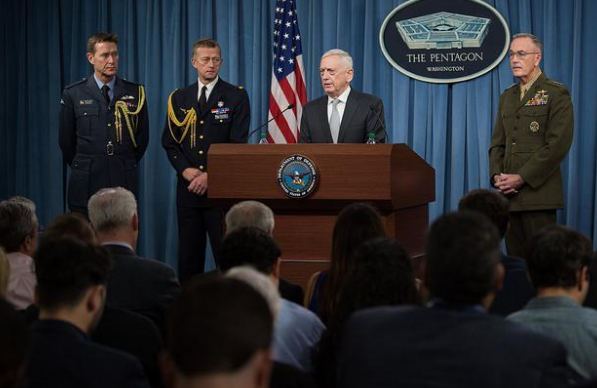 The United States, France, and the United Kingdom launched strikes against three critical chemical weapon facilities in Syria on Friday.
Trump announced live at 9 p.m. Friday night (4 a.m. Syrian time) that the U.S. was in the process of launching "precision strikes" against Syrian ground targets in an ongoing campaign to prevent the use of chemical weapons. In a press conference one hour later, Secretary of Defense James Mattis said the U.S. had conducted "decisive action to strike the Syrian chemical weapons infrastructure."
The first target, a research and development center in Barzeh, has been connected with developing chemical and biological weapons. The second target was a chemical weapon storage facility, and the third was a chemical weapons bunker facility that stored weapons and housed an important command post.
The Pentagon, the headquarters of the Department of Defense, made clear that the goal of these strikes was to degrade Syria's capability to "research, develop, and deploy chemical weapons." The Pentagon was also clear that standard deconfliction communication channels were used to avoid escalation with Russian forces in Syria. Secretary Mattis said the U.S. had "gone to great lengths to avoid civilian and foreign casualties."
The United States, France, and the UK condemned the chemical attack in the town of Douma, Syria, for which they blame the Syrian government, controlled by Bashar al-Assad. Russia and Iran provide military and economic support to Syria, and the U.S. has been careful to punish Assad and avoid large-scale confrontation.
This is the second time that Trump has ordered strikes against Syria in response to the use of chemical weapons, which are considered Weapons of Mass Destruction (WMDs) and are banned under international law. This strike, however, was conducted with the help of allies and targeted storage and production facilities rather than the specific air base from which strikes were delivered.
Chief Pentagon Spokesperson Dana White said Saturday morning that "this operation does not represent a change in U.S. policy nor an attempt to depose the Syrian regime," meaning the American strategy remains solely to defeat ISIS, not interfere in the Syrian civil war. Official U.S. policy holds that the Syrian conflict must be resolved through United Nations Geneva peace talks.
Lt. General Kenneth Mackenzie, Director of the Joint Staff, called the attack "precise, overwhelming, and effective" and said that 105 weapons were used to destroy 3 targets, including missiles launched from allied aircraft, submarines, and ships. While Syria did launch surface to air missiles in retaliation, General Mackenzie stated there was no successful interference and no reports of civilian casualties.
Syrian and Russian media are making various alternative claims, but both Secretary Mattis and Spokesperson White warned that the Russian disinformation campaign has already begun spreading propaganda online.