Tough Ruck Marathon Filled With Hills Pride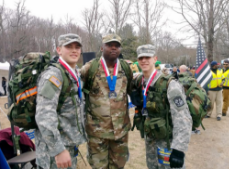 On Saturday April 14, 2018 military and civilians alike took their passion to the streets of Concord, Massachusets and Rucked in honor of fallen military, police, firefighters, and EMTs. Prior to the race, participants raised money for military families in need and now will walk a 26.2 mile course with a 20-40 pound Rucksack on their back, commonly used in the military, where they will "carry" the names of who they are participating for.
The Tough Ruck was its own independent event until on April 15, 2013, the day of the Boston Marathon Bombing, Tough Ruck finishers were at the finish line of the Boston Marathon and helped first responders by responding to the injuries following the attacks. After the help Tough Ruckers put in following the bombing the Boston Athletic Association affiliated the event with the Boston Marathon meaning every finisher receives the first official Boston Marathon Medals of the weekend and a  certificate.
At Tough Ruck 2018 Pascack Hills Alumni, John Aquaviva, ran the 26.2 mile marathon with the names of fallen soldiers on his back. In the months leading up to the Tough Ruck four members of Aquaviva's battalion, the Cramer's Sabers Battalion, raised $4,186 towards struggling military families.
In classic Hills fashion, multiple families and people in the community pitched in to help him reach his goal, including his old American Studies teachers Ed Sandt and Owen Haveron. Having this support from his former school and seeing that everyone was cheering him on, Aquaviva ran the marathon filled with Hills Pride and finished in 7 hours and 45 minutes.
After the race Aquaviva stated, "It was a fantastic experience for a great cause. I saw the strength and bond of the military and first responder community while running with a friend and my sergeant."
This was a common feeling among most of the people attending knowing that the Tough Ruck raised $614,440 for the Military Friends Foundation to help a wonderful cause. Being at the event, seeing a large group of people cheer on the runners and come together for a great cause made the muscle aches and blisters all worth it and left every participant, civilian and military with a wonderful feeling of hope and relief for the future of the military families in need.