PHHS Students Win 1st Place at DECA ICDC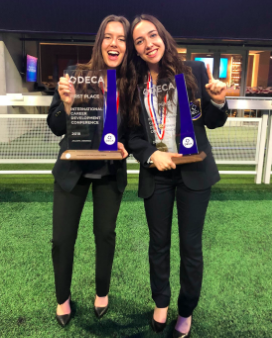 Pascack Hills' DECA is one of the most popular clubs in the school with over 130 members. Through each competition, the school advances to the next round with fewer students than they started with and, with 14 students left, Pascack Hills DECA made it to the final and most competitive event of the entire season: ICDC (International Career Development Conference).
ICDC 2018 took place in Atlanta, Georgia from April 21-April 24. Over the course of those days, more than 19,000 members competed in their selected categories, with the Pascack Hills students joining them. When it came to the mini awards ceremony, three Pascack Hills students won mini awards but were still waiting to hear who won their entire category at the regular awards ceremony.
When it was time to hear the results of the Financial Services Team Decision Making roleplay, seniors Sam Snedeker and Natalia Murillo walked on stage, waiting to hear the verdict. When it was read, the two cheered with joy. They had won first place out of the 220 teams they competed against. Larissa Aquaviva, a freshman and DECA member, was so happy to hear that they had won in Atlanta. "I think it's amazing to see Pascack Hills students winning first place internationally," she spoke.
The two seniors are the first Pascack Hills students to win first place at ICDC. Last year, Sam Snedeker placed in 3rd for her solo category. Natalia Murillo, who won alongside Sam, talked about how rewarding the experience of winning 1st place was.
"Competing in ICDC is one of the most rewarding experiences I have had in high school," she spoke. "You talk to people from all over the world. I made friends from Kentucky, California, Ontario, and even Puerto Rico. It's cool to compete and bond over a common interest in business and entrepreneurship."
Natalia Murillo and Sam Snedeker chose to work together because they are best friends. They noted how without the help and support of the DECA supervisors, Corin Gamgort and Paul Henry, they probably would not have won.
"Sam and I are best friends and to win first place together on an international stage is something we will never forget," Murillo continued. "We were both so shocked when they called us up to the stage. None of this would have been possible without the incredible support of Ms. Gamgort and Mr. Henry. Both advisors spend countless hours preparing us for the trip and guiding the whole team to success."
Gamgort, a business teacher at Hills, has been the DECA supervisor since the club began a few years ago. She was ecstatic when she saw two of her students win first place. "I am so proud of all my DECA students," she spoke. "Not only is it a great accomplishment to make it to the National Level, (with 19,000 other students) but to win a very competitive category (1st place in the world) is truly epic. I thank all of them for their hard work and I am looking forward to next year!"