The Deadly Shooting at the Capital Gazette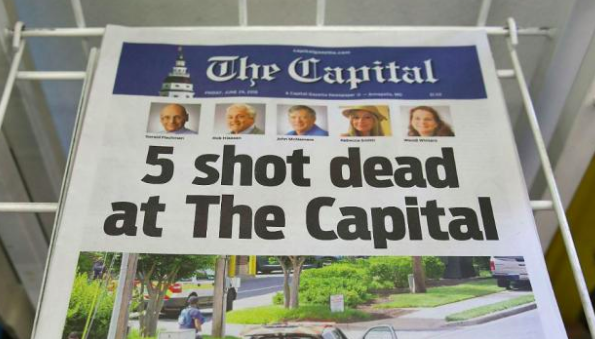 On Thursday afternoon, a deadly shooting occurred at the Capital Gazette in Annapolis, Maryland. Known as one of the most shocking events involving the journalists themselves, other newspapers, including journalists from the Capital Gazette themselves, covered the unfortunate occurrence.
According to police reports released to the public, the suspect of the case, Jarrod Warren Ramos, was responsible for the deaths of five employees from the newspaper as well as injuring two others. He was later charged for five counts of first-degree murder and was ordered to be held without bail.
At the beginning, investigators struggled to find the gunman's motive for shooting until information was found about a defamation lawsuit he filed in 2012 against a staff writer. The case was, in the end, dismissed, and the suspect allegedly continue with his hatred by making online threats to the Capital Gazette.
Information about the tragedy continued to grow as survivors of the attack explained from their viewpoint on Twitter, another social media app, or an interview with another newspaper. One of the most famous accounts going around was a tweet from Phil Davis, a Capital Gazette police reporter.
Davis described the scene saying, "Gunman shot through the glass door to the office and opened fire on multiple employees. Can't say much more and don't want to declare anyone dead, but it's bad."
Sofia Papadopoulos, an editor and staff writer for the school newspaper, Trailblazer, shared her opinion on the shooting in Annapolis.
"The tragedy is something that hit home as I write for our school publication and multiple other larger scale works. It shows how skewed our world is that people in both opinions, and politics can't just be heard and respected even though others may not agree. Additionally, for Fox to see what the conservative and liberal journalists' angle was before they published a story to see what side they, essentially, should choose is disgusting," Papadopoulos said.
Soon-to-be junior Gabriel Broadman also shared his views as a supporter for gun control.
Broadman said, "I think that the recent shooting is a horrible tragedy. Although I don't feel equally connected it because I am a student and it was not a school, I still mourned for the people lost. I am, however, equally upset at the legislators of this country and their inaction with common sense gun control. I hope that this reminds people who have been silent that mass shootings are an American problem and even the workplace is at risk."
More from the contributor(s):
Suha Niyas, In-Depth Editor
Suha Niyas is a senior at Pascack Hills High School and the In-Depth editor of the Trailblazer newspaper. Being a writer for the newspaper for four years and an editor for three, she hopes to pass down any knowledge to her peers and help make the Trailblazer successful. Although she is very interested in chemistry, she hopes to also continue writing articles for other newspapers during her college years.