Avoiding Trade War, US Reaches Agreement with EU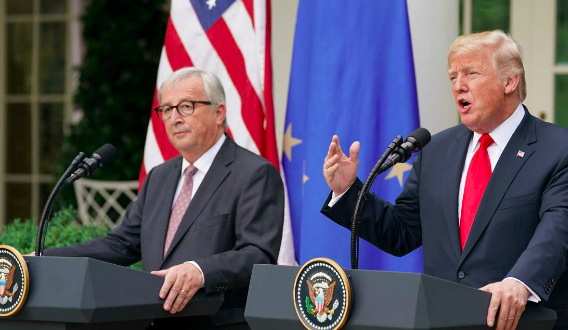 On Wednesday, July 25, European Commission President Jean-Claude Juncker and US President Donald Trump held a joint press conference in the White House Rose Garden, announcing the outline of an agreement designed to avoid a full blown trade war. The agreement comes after months of escalating tensions between the US and EU, prompted by the Trump Administration's decision to impose tariffs on steel and aluminum imports from Europe, Canada, and Mexico in May of 2018.
Many feared an all-out trade war between the US and the EU after the Trump Administration refused to back down, even among calls for restraint within the President's own party. President Trump has described the EU's (and in general, the international community's) treatment of the US as unfair, claiming in June of 2018 that, "the European Union, of course, was set up to take advantage of the United States… We can't let that happen."
The agreement reached between Trump and Juncker goes as follows:
The US and EU will halt any further tariff implementation while they continue to negotiate over the Trump Administration's aluminum and steel tariffs

The US will not, as President Trump

threatened in a previous tweet

, place a 25 percent tariff on cars imported from Europe

The EU will import billions of dollars of US soybeans (

a role previously fulfilled by China

) and liquefied natural gas (LNG)

The US and EU will negotiate towards zero tariffs (or economic barriers) on non-auto industrial goods
While signifying a crucial first step in repairing trade relations, Marie Kasperek, a US-EU trade expert at the Atlantic Council think tank, explains that the agreement should be considered a "semi-truce with plans to build an actual truce." Given the impact of Trump's aluminum and steel tariffs on Europe's industrial market, says Kasperek, it is unlikely the EU will engage in more serious negotiations until those tariffs are removed.
Regardless of future negotiations, both sides appear to have been satisfied with the outcome of the "semi-truce", given that the US gets increase its output of soybeans and LNG, and the EU gets to leave with no further tariffs.
 In the Rose Garden, Trump remarked, "[the agreement will] open markets for farmers and workers, increase investment, and lead to greater investment in both the United States and the European Union." The European Commission made a similar statement in a tweet praising the outcome of the agreement.