The New "Mr. C"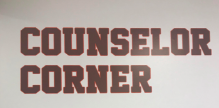 Jenna Golub
September 4, 2018
After more than thirty years of working as a guidance counselor at Pascack Hills, Mr. Cherichello has retired. Though Mr. C's presence in the school community will undoubtedly be missed by both students and staff, Hills can look forward to meeting a new "Mr. C": Mr. Steven Casamento.
Mr. Casamento, or "Mr. Caz," was previously employed as a school counselor at Tenafly High School, working with students from grades 9-12. He graduated from Northern Valley Regional High School at Old Tappan and earned his bachelor's degree at Monmouth University. He also holds a master's degree from Montclair State and is a Nationally Certified Counselor.
Mr. Casamento started working at Hills over the summer, which he said "gave me the opportunity to do the best part about my job, which is meet students and give them the ability to associate my face to my name and my role here as their School Counselor." He admitted that transitioning to a new school counselor can be difficult, but his "experience so far at Hills has been extremely supportive and wonderful."
When asked about what led him to become a school counselor, Mr. Casamento responded with a heartwarming anecdote about his father, who had been a guidance counselor for over thirty years. When he was in high school, Mr. Casamento always noticed that his father came home from work happy, but he never asked why; he admits he was a stubborn teenager who "never wanted to follow in the footsteps of anyone." Sadly, his father passed away a few years later, and the memorial service that was held is what led him to his career.
"We decided to have a memorial service at his school that he worked, and when it started, you could not close the doors to the school; there were that many parents, students, and faculty in attendance," he recalled. "It was truly one of the most moving experiences of my life, and I am forever grateful to have been able to receive such a strong message at such a young age. From that point forward, I knew that the best gift in the world is to make a positive impact in children's lives; a gift that no money in the world would ever give me, and no field that would yield me the same rewarding experience.  It is the absolute best job in the world."
It's so important for students to have school counselors who are there to support and guide them through high school, and are passionate about their job. There is no doubt that Mr. Casamento is an enthusiastic and caring counselor. He said, "Education is such an important part of everyone's life, and I am honored to be able to be a part of it and make a positive impact on a child's experience in high school."
Mr. Casamento shared his main goal for his new position at Hills, which "is to be supportive, visible, and welcoming to all of my students and their families." He added, "I look forward to joining the Hills family which has shown so much pride and love for their school and community, whether it is the co-curricular clubs, unbelievable athletics, theater, and everything else that students are involved in at PHHS."
Clearly, Mr. Casamento has a lot to offer as a guidance counselor at Hills.
"I cannot wait to work with such motivated and driven students whose goals are to change the world," he added, "and I can say I have seen some remarkable things done by students already."