Spanish Parliament Votes to Exhume Francisco Franco's Remains from Civil War Monument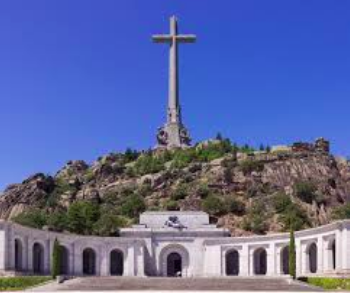 Teddy Calderone
September 20, 2018
MADRID – On Thursday, September 13, the Spanish Parliament voted to exhume the remains of former dictator Francisco Franco (1892-1975) from the Valley of the Fallen, a Spanish Civil War monument commissioned by Franco himself. The move, which intensifies the debate over Franco's contentious legacy almost 50 years after his death, is an effort by Spain's newly appointed prime minister and his socialist government to "atone for the crimes of the civil war and the repression that followed the conflict."
Shortly after Franco's victory at the end of the Civil War in 1939, the dictator ordered that the Valley of the Fallen (Spanish: Valle de los Caídos) be constructed in San Luis de el Escorial, a municipality just north of Madrid. Franco had the monument constructed to honor those who "fell for God and Spain" in the Civil War, which lasted from 1936-1939. The remains of more than 33,000 Civil War soldiers are buried within the basilica, with most having fought for Franco's side, and some from the opposing Republican side.
43 years after Franco's death, there is no facet of Spanish politics that has proven to be as wrought with strife and discord than that of the dictator's legacy. From desires to remove the dictator's remains from the Valley of the Fallen, which many consider to be a place of veneration for Franco, to the renaming of squares and streets associated with his regime, you would be hard pressed to find an aspect of Franco's legacy that does not fuel dispute on a national scale.
"There is neither respect, nor honor, nor justice, nor peace, nor concord as long as the remains of Franco are kept in the same place as the victims,"  Carmen Calvo, the deputy prime minister, declared before the Spanish Parliament on Thursday.
The exhumation was approved by Parliament on Thursday in a vote of 172 to 2, with 164 abstentions coming from Spain's two main center-right political parties. The vote had been anticipated, as Prime Minister Pedro Sánchez promised in early June that he would make it a priority to exhume the former dictator's remains, but has nonetheless been criticized for being unfairly forced through parliament. The conservative People's Party (Spanish: Partido Popular), which holds 134 seats in Spain's parliament, has plans to appeal the decision to the Constitutional Court, arguing in favor of a more legitimate, impartial vote.
While PM Sánchez leads a fragile governmental coalition that controls little more than a quarter of the seats in parliament, he was able to muster enough support for Franco's exhumation from Basque and Catalan lawmakers along with the left-wing United We Can party (Spanish: Unidos Podemos). These slim majorities in parliament are a reflection of widespread sentiments throughout the country that are either strongly in support of Franco and his fascist regime, or in firm opposition to Franco's legacy and in support of his exhumation from the Valley.
Those who fall into the former category have accused PM Sánchez and his government of using the exhumation of Franco's remains and the political spectacle that comes with it as a means of bolstering his legitimacy as a left-wing leader and distracting the general populace from considering more pressing issues. In fact, with Franco having died in 1975, most of Spain's population is too young to remember him–let alone the Spanish Civil War, meaning that for many Spaniards (according to opposition parties), Franco and his legacy are not at the forefront of their minds. These sentiments are reflected by Patricia Sularz, a Spanish teacher at Pascack Hills High School who herself comes from Spain.
"I don't agree with the way that [the government] passed this legislation–there should always be a general consensus for these decisions. Forcing legislation through parliament isn't very characteristic of a democracy," explains Señora Sularz, who for many years lived in Murcia, a region in the southeast of Spain. "Of course, a dictator shouldn't be venerated and celebrated, and no person with a conscience thinks that [Franco] should be. Yet, it seems that the government has their priorities messed up. People in Spain aren't thinking about Franco or his legacy; instead, they're worrying about the 16.1% unemployment rate, and social benefits, and so on. These are the issues that need the attention of the government–not the remains of a long-dead dictator."
It remains to be seen whether Franco's remains will ultimately be moved from the Valley of the Fallen. With Franco's family still holding considerable legitimacy and power within Spain, there is reason to believe they will succeed in appealing the decision to the national court. One thing is for certain, however; even if Franco's remains are removed from the Valley, as Thursday's vote intends to do, it will be a far cry from the end of disagreements concerning Franco's place in Spanish history.