The Battle of Mr. Pascack Hills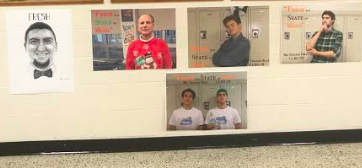 Erin Buquicchio
November 15, 2018
With Mr. Pascack Hills just one week away, teachers and students are abuzz with excitement surrounding the well anticipated event. Included in this group are past Mr. Pascack Hills faculty winners Rob Salgado and Matthew Marini.
Rob Salgado, a special education teacher at Hills, won the competition back in 2014 with a riveting dance routine set to Taylor Swift's "Shake it Off". Marini used another billboard hit, "Closer" by the Chainsmokers featuring Halsey to secure the crown.
Salgado, however, doesn't think Marini's performance was comparable to his. "Two years ago was a complete disaster, and all Marini did was dance around…"
Clearly tensions are high.
Down to the wire, Salgado is still contemplating whether or not he will compete this year to regain his crown. "I wasn't sure if I wanted to compete at all, but someone lured me in and my mentality is if I'm gonna compete I'm going to win."
When asked about what it takes to be crowned Mr. Pascack Hills, Marini said, "It takes very good looks and a lot of charisma". He further stated that, "I like the opportunity to showcase my wide ranged and well diversified talents to the Pascack Hills student body and faculty."
Being crowned Mr. Pascack Hills means knowing what it means to be "fresh". Marini thinks that fresh means being, "well-poised under pressure, and cool as the other side of the pillow" while also, "embracing the spotlight". Salgado feels that keeping fresh means keeping it classy.
How has life changed for Rob Salgado since his win? "Since it was my first year a PHHS, being the Mr. Pascack Hills winner put me on the map. [I] Carried that title with pride for two years."
Unsurprisingly, Marini's response about life changes post-Mr. Pascack Hills crowning differed from that of Salgado. His answer to how his life has changed? "It hasn't. I've been Mr. Pascack Hills since 2004 when I first stepped foot in the building."
Mr. Salgado's 2014 Performance: https://youtu.be/7TPlHlYUhF0
Mr. Marini's Comments on Mr. Pascack Hills: https://youtu.be/2X2T9fQCNUc