From Hills to Broadway?: Christina Priestner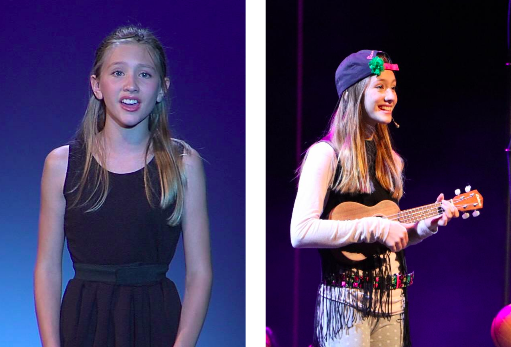 Hilary Siegel
February 22, 2019
A group of kids gather in a tight circle — clad with costumes, makeup, and pre-show jitters — and wish each other luck before the music starts to play. The crowd is filled with students, teachers, and friends full of anticipation. She stands in the middle of the stage, hands by her sides, smile on her face. From behind, the director signals for the show to begin and the stage lights blink on in an instant. The thick, red curtains open and she takes a glimpse into the crowd. It's time. Months of preparation all working towards this moment. With the opening of her mouth, a beautiful melody echoes and the audience's jaws reach the floor.
This is just the start of one of many shows for freshman Christina Priestner, who has been pursuing her love of the arts since she was a kid.
In her first year of middle school, Christina was given the lead role in Cinderella, which was that year's school play. This first show helped Christina discover how much she loved to sing, and helped the people in the crowd discover her amazing voice.
"The summer after Cinderella, I discovered that I really liked singing so I went to this program called Broadway Theater Workshops and that's kind of really where I was discovered." Priestner says.
After Cinderella, Priestner was offered more opportunities in the theater world, even recognized by Abrams Artists Agency. While the benefits started out small, like booking a commercial or singing the National Anthem at a game, this agency would lead her to auditions for popular Netflix shows and currently, America's Got Talent.
"I auditioned for America's Got Talent, and I got into the next round, but I unfortunately cannot go. So, next year I'm auditioning for The Voice and can't wait to see how that goes."
With such big opportunities throughout the country, Priestner still plays a prominent role in the arts in her community. As a freshman at Pascack Hills, Christina has already been an important part of theater — starring in this year's fall musical Godspell and in the upcoming Chicago as Roxy.
While it is extremely exciting for her to be a lead, Christina says she loves Chicago because it has brought her and her friends closer together through the many hours they spend a day rehearsing.
While music consumes a lot of Christina's time, she also loves to play sports and spend time with friends and family.
"I have been close friends with Christina since middle school and we share so many great memories that I wouldn't trade for the world. She is super talented, smart, and kind to everyone around her," freshman Sherry Yang said.
Seconding this opinion, freshman Katie Yoo said, "When I first moved to Montvale, I was in homeroom with Christina and she asked me to sit with her and her friends and made me feel very welcomed. She was not only my first friend, but an amazing friend."
With so many roles to play — in shows, as a friend, and as a family member — Christina makes time for school and says that "some days I have to stay up late to get all my work done, and as much as it can stink, I know it is important."
Along with losing time to focus on school, there are some other challenges that come with Christina participating in theater.
"Sometimes directors make you change stuff about you. Like they made me dye my hair, and I've been told I needed to cut my hair. There's a lot of stuff that you're required to do like going on diets and preparing for the show, that's it just a lot. Probably my least favorite thing that I had to sacrifice was having to give up sports, but also they made me dye my hair more blonde, which is kind of insane."
As hard as it may get, Priestner manages to always stay true to herself, even while playing other people. From her already amazing accomplishments, like being the first female freshman lead at Saint Joe's High School theater last month, to auditioning for America's Got Talent, there is nothing standing in her way.
"In 10 years from now, my ultimate goal is to be on Broadway, and I really feel like my life is taking me towards theater."
Whether that means attending Juilliard or just continuing to star in plays in the community, Priestner loves having the opportunity to share her talents of music, singing, and acting with the world.