America's Best Chicken Sandwich: Popeyes or Chick-fil-A?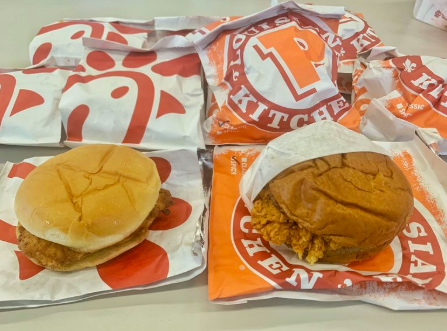 With the launch of Popeyes' new chicken sandwich, Chick-fil-A's sales have decreased. It has started a battle between the two fast-food chains.
Companies like Twitter are even sharing their opinion on which chicken sandwich tastes better. A number of Pascack Hills' students who had both chicken sandwiches were also asked which one tastes better.
Sophomore Ryan Giammanco shared his thoughts on the chicken sandwiches. 
"The Popeyes chicken sandwich was better because the chicken tasted more realistic and the bun was much better in the way that it was toasted. On the other hand, Chick-fil-A chicken sandwiches are still very good, but nothing can compare to the tastefulness that is possessed in each of the Popeyes chicken sandwiches," Giammanco said. 
Giammanco goes on to explain why the chicken at Popeyes tasted more realistic.
"The chicken at Chick-fil-A is sometimes hard to eat and I didn't get that 'real chicken taste' that I get when I eat the Popeyes chicken sandwich," Giammanco said.
Sophomore Aidan Berson added in his thoughts on the chicken and how the Popeyes chicken sandwich is more filling.
"The Popeyes chicken sandwich has better meat, is more rich and filling, and is moister than the Chick-fil-A chicken sandwich. I can only eat two or three Popeyes chicken sandwiches, whereas, with Chick-fil-A, I can eat six or seven because it isn't filling at all," Berson said.
Not only did some students think that the sandwich tasted better because of the chicken, but sophomore Michael Bease believed it was because of something else. 
"The sauce at Popeyes was the difference-maker. It has this sweet tangy taste and it compliments the chicken sandwich completely," Bease said.
On the other hand, sophomore Jacob Charnow had a different opinion than others.
"I have had both Popeyes and Chick-fil-A chicken sandwiches, and I would recommend to people who haven't had either to choose Chick-fil-A. This is because I thought that the chicken sandwiches at both places were pretty equal, but the fries at Chick-fil-A were way better than the Popeyes ones," Charnow said.
Charnow goes on to say why the fries tasted better.  
"The fries at Chick-fil-A tasted way better than the ones at Popeyes because there was more flavor. Also, I prefer waffle fries over regular fries," Charnow said.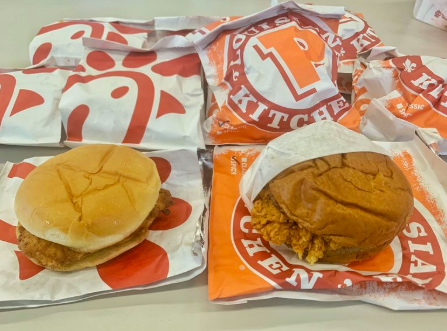 All in all, the battle between Popeyes and Chick-fil-A will continue, as there are many different views on each of the companies' chicken sandwich.