Interacting in the Community: Helping hands Food Drive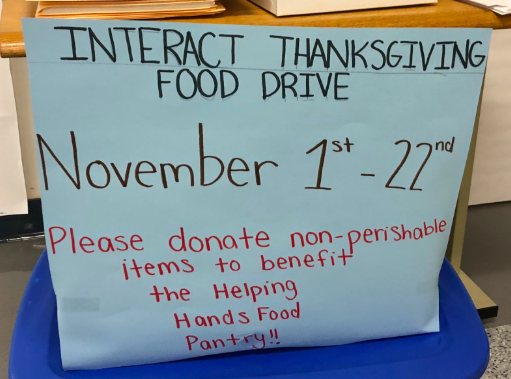 Annually, Pascack Hills' Interact club holds a Thanksgiving Food Drive in November for the majority of the month. This year, the club asked for donations from November 1 through November 22, which could have been dropped off in room 226 or in one of the boxes around the school. These donations went to Helping Hands Food Pantry in Hillsdale, NJ, which benefited those in need this past Thanksgiving. 
Garcia, a Spanish teacher at Hills, and the current Interact advisor took over the food drive three years ago when becoming the advisor. She states, "I have continued to run the Thanksgiving food drive that started over 35 years ago," she said. 
Outside of Garcia's door and on posters around the school, there were lists of needed items for the shelter benefitting from the drive. All of them were needed, but some are not collected as often as others. Garcia explains,"All non-perishable items are needed. However, ingredients used in baking and cooking are often overlooked. These items include flour, sugar, and oil. Paper products [were] also appreciated."
These collected items were then counted, sorted, and donated. All items collected were donated to a non-progit organization, Helping Hands Food Drive, which provides local citizens in the Pascack Valley with needed items for their survival during tough times.
Throughout the school students were seen happily donating to the gracious cause. Senior and co-president, Jayme Silver, spent time organizing the collected items after the collection stopped along with her fellow Interact members.
She states,"After the food drive ends, I go around the school with the other members and we collect all of the food that has been donated. We then sort all of it based off of different categories. For example, we would have one pile with all the cans of corn and another pile with all the pasta."
As the Interact Officer, sophomore Maggie Chua, who aided in record keeping and counting, guided members with the tasks they are working on, and helps with the statistics of donations alongside junior Michelle Huang, who has been part of the club for three years, helped bring the sorted items to the truck during seventh period, which were transported to Hillsdale.
This year, approximately 850 items were donated, and the truck was loaded on Monday, November 25, 2019.
As Interact's Thanksgiving Food Drive has come to an end, some members felt grateful to help those who needed it most this Thanksgiving.
"It is very rewarding to see how many items our school collects and it is so special to know how this goes to such a great cause," Silver said.