Students soar at DECA
For background information on how DECA works, please click on the link below to read the article "Defining DECA at Hills" from 2018:
https://phhstrailblazer.org/news/school-news/2017/12/07/defining-deca-at-hills/
January means a new year and a new beginning. For the business-savvy students at PHHS, it also means the start of DECA, a business competition that over 170 students competed in at Ramapo College on January 8th. This year, the club had the highest number of students not only place top 3 in their categories but advance to the statewide competition.
As defined on their website, DECA's mission statement is that "DECA prepares emerging leaders and entrepreneurs in marketing, finance, hospitality and tourism, and management in high schools and colleges around the globe." For those unfamiliar with the DECA "lingo," this means that the organization is one huge business competition where high school students test their knowledge and presentational skills in the realm of business through the form of written events such as papers or speaking events such as roleplays, where students improvise how they would respond to situations in the business world.
This competitive aspect of the business club has attracted a large portion of the student body at Hills to join. This year alone, the PHHS DECA chapter had over 170 members compete at the regional competition; for reference, the club is only six years old and is the largest in the school. Alec Boyajian, an active DECA member and part of the DECA Executive Board at Hills, credits Ms. Gamgort and the rest of the DECA members for this success.
"This year we really focused on preparing students, especially new members who wanted to know more about how to do their best. We are seeing more success than any other year from strong practice and more engagement. I think Regionals results really reflected the time and effort not only we put in but Ms.G, the DECA Advisor, put into the club. The more we work towards the goal of Nashville, the stronger we become as a team, and that's been very apparent this year," Boyajian said.
"Regionals" is the baseline competition that all students at PHHS go to in order to compete at DECA. The students in the northern region of New Jersey compete against each other in roleplay events only, where they receive a score based on their roleplays (which is graded by a rubric) and a test focusing on the business subject of the roleplay, such as the Marketing Cluster Exam. For individual roleplay events, the top 17 students advance on to the statewide competition in March, and for team decision making events, the top 11 partner groups advance. 
PHHS students performed exceptionally at the baseline competition this year, with the highest number of students, 49 in total, advancing to the statewide competition. Several students placed top 3 in their category, such as:
Jared Solon

, 2nd Place, Accounting Applications

Liz Mashini,

1st Place, Apparel and Accessories Marketing Series

Alec Boyajian

, 1st Place, Automotive Services Marketing Series

Maya Horowitz and Emma Leipsner

, 2nd Place, Marketing Management Team Decision Making

Daniel Gradski

, 1st Place, Financial Consulting Event

Jess Gudin

, 2nd Place, Professional Selling

Frank Zizzo

, 3rd Place, Professional Selling

Sofia Papadopoulos

, 3rd Place, Retail Merchandising

David West

, 3rd Place, Restaurant and Food Service Management

Isabel Ulanday

, 3rd Place, Marketing Communication

Mackenzie Blowers

, 2nd Place, Food Marketing Series
Liz Mashini, a junior at Hills and also a member of the PHHS DECA Executive Board, was ecstatic when she saw that she had received 1st place in her category, Apparel and Accessories Marketing:
"I was completely shocked. It was the first year where I felt a connection to the prompts and felt confident in my answers and I'm very glad that the judges saw that," Mashini said.
Students who place in the top six at their category at the statewide competition will move on to ICDC, the final, international competition for DECA. This year, ICDC will be hosted in Nashville, Tennessee, and several students hope to advance forward. Larissa Aquaviva, who advanced to States in Hospitality and Tourism Professional Selling, hopes to make it to Nashville this year.
 "I am excited to see what States will bring for both my roleplay event and my paper. Clearly I am hoping for the best to happen and I know if I work hard I will be able to reach my goal of going to Nationals. I can't wait to see what States brings," Aquaviva said.
Congratulations to all of the 170+ regional DECA competitors, and to the largest group ever who will be moving on to the state level competition at Atlantic City in March (list attached). #HillsPride pic.twitter.com/opaJspcrp8

— G. deMarrais (@PHHS_PRINCIPAL) January 10, 2020
Leave a Comment
More from the contributor(s):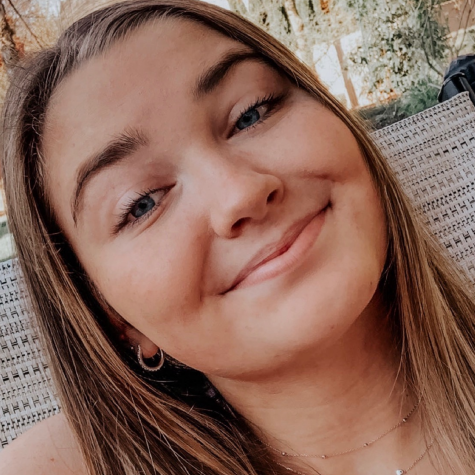 Mackenzie Blowers, Editor-in-Chief
Mackenzie Blowers is a senior at Hills and is excited to be Editor-in-Chief of the Trailblazer along with Jared Mitovich. Before becoming Editor-in-Chief, Blowers edited the College Corner section of the Trailblazer and helped manage the paper's social media. She's looking forward to working with the Trailblazer staff to continue reporting with Hills Pride.

Fun fact: She loves to travel and collects pins from every city and country she visits!