Australia burning
Since September, Australia has been plagued with deadly bush fires. The landscape is a haze of smoke, orange and red flames consuming everything in their path as homes are decimated, people are displaced, and animals are dying. 
Australia broke its record for the hottest day in December two days in a row, with the entire country reaching average temperatures of 41.9°C, or approximately 110°F. These high temperatures only contributed to the fires with little moisture and rain to provide relief. 
Since then, conditions have only worsened. New South Wales, one of Australia's most populous states and location of capital Sydney, reports at least 20 dead. Ten firefighters have already lost their lives in an attempt to put out the flames and at least several more have died in car crashes.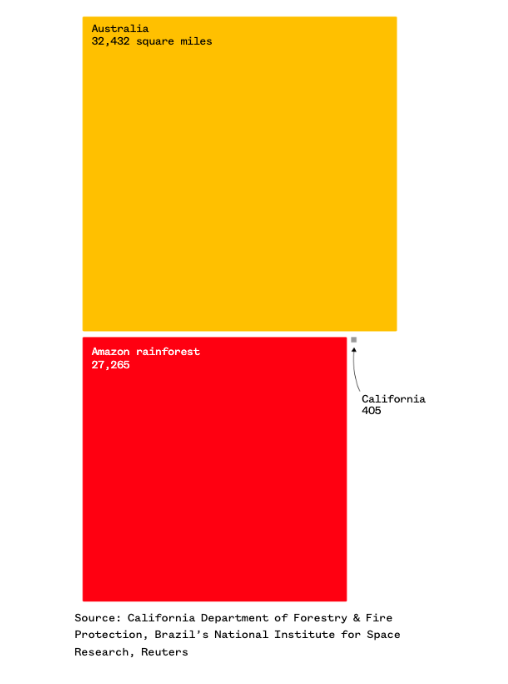 More than 12 million acres of land have been lost. 30% of the forest in New South Wales has burned, and with more fires expected to pop up this weekend, that number will only increase. To put into perspective just how big these fires are, NBC News' Robin Muccari made a visual representation comparing the current are of the fire to that of California's 2019 fires and the burning of the Amazon Rainforest. 
Despite rumors on social media that the main cause of these fires is arson, less than 1% of the land lost can be contributed to humans. The main source of these fires are climate change and severe lightning strikes that combined with the Australia's dry season have had horrific results. 
Thousands of people have lost their homes, their lives, and have been uprooted and forced to evacuate. 
Aboriginal people have generations of knowledge about managing Australia's land with low-intensity fires. But elders say they're ignored by officials who rely on massive controlled burns.

"I think this is a wakeup call…You cannot just destroy the land." https://t.co/IDUuojC6K0

— NPR (@NPR) January 11, 2020
Not only have people been affected, but animals are also devastated. In a video that went viral at the end of December, a koala approached a cyclist and drank water from his bottle. The koala had escaped the fires but amidst one of the worst droughts in Australia's history turned to humans in order to survive. 
A desperate koala suffering through the soaring temperatures in South Australia approached a group of cyclists to drink from a water bottle. pic.twitter.com/n8PizPjHDe

— Andrew (@ANDREW1ALBERTT) January 5, 2020
In New South Wales alone almost half a billion animals are dead. Approximately ⅓ of the total koala population in NSW has perished. Koalas are already threatened by urban development and the chopping of trees.
Koalas aren't the only ones in danger though. In an interview, Chris Dickman of the University of Sydney said that for estimation of animals killed, "Over a billion would be a very conservative figure."
Kangaroo Island is home to koalas, kangaroos, wallabies, and endangered birds. Full of nature reserves, one-third of the island has fallen prey to flames. Thousands of kangaroos are dead and threatened species residing on the island are being pushed closer to extinction every day. 
In a viral Twitter post, Instagram model Kaylen Ward said she would send nude photos to anyone who gave proof that they have donated at least $10 to any Australian relief charity. This offers an arguably drastic spin on an already tragic situation. Do women have to solicit nude photos to benefit relief?
By last Sunday, $50,000 had been raised.
Australian actor Chris Hemsworth, most notable for his roles in the Thor trilogy and MIB: International, gave $1 million to Australian fire efforts. P!nk also said she planned to donate $500,000, and celebrities around the world have given thousands. Other celebrities, notably Lizzo, has offered her time and support.
did y'all know that lizzo paused her tour in australia to help pack meals for those displaced by the fire and has been collecting donations for fire relief efforts at her shows???

a whole ass QUEEN pic.twitter.com/GAUQQDAPlK

— lyss ✰ (@NEONDOUBT) January 11, 2020
If you want to help, consider giving money to the Australian Red Cross, New South Wales Rural Fire Service, or WIRES. Any little bit will help people, firefighters, or animals affected. 
Leave a Comment
More from the contributor(s):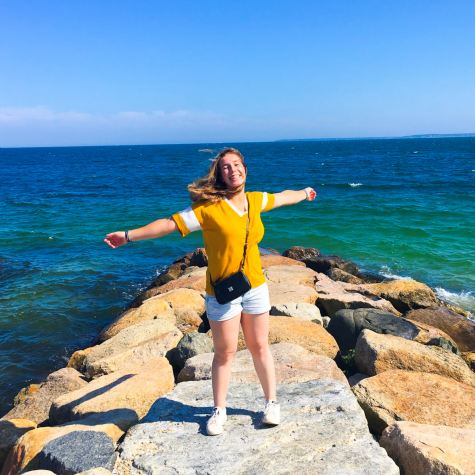 Izzy Frangiosa, Sports Editor
Izzy Frangiosa is a senior who has been a part of the Trailblazer since her freshman year. Although she enjoys writing articles of all kinds, she is extremely excited to take over the Sports Editor position with Jacob Charnow. She's ready to bring her passion for athletics to the Trailblazer!

Fun fact: Frangiosa is an avid softball player and CrossFitter.