Mrs. Marootian-Miller welcomes baby Sebastian
"I was essentially teaching my period seven class when I went into labor, but I didn't really realize it at the time!" 
"
I was essentially teaching my period seven class when I went into labor, but I didn't really realize it at the time! "
— Mrs. Marootian-Miller
This past December, Mrs. Marootian-Miller left for maternity leave and gave birth to a healthy baby boy named Sebastian. 
Since she was a little girl Mrs. Marootian-Miller knew what she was going to name her son. "Our son's name is Sebastian Joseph Miller." 
There is a lot of historical background to the name Sebastian. The name stems from the Latin language. It means "venerable" or "revered." In simpler terms, these words mean feeling deep respect or admiration. 
"St. Sebastian was also a martyr, and his name gained popularity during the middle ages and crusades. Not to mention I always loved the cute crab from Disney's The Little Mermaid," Mrs. Marootian said jokingly.   
"As for Joseph, that is my father's name, so it was a no brainer for me." 
Marootian-Miller had a fantastic baby shower to really celebrate this new long-lasting joy that was brought into her life. 
A baby shower is a party that is held for women expecting a baby. People bring gifts for the child and the party is usually held by friends or relatives. 
Marootian-Miller's baby shower was hosted by her best friends: Ms. Mahaffey and Ms. Gaeta.  
"They made sure the room was beautifully decorated and put so many personal touches on the day." 
While she appreciated all of the amazing gifts she explains that "the best part of the day was seeing all my friends and family in the same space coming together to celebrate my baby boy." 
As an English teacher, Marootian-Miller feels it is important to read to her son as often as possible. She and her husband read to Sebastian every night while he was in the womb.
"I am hoping that he shares my same passion for reading," she exclaims. 
"When he gets older, I want him to read whatever he likes as long as he fosters a love of reading. However, on his bookshelf will definitely be Charles Dickens's Great Expectations, Arthur Miller's Death of a Salesman and Edith Wharton's Ethan Frome. Oh…and, of course, Shakespeare's Macbeth," she jokes. 
Now the question everyone gets asked when they have given birth to a kid. Is raising a kid easy or difficult? What is the hardest part?
Marootian-Miller combats this question fairly. 
"So far there hasn't been anything "hard" or "easy" about taking care of Sebastian.  It sort of becomes second nature to nurture and care for the baby. I would say some moments are more enjoyable than others! For example, I enjoy watching him smile when he recognizes our voices or he gets his belly tickled.  I enjoy waking up 6 or 7 times a night much less!"
While Marootian-Miller loves the new responsibility of her new child, she does miss work. She thinks about her students every day because they mean so much to her. 
"I appreciate the time Pascack Hills allows me to spend getting to know Sebastian and being able to bond with him as he begins to grow." 
"Sebastian has been a love so far—we are enjoying getting to know him during these first days.  He is very well-behaved, but he dislikes cold hands, diaper changes and bath time. Other than that, he is all smiles."
Leave a Comment
More from the contributor(s):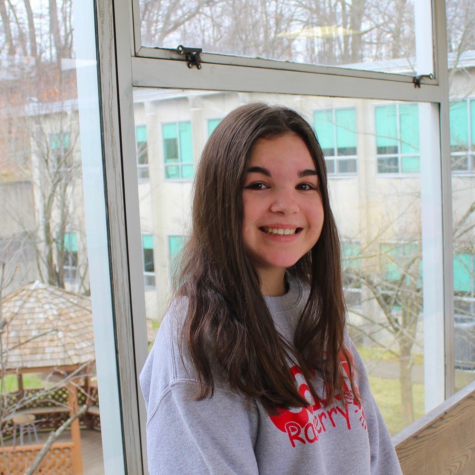 Simmie Brisman, School News Editor
Simmie Brisman is a senior at Hills; this will be her second year as School News Editor. Before becoming editor, she was a staff writer. She is looking forward to continuing to write for the Trailblazer during her final year at Hills!

Fun fact: Every Wednesday, Brisman and her family eat burgers cooked from her grandmother's original recipe!