DeMarrais approved as Pascack Valley principal for 2020-21 school year
Amid a global pandemic and an unfruitful search process, the Pascack Valley Regional High School District Board of Education voted Monday to approve current Pascack Hills principal Glenn deMarrais as principal of Pascack Valley for the 2020-21 school year.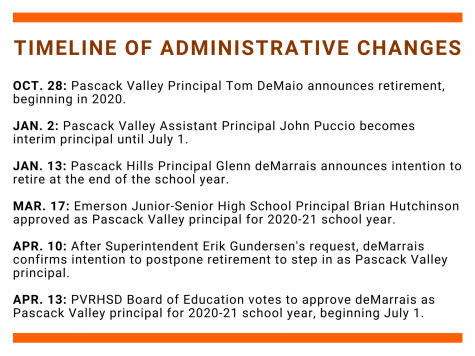 DeMarrais, who requested to rescind his resignation after the superintendent requested he step in as Valley principal, originally planned to begin his retirement in July. Citing the decision to retire as "very difficult" and one he had wrestled with for "the last few months," deMarrais planned to pursue personal passions such as kayaking, fishing, and hiking with his dog.
Because Pascack Valley's principal, Tom deMaio, had also retired, the district faced both schools lacking permanent principals and began a wide-ranging search for top candidates to fill the two positions. Their efforts began in January and were completed in March. In a video explanation emailed to Pascack Hills students and parents, deMarrais said that Pascack Hills' search was successful; Assistant Principal Tim Wieland emerged as a likely successor. However, he said that Pascack Valley's search "didn't go as planned."
While the board had found and approved an outside candidate for Pascack Valley, Emerson Junior-Senior High School Principal Brian Hutchinson, the candidate recently withdrew his name from contention. DeMarrais said this left "the school without a principal and the board in a difficult position. Amid a global pandemic, given the circumstances, redoing the entire process seemed unlikely."
Pascack Valley's search "didn't go as planned."
DeMarrais went on to explain that Gundersen "asked if I would consider postponing my retirement and stepping in and taking over at Pascack Valley for that year," to which the Pascack Hills principal responded, "you're crazy." However, after giving it some thought and discussing it with his wife and Wieland, deMarrais said "things changed."
The Trailblazer originally reported on this development upon the release of the board's agenda for their Monday meeting. Now, the vote is official –– deMarrais' principalship at Pascack Valley will begin on July 1, 2020.
As the news unfolded, the administrative changes began to reverberate throughout the Hills community.
"It just came as a shock to me," Hills junior Jess Gudin commented, "because he seemed so focused on wanting to dedicate more time to his family." Gudin admitted it "is a little upsetting, but I know he is doing what he feels is best, and I'm still glad he is part of the district, even if it's not through Hills."
During the board meeting, which in adherence to social distancing rules was held on Zoom, Gundersen said the board had not considered "second" or "third" candidates for the Pascack Valley principalship after the approved candidate withdrew, saying they had not ranked the candidates in such a way. He also commended the success of virtual learning among both schools in the district, while Director of Curriculum Barry Bachenheimer reiterated there were no plans to implement pass-fail grading for students.
Leave a Comment
More from the contributor(s):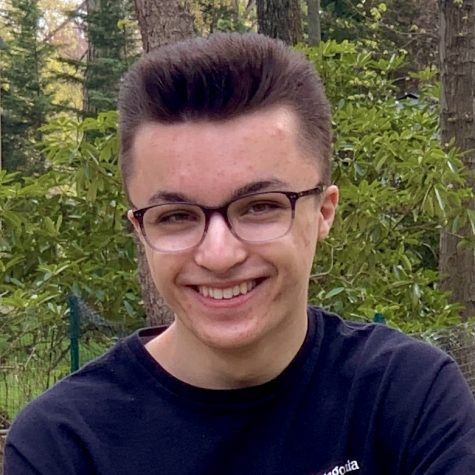 Jared Mitovich, Editor-in-Chief
Jared Mitovich joined the Trailblazer his freshman year as a staff writer. He has helped manage the Trailblazer's social media since his sophomore year, and in his junior year he edited the Opinion section. Now in his final year of high school, Mitovich is looking forward to working with Mackenzie Blowers as Editor-in-Chief along with the entire Trailblazer staff. You can follow him on Twitter at @jmitovich!

Fun fact: Mitovich once met a presidential candidate.