Board of Education approves Charleen Schwartzman as Hills' next assistant principal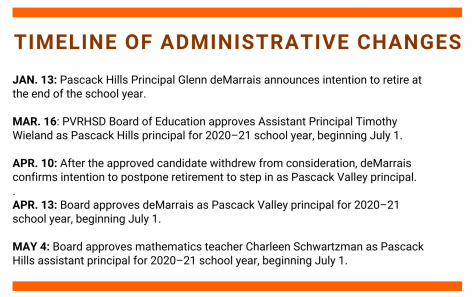 At their virtual meeting Monday, the Pascack Valley Regional High School District Board of Education approved mathematics teacher Charleen Schwartzman as the assistant principal of Pascack Hills for the 2020–21 school year. The position had to be filled after incumbent Tim Wieland was chosen to succeed Glenn deMarrais as Hills principal.
The latest administrative changes continue a busy few months for the Board, which saw its confirmed candidate for Pascack Valley principal rescind his appointment amid the pandemic, leaving Superintendent Erik Gundersen to ask deMarrais to postpone his planned retirement in July and step in. DeMarrais accepted the request and was approved for the position on April 13.
"
I'm glad we're getting some female representation.
— Jess Gudin
"I honestly could not think of anyone more deserving of the job [of Assistant Principal]," junior Jess Gudin, a former student of Schwartzman's, said. "I'm glad we're getting some female representation."
Elizabeth Masyukova, who had Schwartzman her sophomore year in Honors Algebra II, echoed Gudin's praise. "She has a lot of resolve and a strong moral compass… I admire her greatly."
Students were joined by faculty in applauding Schwartzman's appointment as assistant principal. Dr. Mark Russo, the mathematics supervisor for the district who considers Schwartzman "a great friend", called her "one of the most impactful teachers I have had the privilege of working with." Russo expressed confidence that she "will be an equally effective administrator."
Better known as CSchwa
Schwartzman, known more commonly to the community as CSchwa (pronounced c-shwa), has taught mathematics at Pascack Hills since 2003. As one of the most well-regarded teachers in the school, Schwartzman has forged close relationships with her students over her 17 years of teaching –– she is known for her cheerful hallway "hello"s and passion for students' success.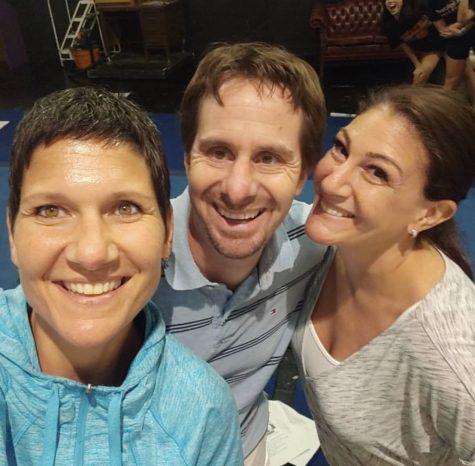 "She has a unique way of caring for students and offering mental and emotional support that is very personal and unique," Masyukova continued, explaining that when she notices students need a push, Schwartzman "will not stand by idly –– she'll make you do jumping jacks, spread some peppermint aromatherapy on your wrist, or put a firm hand on your shoulder and tell you that you have her support if you need it."
Schwartzman also helps lead the PEER Mentor Program, a freshman support organization for upperclassmen interested in leadership. She won the district's Teacher of the Year Award in 2016.
In the past, Schwartzman has pioneered administrative initiatives such as "Cool for School," a plan to reinforce Pascack Hills' dress code policy that was met with some negative reactions from students. How she explained the effort to the Trailblazer at the time –– as "a maternal thing of wanting to protect my cubs" –– reflects her guiding vision of persistently supporting her students, according to students and staff who know her.
"
[Schwartzman] expects a lot from her students, but will go so far above and beyond to help them.
— Dr. Mark Russo, Mathematics Supervisor
"Rarely will you find an educator who so effectively balances high rigor with high support," Russo said, adding that she "expects a lot from her students, but will go so far above and beyond to help them."
Deborah Horn, who teaches history at Hills and has a close friendship with Schwartzman, said "she inspires me to be the best I can be, and I'm pretty sure she has that effect on everyone." Most recently, the two collaborated with Kaitlyn Mahaffey and Virena Rossi on behalf of the PVREA to deliver meals from local restaurants to hospital workers.
Outside of the classroom, Schwartzman is a past Strongman competition victor and a fan of CrossFit. She graduated from Montclair State University with a Bachelor of Science.
Although Schwartzman is preparing to take on her new role at Hills, it is clear she will not lose her love for math nor her students.
Other Board updates
At the meeting, the Board also approved a new assistant principal for Pascack Valley, Interim Assistant Principal Christine Pollinger.
After sharing Governor Phil Murphy's recent announcement that all New Jersey schools would remain closed through the end of the school year, Superintendent Gundersen promised the district has "time to figure out how to make graduation" and other end-of-year activities "as special as possible" to recognize the Class of 2020 and their accomplishments. Although the graduating class will officially no longer be students at Hills after June 16, Gundersen reminded that the state Department of Education had changed policy quickly before, to count virtual days as full school days; on this basis, he explained, a delayed graduation is not out of the picture.
Facing heat from parents of seniors, Gundersen emphasized the district's reliance on guidance from the state in order to make decisions on possible solutions. He mentioned six-feet-safe ideas such as a staggered graduation, one-third of the class graduating at a time, and listened to the public's suggestions that the administration look into any other open-air venues that, unlike the school property, have not been ordered closed.
Regarding grading, Director of Curriculum Barry Bachenheimer reaffirmed the district "is not pass-fail." Bachenheimer added that after hearing from the community, the administration opened Genesis all day instead of closing the grade portal from 8 a.m. to 3 p.m.
In another announcement based on community feedback, Gundersen said Tuesday morning the district would use up three unused snow days in order to give students and staff the day off on May 8, June 1, and June 8.
Leave a Comment
More from the contributor(s):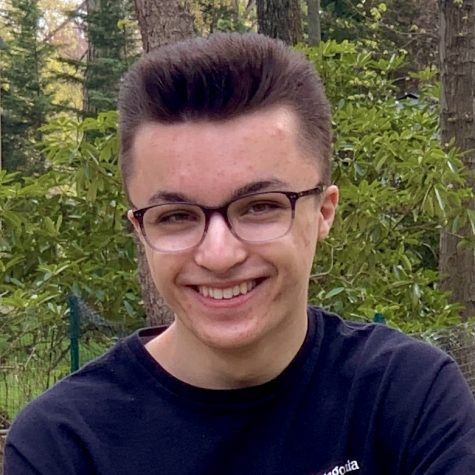 Jared Mitovich, Editor-in-Chief
Jared Mitovich joined the Trailblazer his freshman year as a staff writer. He has helped manage the Trailblazer's social media since his sophomore year, and in his junior year he edited the Opinion section. Now in his final year of high school, Mitovich is looking forward to working with Mackenzie Blowers as Editor-in-Chief along with the entire Trailblazer staff. You can follow him on Twitter at @jmitovich!

Fun fact: Mitovich once met a presidential candidate.