Hills community plans and partakes in Black Lives Matter protests
Since the killing of George Floyd by police officers in Minneapolis two weeks ago, Black Lives Matter protests have erupted across the country –– including on Monday at Hills.
[Editor's note: See photos of the protest at Hills here. The Trailblazer is planning continued coverage of the George Floyd protests and equity in the school district.]
Since the killing of George Floyd by police officers in Minneapolis two weeks ago, mostly peaceful protests have erupted across the country –– and the world –– demanding racial justice and opposing police brutality. 
While the protests began in Minneapolis, where a police precinct was burned to the ground in reaction to Floyd's death there, they quickly spread to larger American cities like New York. These cities have stories of unrest over police actions of their own, like the homicide of Eric Garner by NYPD officers Daniel Pantaleo and Justin Damico.
"For the first time in three months, I went to my favorite place –– New York City," said Sandy Parkes, whose daughter Caity is a rising senior at Hills. "[The] protests were peaceful in Union Square and Washington Square Park, and we marched to Houston Street as the protesters prepared to head over the Manhattan Bridge."
Parkes protested the first weekend after Floyd's death, when incidents of looting and fires forced mayors to impose city-wide curfews. Several governors requested their state National Guard's assistance in quelling the unrest. The following Monday, President Trump was criticized by some for appearing to have the military and police use chemical irritants to disperse peaceful protesters in the nation's capital. 
Sandy Parkes
However, Parkes said that, at the protest she attended, the NYPD strived to show their support for the peaceful crowds. 
"The entire time, the NYPD was in tow, and we were amazed when a lieutenant addressed the crowd and assured the group of hundreds and hundreds of people that as long as the protest was peaceful, the NYPD fully supported. [It] was quite an impactful moment," she continued.
"We yelled George Floyd's name and said Amen; we yelled 'I can't breathe'; we took a moment of silence –– it was bigger than any one of us."
Parkes emphasized that the protests were attended by people of all races, as has been seen across the nation. In the buildings that towered to her left and right, Parkes said "people on their fire escapes and out of their windows [were] clapping and hanging pots in support of making change. It was one of the most impactful moments of my adult life, and it was nothing but peaceful."
Sandy Parkes
Although protests swelled in size and scope the second week after Floyd's death, fewer arrests were made. Some cities in New Jersey, like Camden and Newark, were praised for reporting no arrests at all during their protests. While confrontations did occur, their police departments took a knee along with demonstrators to show solidarity. 
Chief Wysocki on the march today, standing together with the residents we serve to remember and honor George Floyd. #StrongerTogether #CamdenStrong pic.twitter.com/UJAjxXkxrx

— Camden County Police (@CamdenCountyPD) May 31, 2020
Now, the protests are evolving into a global movement against racism unlike anything seen in a generation –– and by their own will, Hills students are joining the charge. 
Students and faculty attend local protests –– including at Hills
"The protest that I went to in Englewood was so empowering," said junior Yemie Woo. "It was powerful to see people of all different races gather for the sole purpose of supporting the Black Lives Matter movement. It gave me the tiniest sliver of hope that America is ready to acknowledge systemic racism and change the system."
Yemie Woo
Woo is a member of the Hills-Valley equity team, which planned protests of its own on both schools' campuses. On Monday, students and teachers wrote the names of unarmed African American citizens killed by police in parking lot spaces. At Valley, they chalked in front of the entrance, "Say their names," a mantra used by the Black Lives Matter movement and those fighting for racial justice.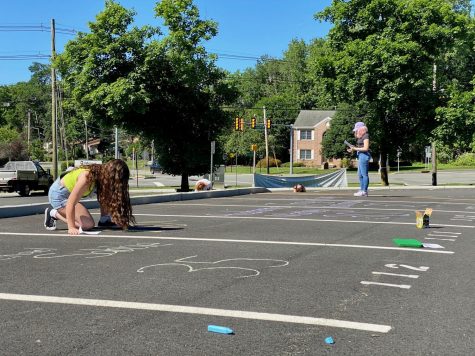 The equity team has also challenged the school district in its response to the unrest, criticizing administrators for failing to mention George Floyd's name in their initial statement.
In response, the team received an apology and a promise by district officials to listen, learn, and improve their leadership regarding racial equity. An hour after their email was sent, Superintendent Erik Gundersen sent a subsequent email invoking the district's goal of advancing "the work of inclusivity and equity" throughout the district.
"We need the ongoing voices of students, parents, and community members to share their thoughts with us as we strive to heal and move forward," Gundersen continued. On Tuesday, he showed support for the Black Lives Matter movement on social media along with hundreds of Hills students and faculty. On Sunday, he attended a Black Lives Matter protest in Allendale with his family.
BLM to the Gundersen family in Allendale! pic.twitter.com/0J5K4B1kwJ

— P. Erik Gundersen (@egunder) June 7, 2020
Since the protests began two weeks ago, all four officers involved in the killing of George Floyd have been arrested and charged. New Jersey Attorney General Gurbir Grewal announced measures to increase community trust of police, such as expanding the state's use-of-force database and proposing a licensing program for law enforcement. 
Locally, at a mayor and council meeting on June 1 conducted on Zoom, Woodcliff Lake Mayor Carlos Rendo called George Floyd's death a "senseless murder."
"I assure you that in Woodcliff Lake, we're together, and all we want is peace and justice for the family of George Floyd," Rendo said, going on to ask for a moment of silence for Floyd during the meeting. Montvale Mayor Mike Ghassali has not made any public statements regarding the recent unrest.
Coronavirus concerns persist
All the same, students, health officials, and epidemiologists alike have expressed concern that the protests could further the spread of the coronavirus, which has left its deadliest impact on the tri-state area. Over 12,000 New Jerseyans have died of Covid-19 since March, behind only New York's tally. 
"I haven't attended any protests because we are still in the midst of a pandemic," said one student under the condition of anonymity. "In my opinion, these protests are a bad idea. I support the [Black Lives Matter] movement, but we are trying to get rid of Covid-19. We are already having to adjust to how everything has changed, and it's an awful idea to make this last any longer than it needs to be. I'd like to have a summer, please."
All the same, the student expressed support for the prosecution of the police involved in Floyd's death. "My community has had to suffer police brutality ever since the police were established. You saw the video. His knee was on George Floyd's neck while he begged to be able to breathe.
"I don't even need to talk about the federal government; they have obviously failed us," they continued.  "What we need is for everyone to use logic and empathy –– equality and equity –– to get it together; we're tired of being so dangerously, stunningly, and embarrassingly mistreated."
In recognition of the pandemic's unrelenting grip on the United States –– 20,000 new cases are still being reported almost every day –– the equity team's protest abided by social distancing guidelines. Only 25 people maximum were allowed to participate in each school's writing, and they remained six feet apart from one another.
"With [the coronavirus] we also want to make sure nobody's being put in harm's way," said Jasmine Delgado, a member of the equity team, prior to Monday's protest in the schools' parking lots. 
"Because of the coronavirus and everything like that, it's even more important to come together right now," Delgado argued.
Leave a Comment
More from the contributor(s):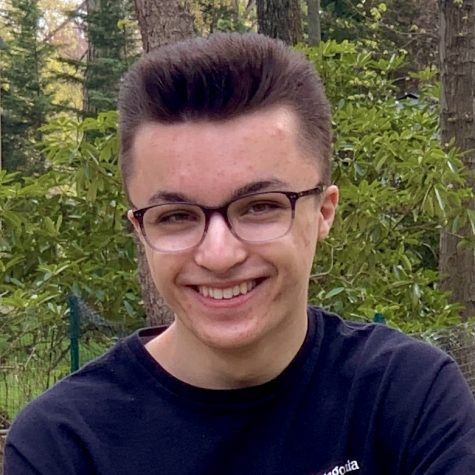 Jared Mitovich, Editor-in-Chief
Jared Mitovich joined the Trailblazer his freshman year as a staff writer. He has helped manage the Trailblazer's social media since his sophomore year, and in his junior year he edited the Opinion section. Now in his final year of high school, Mitovich is looking forward to working with Mackenzie Blowers as Editor-in-Chief along with the entire Trailblazer staff. You can follow him on Twitter at @jmitovich!

Fun fact: Mitovich once met a presidential candidate.