Police reform, mascot removal underscored at racial equity rally in Woodcliff Lake
Signs and speakers focused on the need for systemic change and support for the Black Lives Matter movement.
[Click here for all photos, videos, and interviews from the rally.]
On Saturday, protesters for racial equity from around the Bergen County area marched from Woodcliff Lake borough hall to the Woodcliff Lake train station. Speakers, including members of the Black, Indigenous, and People of Color (BIPOC) community, covered topics such as the killing of George Floyd, the recent mascot removal at Hills and Valley, and efforts to achieve racial equity.
The march was planned by members of the Hills-Valley equity team, which also held a protest recently in Hills' and Valleys' parking lots, as well as Hills '16 alumni Rishi Gummakonda, Jonathan Levin, Olivia Bulzomi, and Grace Johnson. Rising Valley senior Ellie Schaumberger also helped organize the event.
Although Saturday's rally was planned before the protest at Hills against the Cowboy and Indian mascot removal, the issue was discussed. Signs as well as speakers focused on the need for systemic change and support for the Black Lives Matter movement.
Proud to see so many @pvrhsd students organizing, speaking and marching in today's equity match in Woodcliff Lake! pic.twitter.com/DPpEqMNmCY

— P. Erik Gundersen (@egunder) June 27, 2020
According to the event's Facebook page, over 230 people said they were planning on going. Despite the morning's rainy forecast, the organizers promised the march would occur rain or shine. Masks and social distancing were also required, and signs were encouraged –– both hand-held and lined on the sides of Woodcliff Avenue. In addition, members of the Woodcliff Lake Police Department could be seen surrounding the perimeter of the rally, blocking off streets from traffic so protesters could march.
District Superintendent Erik Gundersen, incoming principal Tim Wieland, and incoming assistant principal Charleen Schwartzman were all seen at the rally talking to protesters. Wieland and Schwartzman were also seen at the Hills protest against the mascot removal; Gundersen said on Twitter that he was proud to see students marching for racial equity.
Once protesters arrived at the Woodcliff Lake train station, organizer Olivia Bulzomi introduced several speakers. They included:
Bergen County Sheriff Anthony Cureton, longtime president of the Bergen NAACP
Pastor Marc of Christ Lutheran Church in Woodcliff Lake
Kenia Akridge, Englewood resident and representative from the Bergen NAACP
Chloe Djedji, rising Hills senior and member of the Hills-Valley equity team
Kareena Shah, rising Valley sophomore and member of the school's Human Rights League
Tammy Felton, a Woodcliff Lake mother and business owner
Jenay Nurse, a senior attorney with the law firm Squire Patton Boggs who "litigates the death penalty and federal habeas cases for indigent clients with a focus on vindicating the innocent."
Adam Shapiro, River Vale resident
Rishi Gummakonda, Hills graduate and rally organizer
Speakers focus on systemic reform, but mascot removal still a hot topic
Cureton focused on the police reforms necessary in the wake of the death of George Floyd and other Black men and women at the hands of white police officers, saying that "There are a lot of good officers. and there are some bad officers. I ask everyone, do not judge the 99% by that 1%. Every morning we wake up, we need someone to be there for us, and I'm going to advocate for law enforcement."
"
Look upon us older folks for wisdom, but do not let this torch die. Change will come."
— Bergen County Sheriff Anthony Cureton
Refusing to name the officers who killed George Floyd, Cureton continued by saying he "[recognized] the relationship between law enforcement with communities of color. But there are good officers that wake up every morning who want to serve irregard of whatever biases they have."
Cureton said that the police officers at the Bergen County Sheriff's Office had recently been re-sworn in and re-committed themselves to protecting citizens. He then talked about the importance of young people "carrying the torch" as they did in the Civil Rights movement of the 1960s. "Look upon us older folks for wisdom, but do not let this torch die. Change will come," he emphasized.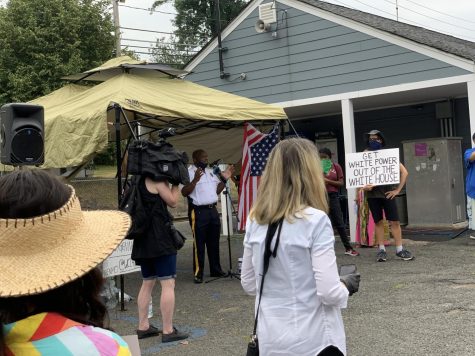 Following his speech, rising Valley sophomore Kareena Shah, a member of the school's Human Rights League, took to the microphone. She talked about knowing, as a person of color, what it is like to be "followed from a negative trail of hateful comments" growing up in Hillsdale, a predominantly white community, and attending Valley, a predominantly white school.
"If this is what I feel [as a person of color], then imagine it is like for Black Americans," Shah said, referring to a society that has stolen their "fruits of labor."
Shah then listed the names of Black lives taken by police, including Catherine Johnson and Breonna Taylor, a case in which racial justice advocates are fighting for the involved officers to be not just fired, but charged. Shah spoke in favor of "strategically reallocating resources, funding, and responsibility away from police and towards community models of safety and support."
"
If this is what I feel [as a person of color], then imagine it is like for Black Americans."
— Kareena Shah, rising Valley sophomore
Another topic mentioned frequently by speakers at the rally was the removal of the Cowboy and Indian mascots at Hills and Valley, a unanimous Board decision that was recently protested against by Hills community members. While the Board said its vote was final, the discussion was still ongoing among residents. Shah accused the mascot protesters as "making a mockery of the Black Lives Matter movement." She emphasized that the mascot removal must be the beginning, and that the Hills and Valley communities have to strive in every way to be anti-racist.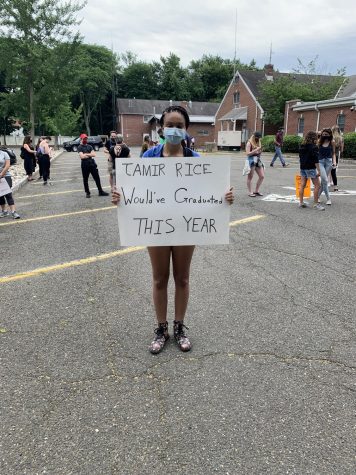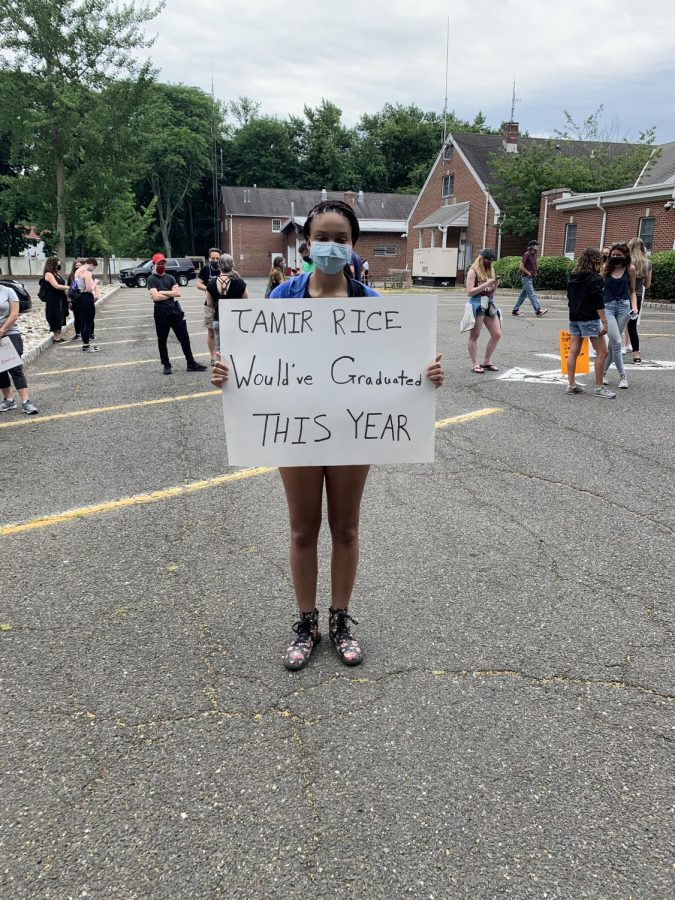 Chloe Djedji, a rising senior at Hills, carried forward Shah's sentiment, focusing on both police brutality and the vocal praise and criticism in the wake of the mascot removal seen through the protest as well as petitions and public outcry.
Djedji explained the reasoning behind the march as an expression of exhaustion with an "oppressive system which harms Black, Indigenous, and all other people of color. We are here as a community to say that the racism that Martin Luther King, Jr. died as a result of –– as well as the likes of many other civil rights leaders –– is still prevalent in our community, and that is not okay."
Like Shah, she also mentioned Breonna Taylor's name, emphasizing that the officers who broke into her apartment must be prosecuted like those who killed George Floyd currently are. Then, she turned her attention to the mascot removal issue. The removal of the Cowboy and Indian mascots, which occurred prior to the planning of the protest, appears to have influenced those who spoke, and the critical response by Pascack Valley mayors (click here to read) gave many speakers the motivation to bring up the issue.
"The removal of these mascots was not only reprimanded by the mayor of Montvale, Mike Ghassali, but also led to protests, where students encouraged by their families showed their school pride in" what Djedji described as "racist symbols." As the Hills and Valley communities move forward, she said, they can "face the many larger systemic issues ahead of us, such as our history of redlining to keep non-white Americans out of our towns and the fact that New Jersey schools rank sixth as most segregated in the nation."
Djedji concluded her speech by saying, "Hills Pride, as well as Valley Pride, for us taking these steps literally and figuratively."
Participants interviewed by Trailblazer say there is a need for education
After the last speaker concluded their speech, the Trailblazer interviewed Hills students, parents, and community members. Tammy Felton, a Woodcliff Lake mother and business owner who spoke at the protest, said she "thinks we need to have some grassroots discussions. We need to figure out what we need to do so we can be heard."
Jared Mitovich
She emphasized the need for education and speaking out. Felton said a voting booth set up at the rally was important to "sign people up who maybe aren't signed up," describing the rally as an opportune time to solicit people who "need to be voters."
Greyson Beato, a 2020 Hills graduate and equity team member, was also interviewed along with his mother, who said she has helped the district in its equity efforts. Beato said that he attended the rally because the equity team has been working on the same issues that the speakers discussed. He also mentioned his experience as a Black student at Hills.
Jared Mitovich
"I am actually a Black student, and I've had some issues with the folks in my grade. I've heard some things, some very discriminatory language, and this issue is very near and dear to my heart. I was hoping to help out to come over here and show my support," he said.
Beato then mentioned the equity team's efforts, saying that he has talked about his experiences with Hills teachers. He said that "more direct actions, [such as] implement[ing] our history into the curriculum," are needed at the school, but emphasized that such education must cover "not just the suffering we face, but also how we've contributed to society."
More coverage of equity at Hills and the mascot removal:
Leave a Comment
More from the contributor(s):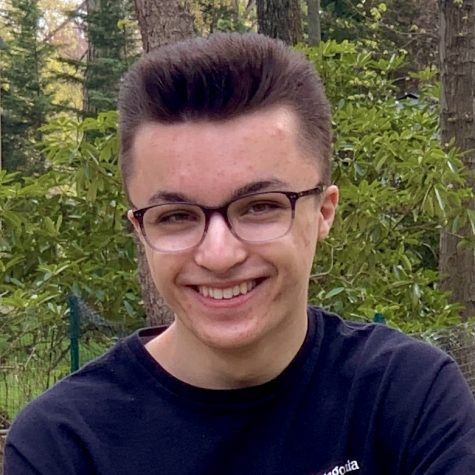 Jared Mitovich, Editor-in-Chief
Jared Mitovich joined the Trailblazer his freshman year as a staff writer. He has helped manage the Trailblazer's social media since his sophomore year, and in his junior year he edited the Opinion section. Now in his final year of high school, Mitovich is looking forward to working with Mackenzie Blowers as Editor-in-Chief along with the entire Trailblazer staff. You can follow him on Twitter at @jmitovich!

Fun fact: Mitovich once met a presidential candidate.