School reopening, mascot removal, Black Lives Matter discussed at July 23 Board meeting
While public comments showed support for the plan to reopen Hills, rifts remained regarding the mascot removal and the district's role in the fight for equity.
In March, Pascack Hills entered a four-month period of virtual instruction as the Covid-19 pandemic tore through the tri-state area.
In April and May, the Pascack Valley Regional High School District Board of Education solidified its selection of a new principal for Hills, Tim Wieland, and a new assistant principal, Charleen Schwartzman.
In June, as the nation reeled from the death of George Floyd, a Black man, at the hands of white police officers in Minneapolis, students participated in protests demanding equity at all levels and stressing that Black lives matter. As the month came to a close, the Board faced vocal praise and criticism after it voted to begin removing the Cowboy and Indian mascots from Hills and Pascack Valley.
Now, in July, the district is preparing for a new school year that is likely to be defined by where the last one left off. If Covid-19 remains relatively at bay in New Jersey through September despite surges in America's Sun Belt, Hills students are expected to receive socially distant, in-person instruction for the first time in months, likely in combination with virtual learning.
Survey results guide district's plan for likely "hybrid" scenario
Preparing for the reopening of school was the main focus of the Board's special meeting on July 23, which was held on Zoom. After Superintendent Erik Gundersen introduced initial details via email on Tuesday, Director of Curriculum Barry Bachenheimer used the Board meeting to go further in-depth on the school's decision-making.
"
This is the most challenging task I've ever had in the 27 years I've been in education.
— Barry Bachenheimer, Director of Curriculum
"This is the most challenging task I've ever had in the 27 years I've been in education," Bachenheimer explained as he moved through a slide deck of results from surveys sent to parents and staff. He said that the results guided the district's plan, which was crafted by a 40-member Restart Committee and will soon be sent to the County for approval. The plan also had to meet the goals outlined in an 104-page State document called "The Road Back".
Out of the three scenarios in the plan –– all on-site classes, all remote classes, and a hybrid solution "where cohorts of the student body come to school on a rotating basis" –– the hybrid solution is most likely to begin the school year in September.
On one day, half the students (for example, Group "A") would come into the building, while the other half (Group "B") will work in a remote environment on that same day at home. Group "A" would attend their class periods in-person through the morning. Before lunchtime, they will go home and complete the rest of their class periods virtually. In-person students will be able to receive lunch "grab-and-go" style if they want on their way out.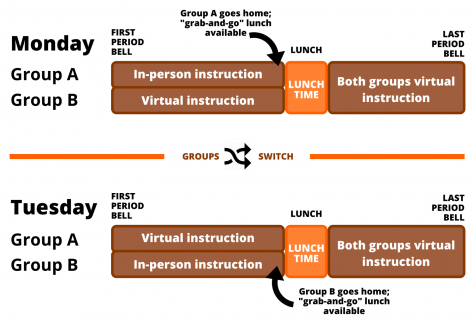 The next day, it would switch –– Group "B" goes in-person for the morning; Group "A" is virtual only. Bachenheimer emphasized that this plan could change at any time depending on the conditions, expressing hope that eventually, all students could attend school on the same day.
In the meantime, the school will focus on providing synchronous learning between those learning in-person and from home –– this means that, unlike in the spring, all students will be expected to follow a regimented school day schedule where they are expected to attend class or complete their work during a certain time.
Out of 2,000 students in the district, over 1,500 parents responded to a survey sent out by the school. Of those who responded, 88% indicated they were comfortable or somewhat comfortable with their child[ren] returning to school in September. Still, Gundersen explained that any parents who do not wish for their child to return to school in-person will be able to choose 100% virtual instruction. This option was announced by Governor Murphy earlier this week, and a survey will be sent out soon to measure interest.
Per Bachenheimer, the faculty survey received 240 responses. 37% said they feel "somewhat uncomfortable" returning to work in September and 30% feel "somewhat comfortable." 7.5% were "indifferent" and 14.6% were "extremely comfortable."
Roughly nine percent of those who responded said that "regardless of the safety protocols, I'm not comfortable with being in the school at this time."
In addition, faculty ranked "students and staff following masking and PPE guidelines" as their biggest priority concern about restarting schools in September. Gundersen emphasized that masks must be worn by all students and staff while in the school building, and those who enter will have to answer screening questions to maintain safety.
Despite their difference in opinion on other matters, members of the public praised the district's plan for reopening at the Board meeting. When asked about the plan for incoming freshman by new Hills parent Gina Hutchinson, Gundersen said that the district was still working on the specifics of their orientation. He also ensured there would be considerations in the schedule to ensure students who are siblings attend school in-person on the same days, and that parents who choose the 100% virtual option will be "engaged in the classwork" just as much as every other student.
Read more about the plan at this link.
'No major expenditures at this point': Gundersen says mascot removal will be phased process
After the Board had voted on its agenda items, Gundersen turned his attention to the mascot removal, which continues to be the subject of heated, and often political, debate on social media. He said that claims of six-figure costs for removing the mascots are untrue.
"I and my administrative team will be working on a phase-out of the mascot and subsequently we will be talking about a phase-in of potentially a new mascot, and those discussions will take place primarily with students and potentially our community as well," Gundersen explained.
Alluding to Montvale Mayor Mike Ghassali's Facebook post that said the direct and related costs to change the Cowboys name on the endzone turf at Hills add up to over $100,000, Gundersen clarified that the district has "no plans right now" to do so.
"Like it or not, 'Cowboys' is going to be in the endzone for quite some time. We are not prepared to go ahead and make that change," he said. The district is also not planning to change any athletic uniforms until their typical cycling period expires.
"
Like it or not, 'Cowboys' is going to be in the end zone for quite some time. We are not prepared to go ahead and make that change.
— Erik Gundersen, Superintendent of Schools
Although Gundersen said there would be no "major expenditures" for the mascot removal at this point, comments from the public continued to criticize the process and reasoning behind the Board's unanimous vote in June.
"That vote on that Monday night came as a surprise to a lot of people, and I didn't even know the Cowboy name was a point of contention [until then]," said community member Anthony DeRosa.
DeRosa charged that the Board did not make adequate notice that there would be a meeting and that the mascots would be voted on, suggesting that "[i]t should have been some sort of a dedicated meeting or it certainly could have been pushed out through social media."
Board member Tammy Molinelli said that nearly 100 people were currently listening to his comments. Over 500 people attended the two meetings in June where the mascot removal was discussed.
Arnold Scher, the Board member who made the motion to remove the mascots, sought to distance himself and the Board from accusations that the mascots were removed because they were racist.
"We retired a mascot. We did not say that the mascot was racist or ever racist. At least I never have," Scher said. "Other people may have said that or perceived that, but we never stated that."
"
We retired a mascot. We did not say that the mascot was racist or ever racist.
— Arnold Scher, Board member
But the reasoning behind the decision remained under scrutiny.
"My Native American son that goes to Pascack Valley does not agree with the removal of the Indian. It is not racist and is not offensive," argued Jessica Frolich, a Valley parent. "And the reason is you want to promote inclusivity, equity, and equality. I'm not sure you understand what those words mean." She said the Board members, who she pointed out are not Native American, would not choose to decide what is appropriate for Black, Hispanic, and Asian students did so for Native American students.
"I have two Black children, so I just want to say thank you for your efforts," expressed Amaka Auer, a Montvale resident who said her kids will attend Hills in several years. She was not the only future Hills parent who praised the vote to remove the mascot.
"I appreciate the feelings of all the folks who have lived here for a long time, who have children who have graduated and have a lot of feelings about [the mascots'] history and everything that goes along with it," said Benjamin Oosting of Hillsdale.
"As a newer resident" and one with young children, Oosting contended that "we also have to take into account folks who are going to be here for a long time." He said he wouldn't want to send his children to a high school with what he called a racist name embedded in its community and culture.
Parents question district's role in fight for racial, gender equity
While the mascots are one way the district said it will meet its goal of inclusivity and equity, Hills and Valley parents questioned the schools' role in the fights for both racial and gender equity.
Beth Glazer said her daughter, a student-athlete at Hills, "has no issue with the Cowboy. What she has an issue with was how girls' sports are treated at Hills versus male sports. There is a very big disparity to the attention and respect to women's sports that has nothing to do with the Cowboys."
"
I have a female senior who has no issue with the Cowboy. What she has an issue with was how girls' sports are treated at Hills versus male sports.
— Beth Glazer, Hills parent
Laura Jeffas, a parent of two Hills seniors, asked Gundersen about Black Lives Matter signage that was in front of Valley. She also brought up the "ACAB" sign seen at a racial equity protest planned by Hills alumni and which students and faculty attended. Several of those who attended the event said on Facebook that the sign was not affiliated with the school and did not represent the views of most protesters.
Gundersen said that the school-approved "BLM" sign at Valley, which was "based on the suggestion of the student equity team at PV as they were looking at a constructive way to protest the killing of George Floyd," was up for two weeks longer than it was supposed to be.
Jeffas continued to question if the Black Lives Matter movement will be part of the fall curriculum, suggesting that the namesake organization had political intentions.
In a comment that was shortly afterward criticized by other parents, Gundersen agreed with Jeffas that the movement "has taken on a political connotation, and that is certainly not the intent of the school district." However, he encouraged social studies teachers to discuss "[e]verything that's taking place right now with regards to social justice" but without incorporating their own political opinion.
Political opinions of students are encouraged in a "respectful manner," he said. "That's how we get students to be talking about important issues and how we connect our history to important events."
Then, Jeffas asked about the process in which signage like that in support of Black Lives Matter is approved, connecting it to possible signage in support of President Trump or former Vice President Joe Biden in November's election. While each proposal is reviewed individually, Gundersen sought to distance the district from implications it was taking on a political leaning.
"This administration believes in the sentence 'Black lives matter', but we have to separate ourselves from the perception that the terminology we use is politically charged," he implored.
After the Cowboy mascot was removed, Hills students unfurled a Trump banner patched to say "Make Hills great again" in front of the school.
As the meeting neared its end, community member Steve Frischer appeared to acknowledge to the Board that the focus on school reopening had been lost in some of the public comments.
"I'm under no illusion that the vast majority of the work you're doing is how to operate the schools safely in the fall. I am in tremendous support," he expressed. Still, "regarding the Cowboy decision, I don't think it was handled in the best possible way."
Leave a Comment
More from the contributor(s):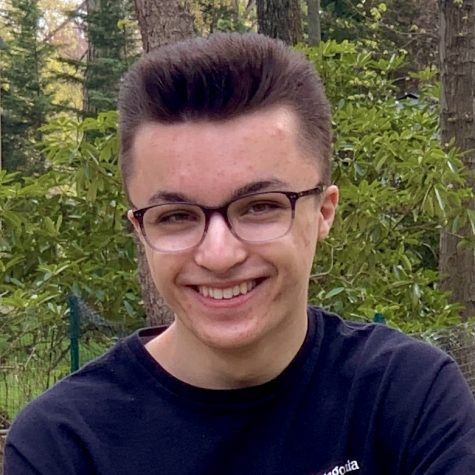 Jared Mitovich, Editor-in-Chief
Jared Mitovich joined the Trailblazer his freshman year as a staff writer. He has helped manage the Trailblazer's social media since his sophomore year, and in his junior year he edited the Opinion section. Now in his final year of high school, Mitovich is looking forward to working with Mackenzie Blowers as Editor-in-Chief along with the entire Trailblazer staff. You can follow him on Twitter at @jmitovich!

Fun fact: Mitovich once met a presidential candidate.