Woodcliff Middle School goes all-remote after teacher tests positive for Covid-19
In a statement to the Trailblazer, Superintendent Lauren Barbelet said "the abundance of other faculty members who came in close contact with the teacher" led her to temporarily close the school for in-person learning.
Woodcliff Middle School students are moving to all-remote instruction for two weeks after a teacher tested positive for Covid-19, the school's superintendent confirmed to the Trailblazer. The news was first announced to parents of students in the district via text message late last night.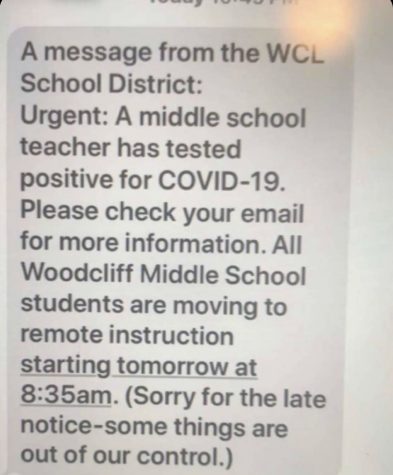 "Urgent: A middle school teacher has tested positive for COVID-19," read the text. "All Woodcliff Middle School students are moving to remote instruction starting tomorrow at 8:35 a.m."
When asked for comment, Woodcliff Lake Public Schools Superintendent Lauren Barbelet released the following statement:
On September 10, 2020 a teacher in the Woodcliff Lake Middle School reported a positive result to a COVID-19 test. In accordance with the New Jersey Department of Health COVID-19 Public Health Recommendations the Administrative team (Principal Andriulli, Principal Marsich, Curriculum Coordinator Hreno, Business Administrator Lynaugh, Director Ballester of our Special Services and Superintendent Barbelet) notified families and staff members who came in close contact with the teacher on September 8, 2020 of their possible exposure and that they are excluded from school for fourteen (14) days. As the Superintendent, I also temporarily closed Woodcliff Middle School and switched all students to remote learning based on the abundance of other faculty members who came in close contact with the teacher. Those faculty members are now being tested and will also quarantine. It is our hope that our teacher will recover quickly and that this remains an isolated case. It is anticipated that Woodcliff Middle School will return to in-person learning following the fourteen (14) day temporary closure.

Lauren Barbelet, Superintendent of Woodcliff Lake Public Schools
It is unclear where the teacher caught the virus, and if the teacher experienced symptoms while in school. Likewise, while the teacher alerted the district of their positive test on Sept. 10, it is not clear when they first got tested and if they taught in the school building while awaiting the result.
Like at Hills, which has been open for seven days, masks are required for both students and staff while in the school building. At Woodcliff Lake Public Schools, they can be removed by students during snack time if social distancing is maintained. Apart from the text to district parents, there has not yet been an announcement to the community about the positive case, which sparked discussion and concern among Hills students.
"It's definitely scary as a sibling of a WCMS student to realize the gravity of that situation," said Hills senior Claudia Kim. "I really thought before that Hills could be able to last [under the hybrid plan] for a couple of months at least, but now I'm not sure that we're going to remain hybrid for very much longer."
Kim is one of many Hills students who have siblings in the Woodcliff Lake Public Schools district, which includes both the middle school on Woodcliff Avenue and Dorchester Elementary School on Dorchester Road. The two schools reopened for instruction on Sept. 2 under a plan structured similarly to Pascack Hills', but with every student in the building on all days of the week. At lunchtime under the on-site plan, students return home and began remote instruction until the end of the school day.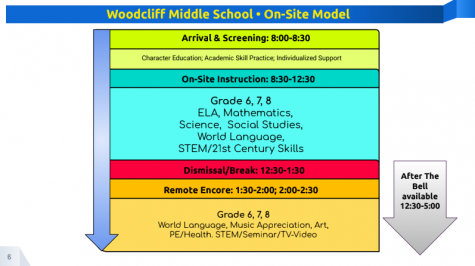 "The WCL plan includes an opportunity for ALL students to attend school in person EVERY DAY from 8:00-12:30," reads the district's reopening document before the middle school temporarily closed.  The elementary and middle schools enrolled over 700 students in total during the 2018-19 school year; the majority, when they graduate, go on to attend Hills for high school.
Kim said that "it's pretty much all overlap" between both the Hills and WCMS communities, referencing how intertwined the middle school is with students and families in the Pascack Valley Regional High School District. "Covid-19 is bound to reach our district soon enough."
A similar sentiment to Kim's was expressed by many students spoken to during the school day when the news began circulating. While parents on Facebook disagreed about the need to shut down the middle school for the singular positive case, many agreed in their assessment that Covid entering Hills was not an if, but a when question.
Like Hills, Woodcliff Middle School students could also choose to receive entirely remote instruction at the start of the school year.
Leave a Comment
More from the contributor(s):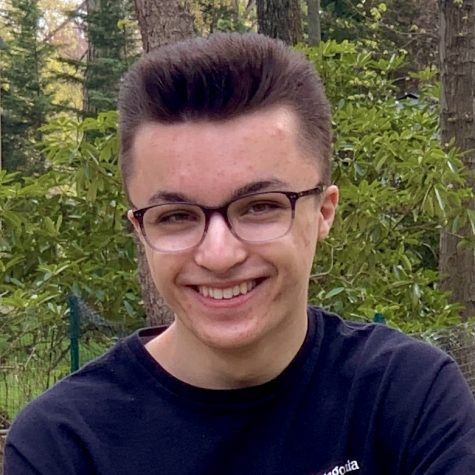 Jared Mitovich, Editor-in-Chief
Jared Mitovich joined the Trailblazer his freshman year as a staff writer. He has helped manage the Trailblazer's social media since his sophomore year, and in his junior year he edited the Opinion section. Now in his final year of high school, Mitovich is looking forward to working with Mackenzie Blowers as Editor-in-Chief along with the entire Trailblazer staff. You can follow him on Twitter at @jmitovich!

Fun fact: Mitovich once met a presidential candidate.