Board of Education presents communication plan at meeting
"[W]hile the Board has done legally what it's required to do as far as advertising agendas, in today's world, people aren't looking for information; they want the information to come to them," said Zeller.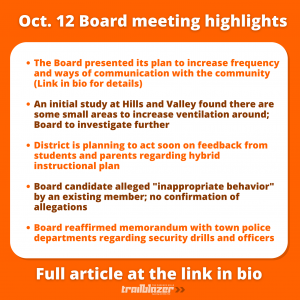 At their Monday meeting, the Pascack Valley Regional Board of Education presented its plan to increase the frequency of its communication with the community. While the Board has focused on its communications before, such as voting to record the audio of each meeting for the public, it received scrutiny after what some community members described as a lack of transparency surrounding the vote to remove the Cowboy and Indian mascots. Several candidates for the Board this year have made it a center of their campaigns.
The focus also comes during the Covid-19 pandemic, where Board meetings continue to be held on Zoom and where students and teachers are continuing to adjust to a hybrid instructional plan.
Paul Zeller, the district's Director of Technology and Communications, presented its communications plan for the school year along with intern Samantha Goldman, a Hills senior.
Zeller said the Board will leverage social media to communicate, communicate about the before and after of the meetings themselves, as well as discussions ongoing beyond the meetings.
"It's important to note that while the Board has done legally what it's required to do as far as advertising agendas, in today's world, people aren't looking for information; they want the information to come to them," Zeller said. "This is done through social media, presentable in a way that people want to see it and it will also deliver it directly to them in their respective feeds."
"At the end of the day, the Board will drive what content gets put forth," Zeller continued before turning it over to Goldman.
"We realize that social media would be the most efficient way [to communicate]; it's the most important thing people look at," Goldman explained, saying she and Zeller began working Sept. 1 when the district only had a Twitter and YouTube presence, "which didn't get everything we wanted across."
Since then, Goldman continued, the Board has created a Facebook account to be geared towards parents and educators, and an Instagram account to be geared towards students so they can  "see what's going on in the community."
In terms of the specific content published, Goldman said student achievements would be more broadly documented on social media, while the website would remain "the main location for people to find information."
Zeller went into further detail about how the meetings themselves will be communicated, saying that agenda highlights for each meeting with key information will be distributed two days prior on social media and via email. After the meeting, the district will produce a highlight video available on YouTube along with the full meeting recording, he explained.
Zeller explains how meetings will be communicated:

✅ Pre-meeting will include agenda highlights with key info promoted 2 days before on social media and email.

✅ Post-meeting will include a highlight video of the previous meeting on YouTube, along with the full video.

— The Trailblazer (@PHTrailblazer) October 12, 2020
"While the district is meeting legal standards for communicating meetings with its website,"[i]n today's world, people aren't looking for information; they want the information to come to them," Zeller continued.
Beyond the Board meetings, Goldman said she and Zeller had brainstormed ideas such as a seasonal video from Gundersen or Board President Tammy Molinelli, as well as a community report and postcard that would help engage community members without students in the district but who are still engaged.
Zeller also expressed interest in expanding the district prospectus, an overview that is currently sent to 8th graders prospectively entering the district but which he suggested should be available for realtors to pay for and provide to new community members.
In response to a question from member Arnold Scher about the content of the opt-in email, Zeller says it would include information relevant to community members He also said he would be making decisions first about "the physical work every month to make sure this a professional, to-the-point, informative communication out to the public."
"I love the idea of solid, reliable interns" rotating through the Board communication product work, "and it's a really beneficial experience," Gundersen agreed. He suggested that the respective municipality boards and mayors could help pass along the opt-in information to potential community members not tightly connected to the district by having current students.
The new plan would include reducing the trimester report to an annual report, which would free up around $15,000 to spend on "communication in better ways with human resource time to do the highlight videos" and manage the social media.
Board member Joseph Blundo, who sits on the newly created communications subcommittee, praised the Board for doing "really good targeting parents and students in the district" but said there needed to be a greater focus on providing relevant information to those "who haven't had students in the district for decades but [are] still very engaged."
"This is a really strong step towards increasing our communication structure," Gundersen said, saying there may be additional steps taken in the future and explaining that the Board's conversations over the summer "were especially centered a lot on how we can improve our communication efforts."
Anthony DeRosa, the Hillsdale Borough Council liaison to the Board, said he was "anxiously waiting to see how it goes, but this is the way we're supposed to leverage social media."
Other updates
At the meeting, the Board also voted to approve a state memorandum of agreement between the district and the police of Hillsdale, Montvale,
River Vale, and Woodcliff Lake. The agreement resulted from Gundersen's annual meeting with the police chiefs to discuss issues facing the district; he thanked them for their role in "conducting meaningful security drills that will prepare us for incidents that hopefully will never occur."
Currently, there are three retired student liaison officers at Hills, who Gundersen said "add a wonderful cultural dynamic in our buildings and also [remind] everyone that there's someone watching out to protect them."
The Board's Building and Grounds committee discussed four ongoing projects, including the start of a new round of bidding for contractors to replace the parking lot stairwell at Hills. Additionally, a ventilation study of the school building was completed by KSI Engineering, who focused on non-classroom areas and found "a few areas in each school to increase some ventilation around."
The firm will eventually make recommendations and action plans that member Hallowell said the Board could "put some money around." In the meantime, Gundersen said that "[i]f we do have areas and they are small that are not at the right level of ventilation, we will close those areas off until it is corrected."
Additionally, the Board is investigating leasing warehouse space in Park Ridge to place furniture unused due to Covid spacing restrictions. The furniture is currently in each school gym, but with basketball season upcoming, Hallowell said it needs to be moved.
Gundersen also promised that the district is planning to act soon on feedback regarding AP classes, virtual versus in-person classes, and other comments made by students and parents in surveys sent by the district.
Board candidate alleges 'inappropriate behavior' by member
Kristin Martin, who is running for one of the two Hillsdale seats on the Board this November, said she emailed the Board an "ethics complaint in response to the inappropriate behavior of" Arnold Scher, an incumbent member from Hillsdale, "over the past several weeks."
[Read more about this year's Board candidates here.]
Martin decribed the inappropriate behavior as "stalking" and "harassment" and said her email to the Board was not responded to. At this time, there is no confirmation of any of the allegations made nor any specific details about what may have occurred.
Gundersen did say that Martin's complaint was received, but that it was the responsibility of the New Jersey Board Association to handle ethics complaints. Martin indicated she would contact them.
"We deserve better representation from the people we vote for," said Martin's husband, Chris, who pressed if there was "any policy that the Board has in place for its own members." He argued that members "are held to a higher standard, and we suggest you keep it."
Leave a Comment
More from the contributor(s):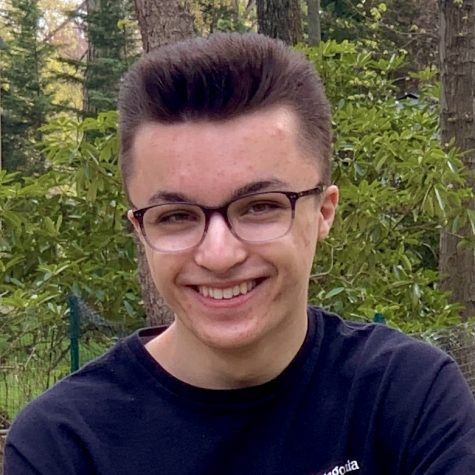 Jared Mitovich, Editor-in-Chief
Jared Mitovich joined the Trailblazer his freshman year as a staff writer. He has helped manage the Trailblazer's social media since his sophomore year, and in his junior year he edited the Opinion section. Now in his final year of high school, Mitovich is looking forward to working with Mackenzie Blowers as Editor-in-Chief along with the entire Trailblazer staff. You can follow him on Twitter at @jmitovich!

Fun fact: Mitovich once met a presidential candidate.