A colorful addition to the Hills marching band
Incorporating a color guard into this year's marching band was not one of Mr. Ryan Dore's priorities; however, when the idea was suggested by a student, he decided that he "was down to give it a shot."
Several years ago, the Pascack Hills Marching Band's color guard was disbanded. But, on Oct. 2, the group was revived under the direction of Mr. Ryan Dore and Ms. Adria Warfield. The small ensemble of three girls took the field for their first time as the Pascack Hills Color Guard and performed alongside the marching band in their 2020 halftime show, Resilience.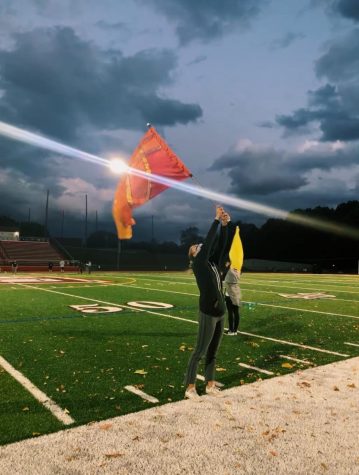 According to Dore, "the color guard is a member of the marching band program that adds to the visual element of the halftime show." The group often uses different props such as flags, ribbons, sabers, and wooden rifles to "add a really cool effect to the band's show."
aDVERTISE HERE

While the color guard is a part of the marching band, they, of course, do not play instruments on the field. Dore is most excited that he is able to provide a way for "non-music students to be involved" in the band.
Incorporating a color guard into this year's marching band was not one of Dore's priorities; however, when the idea was suggested by a student, he decided that he "was down to give it a shot." After placing an advertisement in the Trailblazer, the student body responded, and thus, the Pascack Hills Color Guard was formed. 
"I am looking forward to choreographing a full show that our guard can execute beautifully," Warfield said. She is not only choreographing the color guard but also musicals at Hills.
While she herself was never a color guard member, it has always been a part of her life. Warfield's mother was in color guard, so "[she] had some experience with it before taking on this responsibility," she said.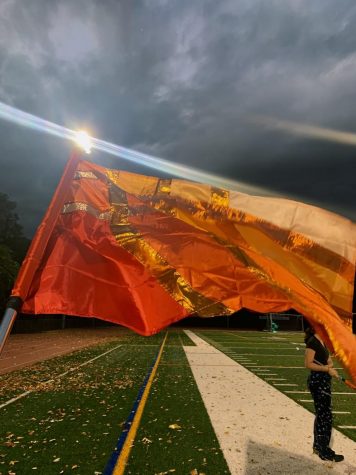 Warfield is more than familiar with choreographing new dancers and teaching different types of dance, but she is definitely facing new challenges within her position during these uncertain times.
"
When I choreograph a dance, I make up all the formations and decide what each dancer is doing at a specific time… With color guard, I choreograph around the drill.
— Adria Warfield, Hills Color Guard Advisor
Warfield noted that "the biggest challenge is having to work around the drill. When I choreograph a dance, I make up all the formations and decide what each dancer is doing at a specific time… With color guard, I choreograph around the drill. So I have to make sure my choreography fits within the pre-planned drill and that no musicians get hit with a flag."
In order to avoid danger and decrease the risk of any musicians being hit with different props during the halftime show, Warfield first learns the entire marching band drill. Drills are the movements and formations that marching band members follow in order to create different images or patterns on the field. By learning each drill, Warfield knows when the color guard has time to make bigger movements such as leaps throughout each song. 
Although there are challenges, Warfield is "excited to see the guard learn and grow in our time together. They're hard workers and I think they have a lot of potential," she emphasized.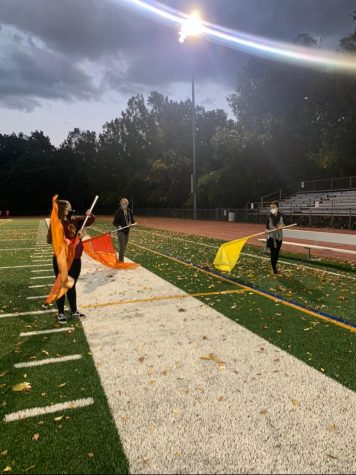 All three members of the Hills color guard decided to join because they wanted to try something new and exciting.
Although performing is nerve-wracking, "the most exciting part is marching with the band," sophomore and member Giuliana Balboni noted. 
On the other hand, the most exciting element of color guard is "successfully putting a dance together despite the limited amount of practice we had," member Rachael Lokshin, a junior, argued. After each performance, the girls feel an extreme sense of accomplishment, as all of their hard work has truly paid off.
The size of the marching band has increased over the past few years. This is credited to Dore's efforts. When he arrived at Hills, he said "there were 12 members in a pep band for football games with no color guard," but as of this year, the Hills pep band has grown into a marching band with 35 members.
Dore is proud of how far the marching band has come and is excited for its continued growth over the upcoming years. While the color guard only has three members this year, the group is looking forward to helping the marching band expand and excited to hopefully see some new members next year.
If you think that you might enjoy being a part of the Pascack Hills Color Guard in upcoming years, Lokshin encourages you to "just go for it! What do you have to lose?"
Leave a Comment
More from the contributor(s):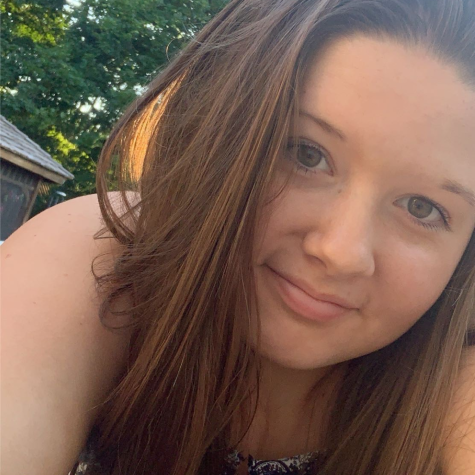 Scianna Scott, Staff Writer
Scianna Scott is a junior at Hills. This is her first year as a member of the Trailblazer team, which she joined in August as a staff writer. Scott is looking forward to a great year of writing and reporting.



Fun fact: Scott once went cliff jumping in Cozumel, Mexico!