Hills Covid case updates: Fully remote instruction to continue through Nov. 5
One individual at Hills reported a positive Covid-19 test on Oct. 19 and another on Oct. 24, prompting two contact tracing investigations that quarantined students and teachers.
Monday, Oct. 26 at 5:24 p.m.
Hills to remain fully remote due to Covid-19 cases, Gundersen says
Pascack Hills will continue all-remote instruction through Thursday, Nov. 5, Superintendent Erik Gundersen announced in a district-wide email. The decision is based on the recommendations of health officials and state guidelines, Gundersen said. One individual at Hills reported a positive Covid-19 test last Monday and another on Saturday, prompting two contact tracing investigations that quarantined students and teachers.
On Nov. 5 and 6, school will be fully closed due to the New Jersey Education Association Convention. That means the earliest date students and staff would return to Hills in-person would be Monday, Nov. 9, which is two weeks from today.
In the meantime, all students in both cohorts will meet remotely with their teachers synchronously every day, Gundersen emphasized. That is different from today, for example, where some Cohort B students did not meet with some of their classes in the morning because of the A1 schedule.
Gundersen said in his email, "As we noted yesterday, a second individual within our Pascack Hills High School community tested positive for COVID-19. Those who came in close contact with this individual have been notified and are required to self-quarantine following the CDC guidelines."
According to the guidelines, a close contact is defined as someone "who was within 6 feet of an infected person for a cumulative total of 15 minutes or more over a 24-hour period."
Gundersen added, "Local health officials have reviewed the contact tracing results for this case, as well as the information from our previous case reported on October 19. Based on guidelines from the State Health Department and recommendations from our local health officials, Pascack Hills High School will be fully remote through Thursday, November 5, 2020. Given we are closed for Teachers Convention November 5 and 6, we plan to return to in-person learning on Monday, November 9.
We understand this is a disappointment for many, as most prefer to be in the schools; however, this decision is being made in the best interest of public health for our schools and community."
In-person co-curricular activities are also canceled through Nov. 5, Gundersen noted. He said that co-curricular activities can resume on Friday, Nov. 6.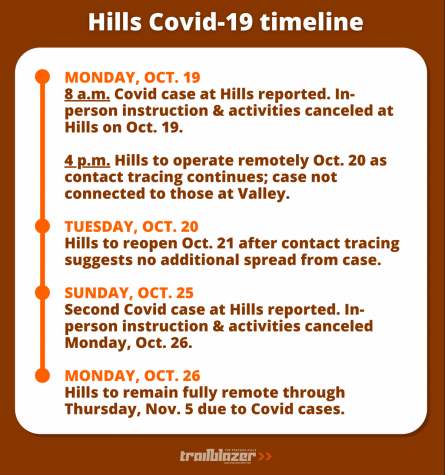 Sunday, Oct. 25 at 3:44 p.m.
Second Hills individual tests positive for Covid-19
An individual at Pascack Hills reported a positive Covid-19 test on Saturday, according to an email from Superintendent Erik Gundersen. The school will be all-remote again through at least Monday, Oct. 26, after previously being closed on Monday and Tuesday of last week due to another case. An A1 schedule will be followed virtually by all students and staff while contact tracing of the new case is underway.
In his email, Gundersen said, "Late Saturday, we were informed that an individual from the Pascack Hills High School community has tested positive for COVID-19.  The individual was exposed at a non-district event; however, since that event, has been in close contact with both students and teachers at Pascack Hills High School.
All students and teachers known to have been in close contact with this individual have already been notified and will need to self-quarantine for 14 days. However, due to the unique circumstances of this specific case, local health officials have recommended Pascack Hills High School operates on a remote schedule for at least Monday, October 26."
It is unclear exactly what the unique circumstances are that Gundersen is referring to, though the email indicates the possibility of a longer closure than just Monday.
"Local health officials intend to complete a full review of contact tracing results Monday, where they will be taking into account the previous positive case Pascack Hills reported on October 19," Gundersen said.
Currently, the United States is experiencing a third surge in Covid-19 cases, reaching a new high of over 80,000 positive tests announced in one day as more Americans move indoors due to colder weather. In New Jersey, Governor Murphy announced nearly 2,000 new cases on Saturday, the highest daily total since May.
While hospitalizations in the state remain far lower than in the spring, that number is also increasing –– around 40% in the last two weeks according to the Covid Tracking Project. Bergen County has averaged 12 cases per 100,000 people in that same time span, also an increase.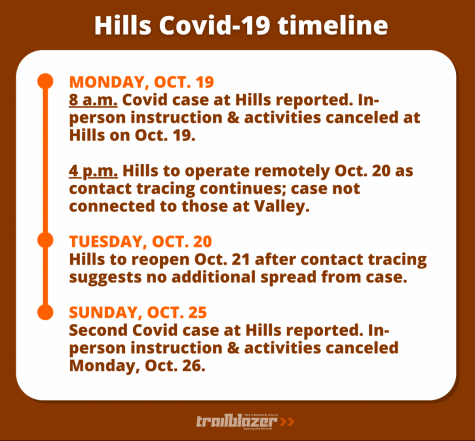 Leave a Comment
More from the contributor(s):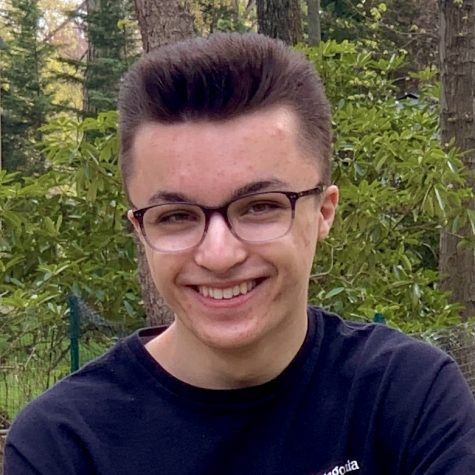 Jared Mitovich, Editor-in-Chief
Jared Mitovich joined the Trailblazer his freshman year as a staff writer. He has helped manage the Trailblazer's social media since his sophomore year, and in his junior year he edited the Opinion section. Now in his final year of high school, Mitovich is looking forward to working with Mackenzie Blowers as Editor-in-Chief along with the entire Trailblazer staff. You can follow him on Twitter at @jmitovich!

Fun fact: Mitovich once met a presidential candidate.