New BOE members sworn in at reorganization meeting
Superintendent Erik Gundersen also announced that Valley will be fully remote for two days due to Covid-19 cases connected to New Year's parties.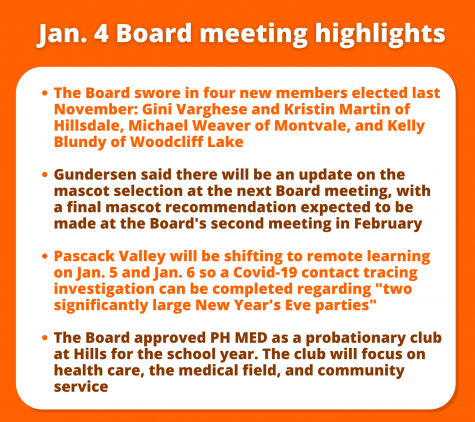 At its first meeting of the year on Monday night, the Pascack Valley Regional Board of Education certified its past November election results and swore in four new members: Gini Varghese and Kristin Martin of Hillsdale, Michael Weaver of Montvale, and Dr. Kelly Blundy of Woodcliff Lake. All four new members will serve a three-year term.
"Out of the four new members, we have two educators and two health workers," Superintendent Erik Gundersen noted, which he said is helpful considering the current pandemic and its challenges for schools. Weaver is a middle school principal in Fair Lawn, Martin is a teacher in Upper Saddle, Varghese is a nurse practitioner, and Blundy is a chiropractor.
By unanimous vote, Tammy Molinelli of Woodcliff Lake was re-elected as Board President by members. She was the only member to receive a nomination. "I have so much gratitude and passion for this school district and the team of people that make choices on behalf of the kids," she said.
Molinelli highlighted the district and Board goals, which she says "really focus on inclusivity and equity, high academics in a time where Covid makes us shut the schools overnight and open the schools almost overnight." She also highlighted the Board's communications efforts and read the Code of Ethics to the Board members.
Janet Bissinger of Montvale was re-elected as Board Vice President by members. She was the only member to receive a nomination.
The Board also approved PH MED as a probationary club at Hills for the school year. The voluntary advisor will be Hills' athletic trainer, Steven Papa. Gundersen said that PH MED will promote "healthcare and knowledge for students about the medical field. It focuses on community service, guest speakers, and student education programs."
"There are a significant number of students who are struggling. This is a difficult time," Gundersen acknowledged. The Board approved its Education agenda items, which include supplemental instruction for some students.
Gundersen updates on mascot selection, contact tracing at Valley
At the next Board meeting, Monday, Jan. 18, one student each from Hills and Valley will update the Board with progress on the mascot selection at each school. Gundersen said the final mascot recommendation from the student-led committees is expected by the Board's second meeting in February, which is Monday, Feb. 22.
"The goal is moving forward and you'll get a more comprehensive report at our next Board meeting from the students themselves," Gundersen added.
He also noted the success of the school's childcare program for staff members, intended to keep as many teachers and faculty in the school building as possible by having provided staff assist with their child care. Gundersen said enrollment of children has increased over time.
At the end of the meeting, Gundersen announced that Pascack Valley will be shifting to remote learning for at least Jan. 5 and Jan. 6 so that a Covid-19 contact tracing investigation can be completed regarding "two significantly large New Year's Eve parties." Pascack Hills' schedule has not changed.
According to Gundersen, the two social gatherings took place in Hillsdale and River Vale on New Year's Eve.  "So far, several students who attended these gatherings have tested positive for COVID-19, indicating other students at these events were also exposed," he said. No student who tested positive was in Valley's school building today.
"It's become very difficult for us to determine who was at those parties so that we can inform those students that they need to quarantine," Gundersen explained, asking parents to cooperate with school nurses and health officials because it is "for the benefit of the community that you are fully transparent with us so we can inform the students who need to quarantine and so we can open up our schools again."
Leave a Comment
More from the contributor(s):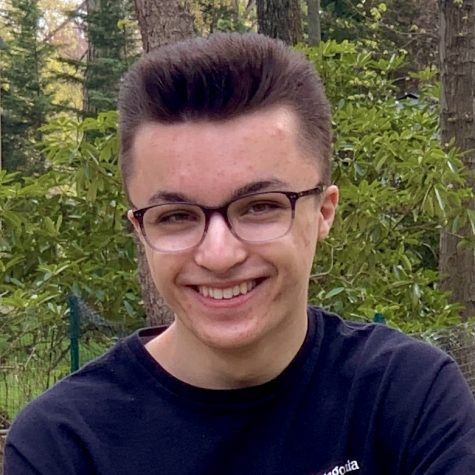 Jared Mitovich, Editor-in-Chief
Jared Mitovich joined the Trailblazer his freshman year as a staff writer. He has helped manage the Trailblazer's social media since his sophomore year, and in his junior year he edited the Opinion section. Now in his final year of high school, Mitovich is looking forward to working with Mackenzie Blowers as Editor-in-Chief along with the entire Trailblazer staff. You can follow him on Twitter at @jmitovich!

Fun fact: Mitovich once met a presidential candidate.