BOE discusses keeping Cowboys as an option for Hills' mascot
After mascot committee members from each school updated the Board on their progress, discussion reignited over the decision to remove the Cowboys mascot in the first place.
Advertisement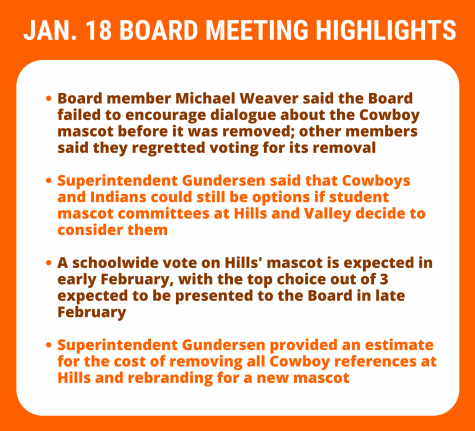 As students at Pascack Hills and Pascack Valley inch closer to voting on a mascot to represent themselves and their school, the Board of Education Monday night reignited a debate over its vote to remove the Cowboy and the Indian in the first place.
"If this Board wants me to make it clear that Cowboys and Indians are on the table, then let's go ahead and give that directive to me," said Superintendent Erik Gundersen at one point, indicating that mascot selection committees could consider them as options. Gundersen said this in response to Board members Joseph Blundo and Michael Fronte, who expressed regret over their vote in June to remove the Cowboy in particular. The two members said they were willing to consider reinstating the Cowboy mascot if Hills students explicitly knew it was an option to do so.
"I am curious if anyone else feels we could seek keeping [the Cowboys mascot]," said Fronte. "Maybe this is the time to have this conversation if others agree. I'm wondering if others agree."
"
If this Board wants me to make it clear that Cowboys and Indians are on the table, then let's go ahead and give that directive to me.
— Erik Gundersen, Superintendent of Schools
This new –– yet old –– debate was catalyzed by Board members' responses to an update students gave on the process each school was taking to select its new mascot. At Hills, committee members are meeting on Jan. 20 to narrow down a list of suggestions from students to three top choices to present for a schoolwide vote in early February.
Gundersen clarified that each mascot committee would be prioritizing input from students and staff over feedback from members of the community. However, Board member Michael Weaver from Montvale argued that the Board did not spend enough time hearing from the community about its decision to remove the Cowboy mascot.
"Maybe we should have asked the community the question, what is a Cowboy, and what does being a Cowboy mean to you?" Weaver argued. He said it was "never too late to have a conversation."
The effect of the Cowboy mascot on gender equity at Hills was analyzed using the results of a recent school climate survey. According to Gundersen, "the perception of girls at Pascack Hills is that they are not valued as much as boys."
Several other members expressed varying degrees of regret or support for the Board's decision to remove the Cowboy and the Indian.
Board President Tammy Molinelli argued the mascot committee could not discuss the Cowboy or Cowgirl as an option, because the current criteria that the mascot committee decided on was to select one mascot that was inclusive and not specific to a gender. Gundersen said that the student committees could revisit that criteria so that Cowboys and Cowgirls are eligible options for Hills' mascot.
Board member Gini Varghese said that, in her eyes, the Board was "peddling backwards here on an issue that we shouldn't be discussing when it comes to kids." She and other members said that it was confusing if the Cowboys were still on the table after being removed.
"It's this generation that has to choose what to do," said Board member James Stankus, seeking to distance the decision on the mascot from possible nostalgia for Cowboys or Indians among alumni.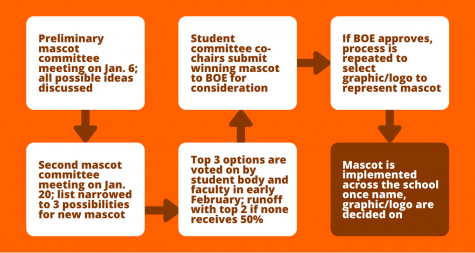 Gundersen provides initial cost estimate on mascot rebranding
The Board went on to discuss the cost estimate of rebranding for new mascots. According to Gundersen, the current estimate for replacing all Cowboy branding at Hills is $31,000. It will cost an estimated $53,000 to replace athletic uniforms, and the replacement of the football endzone and wrestling mats are estimated at $75,000. The quickest changes will be seen through the replacement of signage on campus, while Gundersen said that the replacement of the football endzone and wrestling mats will not be as immediate.
Board member Kristin Martin argued that the Board should be equitable in how it approaches rebranding, noting that boys' athletic teams may receive new athletic uniforms more quickly than girls' athletic teams due to their existing replacement cycles of every three to five years.
The debate about the financial cost is only beginning. "While the fiscal piece is something we have to be responsible for, we have to be responsible for the well-being of our students. That matters above all else," said Molinelli.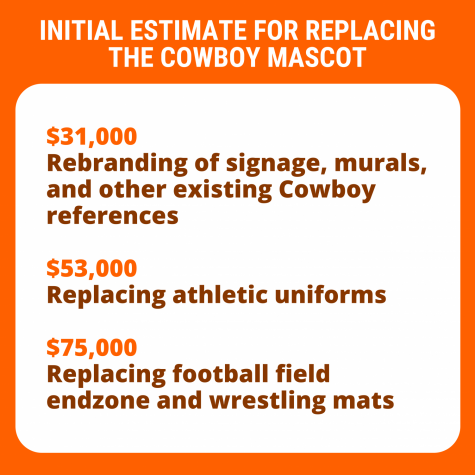 Leave a Comment
More from the contributor(s):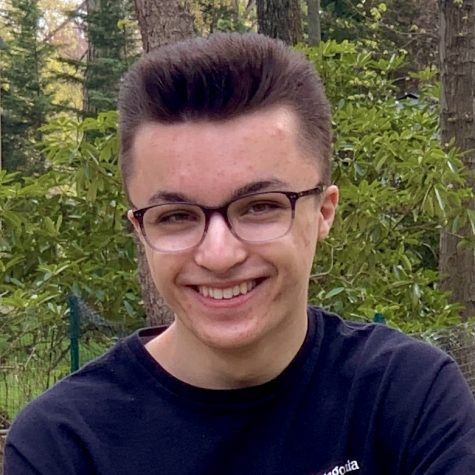 Jared Mitovich, Editor-in-Chief
Jared Mitovich joined the Trailblazer his freshman year as a staff writer. He has helped manage the Trailblazer's social media since his sophomore year, and in his junior year he edited the Opinion section. Now in his final year of high school, Mitovich is looking forward to working with Mackenzie Blowers as Editor-in-Chief along with the entire Trailblazer staff. You can follow him on Twitter at @jmitovich!

Fun fact: Mitovich once met a presidential candidate.