Hills students, staff voice thoughts on mascot options
The Trailblazer heard from students and staff at Hills before they have the chance to vote for their top mascot preference on Thursday, Feb. 25.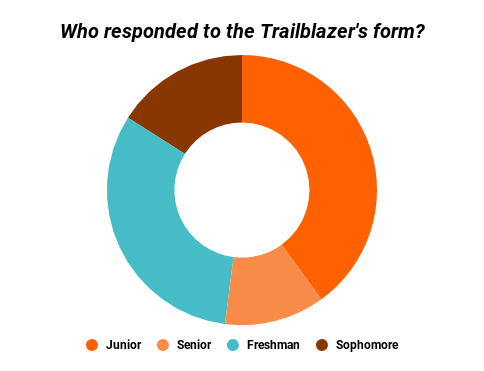 At the Pascack Valley Regional Board of Education's Feb. 22 meeting, mascot search committee representatives from Pascack Hills and Pascack Valley disclosed the top three mascot choices for each school, a long-awaited decision following months of deliberation. The choices for Hills' mascot are the Broncos, the Trail Blazers, and the Phoenix.
On Feb. 23, Phil Paspalas, Hills' athletic director, emailed students and staff the committee's rationale for each selection for the Broncos, Trail Blazers, and Phoenix. The Trailblazer emailed a survey to students to hear what they thought of these choices before they have the chance to vote for their top preference on Thursday, Feb. 25. The survey was open on Feb. 24 from 8 a.m. to 6 p.m.
Several students responded, some choosing to give their name, and others preferring to stay anonymous. The respondents shared their thoughts on each option. Some respondents expressed their opposition to all of the choices and their dissatisfaction with the mascot search process and the decision to remove the Cowboys mascot. A selection of students' responses to the survey and staff members' comments to the Trailblazer can be read below, lightly edited for grammar and clarity. Students' responses are accompanied by graphics that show the most common descriptions of each mascot outside of "good" or "bad."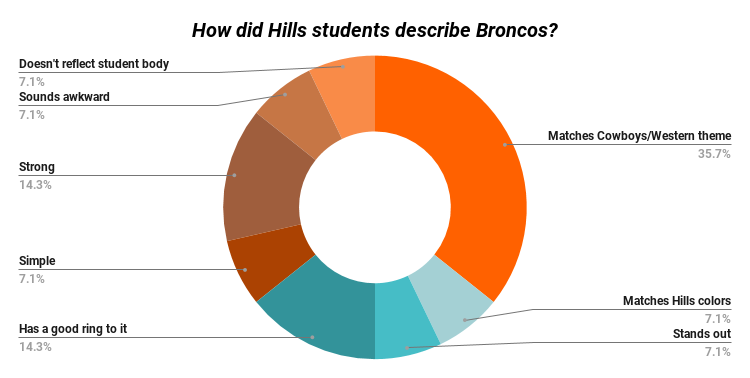 Broncos
Camilo Dickson, freshman: "Broncos sounds a lot better. Phoenix is too extra, and it sounds like you're puffing your chest. Broncos is simple and strong."
Amy Kimel, sophomore: "Personally, I don't mind the mascot change. If I were to pick one of the three options, it would be the Broncos because I feel like it matches the cowboy theme that we have. Trail Blazers does, too, but the Broncos idea stuck out [to me] more."
Larissa Aquaviva, senior: "I am considering voting for the Broncos because I think that is the option that keeps Pascack Hills's themes. The horse logo can still be used, without the cowboy, so that keeps Pascack Hills on brand."
Which mascot choice would you like to see as Hills' mascot?
Broncos (70%, 121 Votes)
Trailblazers (20%, 35 Votes)
Phoenixes (10%, 17 Votes)
Total Voters: 173

Loading ...
Anonymous freshman: "I want to vote for Broncos. For one, it sounds good, it's a good/intimidating mascot, and it's Western. [The] Trail Blazers is like a carriage/wagon, which is a very bad mascot and not intimidating AT ALL. Phoenix isn't that bad but it sounds awful if chanted. For example, 'Pascack Hills Phoenixes?'"
Anonymous freshman: "I think that the Broncos sounds the best out of the three options because it is short and easy to say."
Anonymous junior: "I think that we should for sure be the Broncos. The colors in the logo were still orange and brown, and I think this is the best option as a replacement."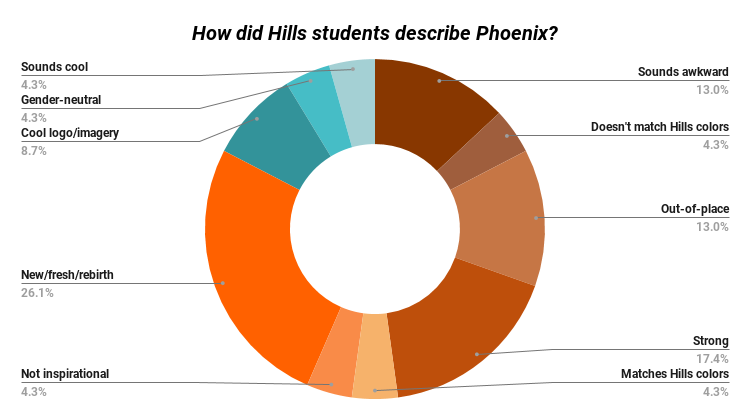 Phoenix
Christine Audia, sophomore: "I really like the idea of our mascot being a Phoenix…it symbolizes resilience, which is a great thing for our school to represent."
Samantha Macaluso, junior: "I think that I'll go with the Phoenix."
Mohamed Oueslati, senior: "I [vote] for the Phoenix."
Anonymous junior: "I think Phoenixes is the best choice. Not only is it gender-neutral, but the mascot would be so cool, and the logo could have so much more potential."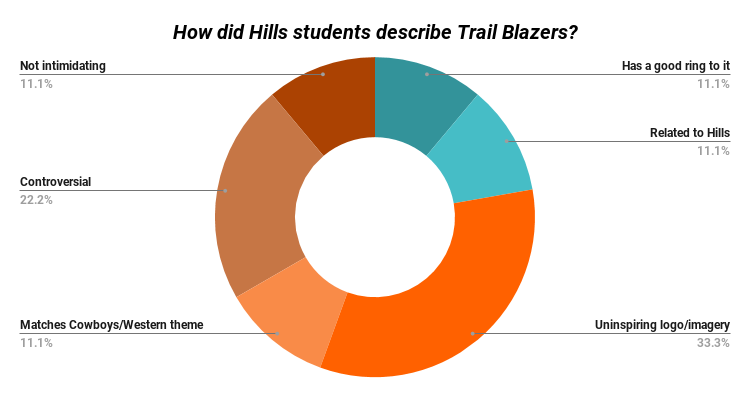 Trail Blazers
Camilo Dickinson, freshman: "Trail Blazers is terrible for the record. If you are proud of your mascot being a wagon, then I don't know what to tell you."
Anonymous sophomore: "I think that I am considering voting for the Phoenixes or the Trail Blazers. I really like the idea of the Phoenix, but I do not think that it matches our current school colors (brown and orange). I think that the Trail Blazers sounds really cool, and it is something that already has to do with Pascack Hills. I am just kind of unsure of what a Trail Blazer may look like."
Anonymous junior: "I like Trail Blazers and Broncos a lot, and I think Phoenix is cool but sounds awkward spelled 'Phoenixes'; it would probably gain more traction as the Pascack Hills Phoenix… good ring to it."
None of the options
Some students at Hills indicated that they do not support the mascot change.
Anonymous freshman: "I don't like any of the options."
Anonymous junior: "There was no valid reason for the change. This was just political; politics should be kept out of school."
Anonymous sophomore: "No matter what option is chosen, people will still be mad."
There were other students who did not support any of the mascot options, and they explained their reasoning below in longer submissions.
Anonymous junior: "There was no need for the Cowboys mascot to change. The administration claims that it was mainly for gender neutrality, but as far as I have seen, not one member of the student body has expressed a feeling of oppression or inequality from the school because of the mascot. The pushing for a gender-neutral mascot feels fake-progressive, like the administration wants to solve an issue that was not there in the first place."
Anonymous junior: "I don't entirely love the mascot choices, and I feel like the school has been trying so hard to seem progressive by finding these gender-neutral mascots. I understand the concern, and I am all for gender equality and inclusivity, but this feels forced. I don't know anyone who was offended by being a Cowboy –– Valley changing their mascot from the Indians makes sense because that was offensive and insensitive to Native Americans, but Cowboys really weren't. Actual cowboys had been made up of Native Americans, Mexicans, African Americans, and white settlers. There were female cowboys in history too but they weren't as greatly recognized so the term 'cowgirl' wasn't made up until much later.
"As for the new mascots, I don't think the students as a whole were asked enough. I know there was a large committee of students and teachers and that the students were supposed to research/ask other students for suggestions but it still feels like our opinions were asked as much. The Broncos seem like an easy switch from Cowboys and wouldn't require as much effort to change, but I know some people also just feel like if we're keeping the Western theme by using a horse, we should just stay with Cowboys.
Hills teacher uses mascots to teach students public policy
Brooks Alexander is a history teacher and football coach at Hills. In the Public Policy course he teaches to Hills seniors, Alexander shaped a lesson around the mascot process and explained it below.
Alexander: "The inspiration for a lesson or impetus to teach can originate from anywhere. The central issue in our A.P. Public Policy course is the identification of a societal problem and the eliminating or alleviating of said societal problem. It is always best to relate academic issues to the events occurring in the life of a student. The mascot issue within our school is a perfect example of a teachable moment in the realm of Public Policy. Our local Board of Education has identified a societal problem, that being the existence within our district of offensive or non-inclusive school mascots. The Board of Education has created a Policy designed to eliminate this problem.
Wieland, Schwartzman urge students to vote
Hills Principal Tim Wieland urged students to vote on Feb. 25.
Wieland: "First off, I appreciate those students and staff who were part of the selection committee. The time and effort that they put forward should be commended. With regards to tomorrow's vote, I hope everyone, students and staff alike, take the time to vote tomorrow. As Mr. Paspalas said to me yesterday that this will be a forever decision for Hills. That statement from him put things in perspective in a very exciting way. Tomorrow, we collectively make a decision that is for Pascack Hills . . . a place we all consider our second home."
Hills Assistant Principal Charleen Schwartzman echoed similar thoughts, saying, "I want something that is going to unify us all, and I am excited that the students are an integral part of the decision-making process."
The school-wide vote on Hills' mascot will take place on Thursday, Feb. 25 from 8 a.m. to 3:30 p.m. via an email sent to students and staff. A 51% majority will be required in the vote to select the mascot, and a run-off will occur the next day between the top two choices if neither exceeds the amount needed in the initial vote.
Leave a Comment
More from the contributor(s):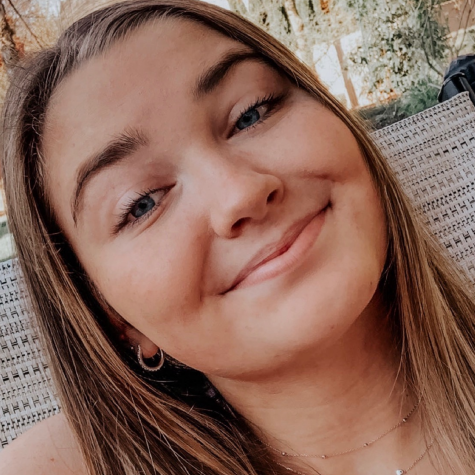 Mackenzie Blowers, Editor-in-Chief
Mackenzie Blowers is a senior at Hills and is excited to be Editor-in-Chief of the Trailblazer along with Jared Mitovich. Before becoming Editor-in-Chief, Blowers edited the College Corner section of the Trailblazer and helped manage the paper's social media. She's looking forward to working with the Trailblazer staff to continue reporting with Hills Pride.

Fun fact: She loves to travel and collects pins from every city and country she visits!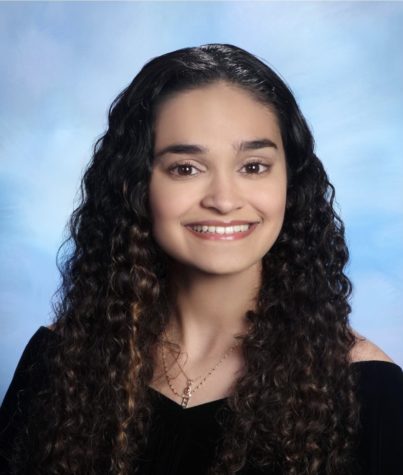 Briana Keenan, Editor-in-Chief
Briana Keenan is a senior at Hills. She joined the Trailblazer her freshman year as a staff writer and edited for the In-Depth and School News sections her sophomore and junior years, respectively. This year, Keenan is looking forward to being the publication's Editor-in-Chief and continuing to write, edit, and manage stories for the Hills community.

Fun fact: Over the summer, Keenan went to the School of the New York Times for two weeks.