Steven Papa approved as next athletic director
Hills athletic trainer Steven Papa will succeed Phil Paspalas as athletic director. Paspalas has held the role since 2007 and is retiring July 1. 
At its meeting Monday night, the Pascack Valley Regional Board of Education voted unanimously to approve athletic trainer Steven Papa as Pascack Hills' new athletic director.
Papa's appointment to the position was first announced to faculty last Thursday in an email from Principal Tim Wieland. He will succeed Phil Paspalas, who has been a district administrator since 2007 and is retiring effective July 1.
"It has been my dream for a very long time to become the Athletic Director here at Pascack Hills, and I am excitedly looking forward to the opportunities and challenges ahead," Papa said in a statement to the Trailblazer. "Most importantly, I look forward to working hard to bring our athletic program and our Physical Education/Health department to new heights."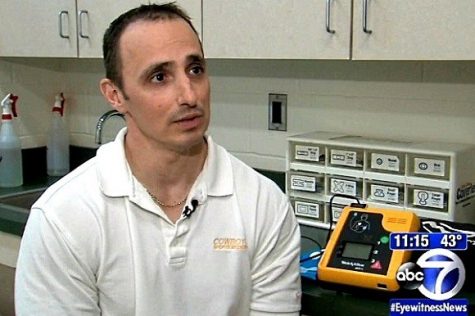 In addition to the regular responsibilities of athletic director, Papa will be tasked with finding a new athletic trainer who can handle the challenges faced by student-athletes and colleagues. Like Paspalas, it is probable that Papa will play a key role in overseeing the implementation of Hills' new mascot, the Broncos.
Gundersen praised Papa for his nearly two decades of experience getting to know students on a "granular level" as athletic trainer. He also cited Papa's experience working closely with coaches, which he said was an important factor as several candidates inside and outside the district were considered.
The board also voted to approve the resignation of Brooks Alexander as head football coach. While Alexander will remain a social studies teacher at Hills, Gundersen said he was "sad to see" him resign from coaching the football team –– something he has done since 2001.
[Editor's note: A full story on Alexander's resignation will be published soon.]
According to Varsity Aces, Alexander said he was proud to be the last Pascack Hills Cowboys coach in history. He guided the football team to the playoffs eight times in his tenure.
"Year after year, I always have somebody who comments on the positive impact that [Alexander] had on them," Gundersen said at the board meeting. It is not yet clear who will be the head football coach for the 2021-22 school year.
At Pascack Valley, the board approved John Puccio as the school's principal effective July 1.
Mental health hospitalizations increase during pandemic
Kelly Blundy, the chair of the board's Health, Wellness, and Safety Committee, said virtual learning has had several effects on the mental wellbeing of students. While she said there was a decrease in reports of in-school substance use and bullying, Blundy cautioned that there was an increase in parent referrals of students using substances and experiencing cyberbullying.
There was also an increase in mental health hospitalizations, Blundy said.
In hopes of being "more proactive than reactive," Blundy said the district was taking additional steps to protect the mental welfare of students. These include a wellness week this April, a wellness speaker series open to both parents and students, and lunch workshops for fully virtual students.
BOE signals support for moving ahead with eighth period
Wieland was joined by Assistant Superintendent Barry Bachenheimer and incoming Pascack Valley principal John Puccio for a presentation on schedule changes that may take effect next year.
According to Wieland, out of all Hills students interviewed by their guidance counselors, 56% said they would use an additional eighth class period as a study hall, while 44% said they would take a "wide variety" of electives.
Bachenheimer said the group of administrators was looking for the board's support for continuing to collect data and covering any costs created by the modified schedule, which if implemented would require at least two new staff positions. If the new schedule is approved, course selection for an eighth period would first be offered to rising juniors and seniors.
Board President Tammy Molinelli said the board was supportive of the changes. An eighth period would be in addition to numerous curricular changes being discussed, according to board member James Stankus, who chairs the Curriculum, Instruction, and Technology Committee. At a recent meeting with district supervisors, the committee discussed making AP testing placement optional.
Interviews to be held April 19 for vacant Montvale seat
On Monday, April 19, the BOE will conduct a public interview session of candidates interested in filling the vacancy left by Janet Bissinger, who represented Montvale since 2013 and resigned suddenly during March.
There will be a private hearing among members before the public is able to watch the interviews take place. After the interviews, the board will debate amongst themselves and then vote on a candidate to fill the open seat.
The application portal for interested candidates, available on the district's website, closes on Wednesday, and at least three people have applied for the position so far.
There was debate among members over whether the interview session should be held in-person or virtually, as planned. Molinelli said the benefits of interviewing the candidates on Zoom included being able to see facial expressions, a factor she said allowed for a "more natural interviewing experience" compared to wearing masks.
Leave a Comment
More from the contributor(s):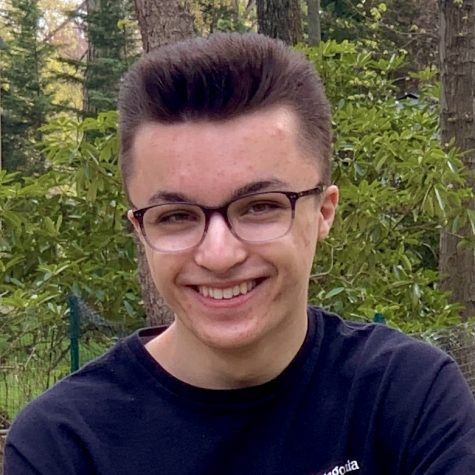 Jared Mitovich, Editor-in-Chief
Jared Mitovich joined the Trailblazer his freshman year as a staff writer. He has helped manage the Trailblazer's social media since his sophomore year, and in his junior year he edited the Opinion section. Now in his final year of high school, Mitovich is looking forward to working with Mackenzie Blowers as Editor-in-Chief along with the entire Trailblazer staff. You can follow him on Twitter at @jmitovich!

Fun fact: Mitovich once met a presidential candidate.