BOE selects Debra Stephans to fill vacant Montvale seat
The vacancy was due to the resignation of Janet Bissinger, who stepped down in March. Stephans will be sworn in at the BOE meeting on Monday, April 26.
At a special meeting Monday night, the Pascack Valley Regional Board of Education voted to select Debra Stephans to fill the open seat representing Montvale. The vacancy was due to the resignation of Janet Bissinger, who stepped down in March after serving on the BOE since 2013.
Although the term she was elected to serve out expires Dec. 31, Stephans said she plans to seek election to a full three-year term in November. She will be sworn in at the BOE meeting on Monday, April 26.
Stephans was elected by majority vote among BOE members. In addition to Stephans, four other candidates applied and were considered for the position: Judith Brendel, Elizabeth Gloeggler, Raymond Pawlyk, and Matthew Solomon.
Each candidate was interviewed for around 20 minutes and asked similar questions by BOE members. The questions, in no particular order, were roughly the following:
What are the major issues facing the BOE?
What about the school district makes you the most proud?
Would you support a BOE decision even if you personally disagreed with it?
What are you most concerned about when it comes to students' academic achievement?
Would you seek election in November to a full three-year term?
What experiences qualify you to be a member of the BOE?
Do you think the BOE budget for the 2021-22 school year is a responsible one?
Why are you the best candidate?
What else would you like the BOE to know about your candidacy?
After the interviews concluded, the BOE deliberated their choice in private for around an hour. Board President Tammy Molinelli said that members had a "very long and detailed debate," describing the five candidates as "very qualified."
Who is Debra Stephans?
Stephans is a law professor at Berkeley College and the mother of three children currently in the Montvale Public Schools system. Her oldest daughter will attend Pascack Hills in 2022.
As a legal attorney for 20 years, Stephans has spent much of her time in the public sector, including as a deputy attorney general for the state of New Jersey. During her interview, she said that her experience responding to allegations of discrimination and negotiating union agreements helped qualify her to be a BOE member.
Stephans is also a girl scout troop leader, assistant travel basketball coach, and town coordinator for the Montvale girls' basketball program. She serves on the board of the Junior League of Bergen County, an organization of women focused on improving their communities through volunteer work and organization.
In her interview with the BOE, Stephans placed an emphasis on providing more community service opportunities to students, but she noted there was "no one single issue" she was most focused on.
She said the district should be "trying to get students back into the classroom in the fall" while prioritizing the safety of students and teachers. She also said it was "too soon to say" what the academic impacts of virtual learning are.
Asked what she was most proud of the district for, Stephans praised its efforts to improve "diversity, equity, and inclusion," including through what she said was "professional diversity" on the BOE.
"My kids are still coming through [the school system], so I am interested in the long haul," Stephans said about running for a full term in November. The term she was elected to serve out expires Dec. 31.
Saying that she would "rely on our financial experts," Stephans acknowledged she was not an expert on the district budget, which is projected to increase by 2% for the next school year. She did stress that parents "should be involved [and] aware of what the costs are."
"Give me the facts, give me the resources that will support your facts, and don't jump to conclusions," Stephans said at the conclusion of her interview.
Leave a Comment
More from the contributor(s):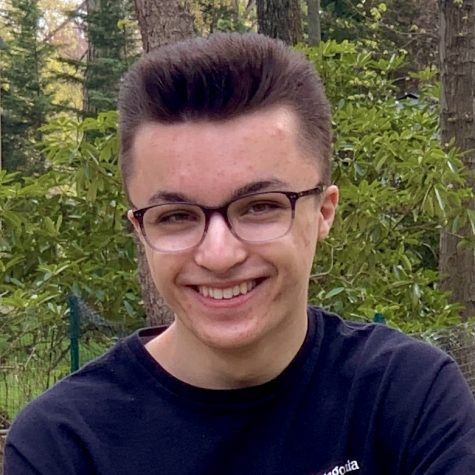 Jared Mitovich, Editor-in-Chief
Jared Mitovich joined the Trailblazer his freshman year as a staff writer. He has helped manage the Trailblazer's social media since his sophomore year, and in his junior year he edited the Opinion section. Now in his final year of high school, Mitovich is looking forward to working with Mackenzie Blowers as Editor-in-Chief along with the entire Trailblazer staff. You can follow him on Twitter at @jmitovich!

Fun fact: Mitovich once met a presidential candidate.