Superintendent to leave district for new job
Dr. Erik Gundersen's appointment as the next Suffern Central School District superintendent was approved by that district's Board of Education at their April 20 meeting.
[Editor's note: This story has been updated with a letter from Dr. Erik Gundersen and with a statement from the Board of Education.]
Superintendent Erik Gundersen will leave the Pascack Valley Regional High School District to become superintendent of Suffern Central School District. His appointment to the position, starting next school year, was approved by the Suffern Central Board of Education Tuesday night during a meeting held in-person and live-streamed.
"My journey in the Pascack Valley Regional High School District is coming to an end," Gundersen confirmed in a statement emailed to the Pascack Valley Regional community Wednesday morning. "I am excited to share that I have accepted the offer to serve the Suffern Central School District as their new superintendent."
Gundersen said he was grateful for the opportunity to serve Pascack Valley Regional as superintendent for the past ten years. He cited the implementation of virtual days before the pandemic, the creation of the "Pascack Schedule," the internship program, and the expansion of classrooms and athletic fields as examples of what he was the proudest of. He also said he was grateful the district had begun to promote a "more inclusive, bias-free school culture and climate."
"I will certainly miss working with the Pascack team, but am confident that Pascack has the talent, tools, knowledge, and drive to continue the district's successful path forward," he said, expressing gratitude to his colleagues.
Gundersen's tenure as Suffern Central superintendent will begin July 1, and his employment contract expires June 30, 2025. According to a news brief, his resignation from Pascack Valley Regional will be formally approved by the BOE at their meeting on April 26. BOE President Tammy Mollinelli and Vice President Joseph Blundo have contacted the New Jersey School Boards Association to "discuss next steps."
It is not yet clear who will take Gundersen's place as superintendent, but according to district policy, the BOE holds the responsibility of recruiting, interviewing, and approving a new superintendent. Barry Bachenheimer is currently Assistant Superintendent.
Gundersen has been superintendent of Pascack Valley Regional since 2011. He has been a part of the district for nearly three decades, including as a physics teacher at Pascack Valley, and he was the district's Director of Curriculum, Instruction, and Assessment from 2009 to 2011. He is also a member of the League of Innovative Schools, which has recognized the district for its accomplishments in providing laptops to all students.
Over the past year, Gundersen has overseen the pivot to virtual learning due to the Covid-19 pandemic, as well as the transition to hybrid learning last fall and the challenges of a school year without precedent. In addition, he received vocal praise and criticism from the community after the BOE voted to remove the Cowboys and Indians mascots at Pascack Hills and Valley.
Suffern Central is a pre-K to 12 district that serves the Rockland County, N.Y., towns of Airmont, Hillburn, Montebello, Sloatsburg, Suffern, and Monsey. As its superintendent, Gundersen will be in charge of seven schools with an enrollment of over 4,500 students.
"I've always heard that Suffern's had a tremendously dedicated team of educators. It's an innovative place," Gundersen said at the Suffern Central BOE meeting where his appointment was approved. "It's a place that focuses on students first in recognizing that students' success is to make it very personal and to make sure that that personal success is not just academic, but also takes place on the athletic fields, in the clubs, and making sure that students are emotionally and socially growing each and every year."
According to the Suffern Central School District Watchdog, the district has been looking for a new superintendent since March 2019 and has had an acting superintendent during that period, Lisa Weber.
Leave a Comment
More from the contributor(s):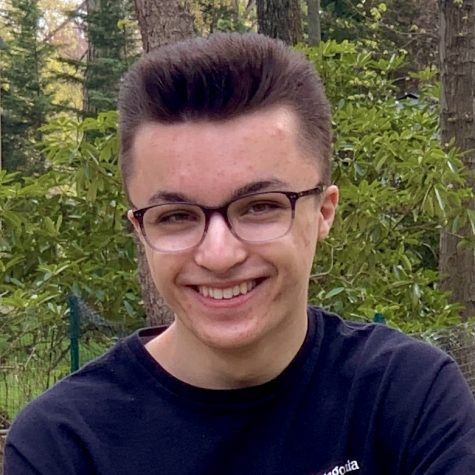 Jared Mitovich, Editor-in-Chief
Jared Mitovich joined the Trailblazer his freshman year as a staff writer. He has helped manage the Trailblazer's social media since his sophomore year, and in his junior year he edited the Opinion section. Now in his final year of high school, Mitovich is looking forward to working with Mackenzie Blowers as Editor-in-Chief along with the entire Trailblazer staff. You can follow him on Twitter at @jmitovich!

Fun fact: Mitovich once met a presidential candidate.