District to survey parents on merging cohorts
The Board of Education scheduled a special meeting on Thursday, May 13 at 7:30 p.m. to decide whether to merge cohorts for the remainder of the school year.
[Update: Superintendent Erik Gundersen emailed parents Tuesday informing them of a form now available on Genesis for them to indicate if their child would attend school in person five days a week if cohorts are merged for the rest of the school year. The form will close Wednesday at 3 p.m.]
At their meeting Monday night, the Pascack Valley Regional Board of Education made plans for a special meeting Thursday, May 13 at 7:30 p.m. to decide whether to merge cohorts at Pascack Hills and Pascack Valley for the remainder of the school year starting Monday, May 17. The meeting will be held in person and streamed on Zoom.
The BOE decided that an electronic form will be sent out to parents this week asking them to indicate whether or not their child would attend in-person five days a week or fully remote if the cohorts are combined. The data from the survey will be used to inform the BOE's decision at their Thursday meeting.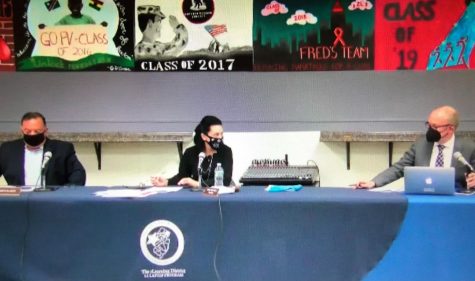 The quickly developing discussion of possibly combining cohorts reflects the Covid-19 pandemic's changing dynamics and the growing number of students attending school in-person –– currently 64% at Hills, according to Gundersen. A proportion of students and staff are now vaccinated against Covid-19, with 12 to 15-year-olds soon able to receive the vaccine.
Additionally, in March, the Centers for Disease Control and Prevention announced that schools could decrease social distancing in classrooms from six to three feet –– if they aren't located in an area of high Covid-19 transmission. Cases are decreasing in the Pascack region, which means more students can be safely seated in classrooms.
There are some logistics to combining cohorts, however. Superintendent Erik Gundersen presented to the BOE a list of what the district views as pros and cons of making the change. Some of the concerns raised may be clarified once the survey of parents is completed. There is a Restart Reopen Committee meeting scheduled for Tuesday.
Advantages cited by Gundersen included:
The school being moved to a "lower risk" transmission category allows for only a ten-day quarantine period (if unvaccinated)
Having students placed three feet apart will not change quarantine guidelines if someone tests positive
Concerns included:
More students may switch to learning fully remote (to avoid the possibility of quarantining if unvaccinated)
School nurses may need to close school for a day if someone tests positive for contact tracing
The Restart Reopen Committee "has not been consulted"
Rental costs of moving furniture and overtime pay for custodians can be up to $20,000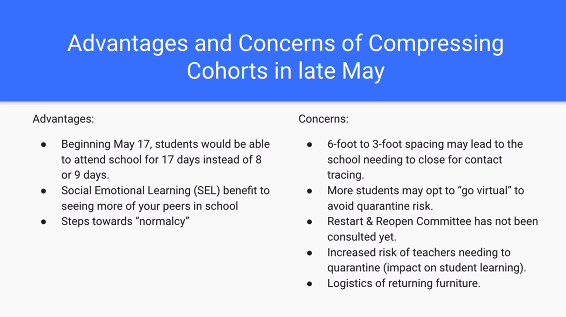 According to Gundersen's presentation, Hills currently has 844 students. 67 of them are attending school in person every day, 533 are attending school following the hybrid schedule, and 304 students are fully remote.
The BOE shared their opinions on combining cohorts. President Tammy Molinelli said, "I'm looking at it as a priority standpoint; we have interim superintendent, a new schedule…I would not vote to merge the cohorts based on where we are in time."
Members Gini Varghese and Kelly Blundy expressed their concerns with students' mental health.
"We need to wait for the committee tomorrow and to get that survey back to see what are we really dealing with; however, if your child is struggling and you feel that these six weeks will make a difference emotionally, you need to reach out to administration," Varghese emphasized. "We don't want any child to be lost in this process."
"All night we have been focusing on Covid-19 numbers; please focus on the suicide numbers… [they] need to be looked at," Blundy added, stressing the mental health impacts of continuing partially remote learning.
There were also concerns expressed with prom, graduation, and senior trips at both schools being affected by combining cohorts.
Board member James Stankus said, "[If someone tests positive], you've got to contact trace to six feet; everybody in that class would be affected… I can't say I'm comfortable because all big event items would be disrupted." Varghese added, "the difference between [combining cohorts in] September and right now is prom, graduation, and senior trips."
Molinelli also questioned if a large number of seniors could be affected by a positive case and prevent them from attending graduation. Principal Tim Wieland recently explained in an email to Hills seniors and their parents that, should a prom attendee test positive for Covid-19, all attendees will have to quarantine unless they are fully vaccinated or tested positive for Covid-19 within the last 90 days. For seniors, having to quarantine after prom would mean missing out on spending their final days of high school in person.
Connor Flinn, Valley's student representative to the BOE, argued that the end of the school year was "the best time to bring everyone together" by combining cohorts.
If more students than scheduled to attend class in-person show up, exceeding social distancing limits in classrooms, Gundersen stated that the overflow students would "go to the media center to stream into the class" while still able to learn synchronously.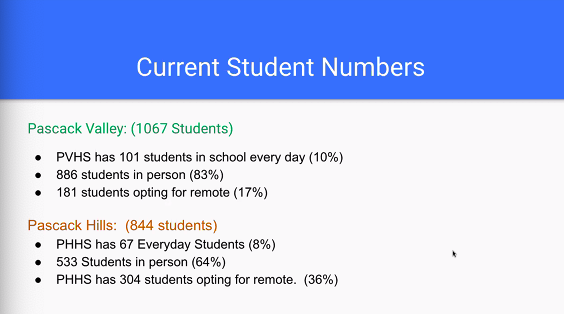 The BOE also discussed the timeline for the process of the new mascot designs for each school. The two new logos, for the Broncos at Hills and the Panthers at Valley, are in the process of being professionally designed. Input on the design was considered by students and staff in a schoolwide survey sent out during April.
Gundersen presented a minimal, moderate, and full plan to rebrand for the new mascots. The BOE ultimately voted to proceed with the moderate plan for the mascot rebranding and to approve uniform changes to promote gender equity. All members voted yes except for Michael Fronte.
These changes would include changing some of the girls' athletic uniforms at an earlier date than scheduled for an additional cost of $25,000. Valley does not have the same issue because their uniforms are being renewed this summer.
At the end of the meeting, BOE member Michael Weaver referenced a Trailblazer article published Friday that highlighted the remaining issues of gender inequity within the district. He requested that the administration do "whatever [it] needs to do to bring the information necessary to the equity committee."
"I would like this to be a topic of conversation," Weaver said, "so we can assure that the resources are available to ensure that students don't feel like there are inequities in our extracurriculars and our athletics."
[Correction: This article originally stated that the survey on merging cohorts would be open for 48 hours. The 48 hours figure refers to the amount of time in advance that the BOE needs to schedule and announce a special public meeting.]
Leave a Comment
More from the contributor(s):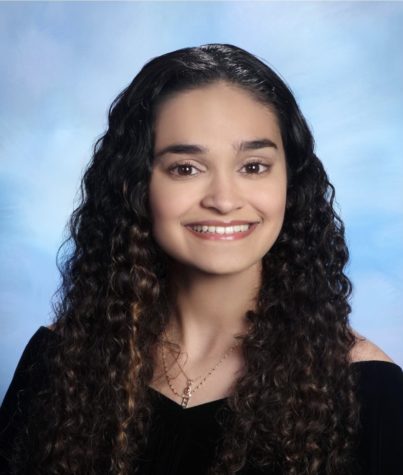 Briana Keenan, Editor-in-Chief
Briana Keenan is a senior at Hills. She joined the Trailblazer her freshman year as a staff writer and edited for the In-Depth and School News sections her sophomore and junior years, respectively. This year, Keenan is looking forward to being the publication's Editor-in-Chief and continuing to write, edit, and manage stories for the Hills community.

Fun fact: Over the summer, Keenan went to the School of the New York Times for two weeks.