BOE approves district equity statement, club
In an extension of the equity debate, the BOE addressed a request from a school-based organization to hang a LGBTQ+ flag under the American flag.
At their meeting Monday night, the Pascack Valley Regional Board of Education approved the district's equity vision statement and officially designated the District Equity Team as a co-curricular club for the 2021-22 school year. The student-led club will be advised by Erica Franceski, who is the student family resource liaison for Pascack Hills.

Superintendent Erik Gundersen explained the process for a club to become official. The District Equity Team was considered in a "probationary period" to become a club prior to the BOE's approval. Gundersen noted that this period usually lasts for a year.
"They do not set policy, they do not set academic standards or academic goal," Gundersen said of the club's objective. "They give the feedback that they have to the administration of where they think things can improve."
BOE members and members of the public voiced varying opinions on the vision statement and newly official club.
"Not only is there a district goal, but there is a board goal that deals exclusively with this topic," BOE President Tammy Molinelli said, "not just for us, but for the full district."
BOE member James Stankus discussed the conversations that students have had at meetings for the District Equity Team.
"The discussions are productive [and] positive. It is not a committee looking for a problem like people are framing it. The numbers are phenomenal, and we want to ensure that that keeps going. It's not there to pick at, it's there to elevate the school," he said.
Some members of the community expressed concerns with their children seeing their education influenced by the ongoing equity discussions being held throughout the district. Gundersen said that the District Equity Team is "totally voluntary," meaning students do not have to join if they do not want to.
In an extension of the equity debate, BOE member Michael Fronte addressed a request from a school-based organization to hang an LGBTQ+ flag at Hills and Pascack Valley. Gundersen noted that the district currently does not have a specific policy as to which flags can be hung under the American flag.
While members expressed their support for the LGBTQ+ community, the majority of the BOE voiced concern with representing the school as a whole.
"I think that if we do something like this we need to be very cautious as to which flags we are going to allow… I accept this group, but I think it can be very dicey; you can't tell one group yes and the other group no," BOE member Kristin Martin said.
BOE Vice President Joseph Blundo echoed similar thoughts, saying "I support the rights and everything they stand for, but I am concerned for what's going to happen next."
Molinelli said that BOE members will discuss the request at their next Policy Committee meeting, though the BOE appeared to agree that only American and other state flags should be flown at both schools.
In addition to approving the district equity statement and club, the BOE approved the retirement of Hills physics teacher Brendan Field and voted to appoint Lindsey Welsh as the head coach for girls basketball.
"I'd like to recognize the retirement of Brendan Field. I know that he is very much excited about his new endeavors, we wish him all the best and thank him for his years of service to our students," Gundersen said.
In his monthly report, Gundersen noted Monday's announcement by Governor Phil Murphy that the indoor mask mandate will be lifted on May 28. The district will share the health guidance it receives from the state with the community.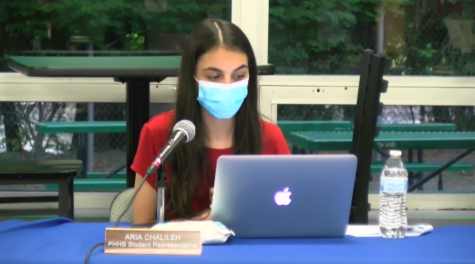 Aria Chalileh, Hills' student representative to the BOE, updated members on Hills' recent spring concert and spring play as well as PH Cares' promotion of Mental Health Awareness Month. She also noted Hills DECA's success at the national DECA conference. For athletics updates, Chalileh shared with the BOE that senior Sylvie Najarian reached her 100th goal in girls' lacrosse, and junior Max Zuckerman broke the Bergen County record for pole vaulting this weekend.
BOE Secretary Yas Usami mentioned the three BOE vacancies for this November's election: one for Hillsdale, Montvale, and River Vale.
At the conclusion of their meeting, members noted their goal to represent all students at the district's schools.
"We're not here to do this job for one child… we are here to do this for the governance of all children," BOE member Gini Varghese said. "We as a board have to do what is right for the entire group."
Leave a Comment
More from the contributor(s):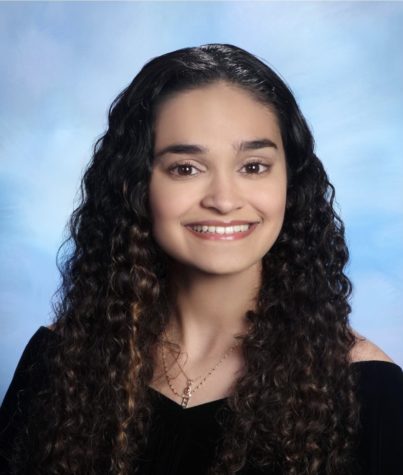 Briana Keenan, Editor-in-Chief
Briana Keenan is a senior at Hills. She joined the Trailblazer her freshman year as a staff writer and edited for the In-Depth and School News sections her sophomore and junior years, respectively. This year, Keenan is looking forward to being the publication's Editor-in-Chief and continuing to write, edit, and manage stories for the Hills community.

Fun fact: Over the summer, Keenan went to the School of the New York Times for two weeks.