Getting to know the valedictorian and salutatorian
Valedictorian Noah Hirshfield and salutatorian Jenna Golub have proven themselves to be hardworking leaders at Hills.
As this unconventional school year ends, the Pascack Hills Class of 2021 will have an in-person graduation ceremony on June 16. Students, teachers, and families are greatly anticipating this celebration. Among the speakers at graduation, valedictorian Noah Hirshfield and salutatorian Jenna Golub are sure to inspire the crowd with their speeches. They are not only top students but high school sweethearts as well, supporting each other in and out of the classroom.
Hirshfield is an AP Scholar with Honor and was a finalist in the 2021 National Merit Program, ultimately receiving a scholarship. He dedicated his four years at Hills not only to exceeding academic expectations but being heavily involved in school affairs. As president of the National Honor Society and captain of the Varsity Tennis team, Hirshfield has proven himself to be a hardworking leader at Hills. Other accomplishments include his membership in DECA, where he placed first at the state competition, and the Spanish Honor Society.
Jenna Golub is also an AP Scholar with Honor and was a commended student in the 2021 National Merit Scholarship Program. She has left a lasting impact on the Hills community and beyond. Golub is an award-winning research student and former president of the Pascack Valley BBYO chapter, as well as a part of both the National Honor Society and the French Honor Society, and a dedicated member of Project Paterson.
The news of their academic triumph came as a welcomed shock to both parties. "I was surprised just because there are so many hardworking and intelligent people in our grade who I could have pictured being salutatorian," Golub expressed. "But I think it does represent the amount of work I put in throughout high school."
"I just felt really proud of myself when I found out I was valedictorian because I've worked really hard, so I was happy to see that pay off," Hirshfield added. "Our grade has so many great students, so I was really proud of myself for the achievement."
To be named valedictorian or salutatorian is not an effortless feat. Achieving a perfect grade point average required academic dedication and discipline.
"I always tried to understand the material as we were going through the unit," Hirshfield said when asked about his study habits. "I made sure to take my time with my work throughout the unit and then I didn't need to study as much by the time the test arrived."
Golub took a different approach to her studies. "I would study a few days before a test and usually study for one to three hours the day before the test, depending on how much information was going to be on the test."
Both Hirshfield and Golub were able to enjoy the social aspects of high school while also being the top two students in their grade.
"I definitely had a good balance between work and social life," Golub noted. "I would try to incorporate my social life into schoolwork, like doing homework at Starbucks with my friends or having group study sessions."
Hirshfield expressed similar sentiments. "Even though a lot of my weeknights were spent doing work, I was always able to hang out with friends on the weekend. I think it's really important to take time off from work to avoid getting overwhelmed, so I always saved time for fun."
Hirshfield and Golub plan to pursue similar fields after being influenced by the Hills faculty. "I plan to study either biology or chemistry in college on the Pre-Med track, but I'm not sure which major I'm going to pick." Golub stated. "Before high school, I was more of a humanities person, but ever since freshman year biology and sophomore year genetics, I've been a science girl –– shoutout to Doc. Doing genetics got me interested in different types of disorders, specifically neurodegenerative diseases, so that's definitely something I'd want to explore further in college."
"Doc" refers to Dr. Martin Edelberg, teacher of Biology and Research in Molecular Genetics at Hills. As a three-year research student, Golub and Edelberg have formed an admirable bond, evident by the high manner in which "Doc" speaks of the salutatorian.
"In baseball, experts describe the rare player that excels in all aspects of the game as a five tool player," Edelberg wrote in an email. "Jenna is the five tool student, excelling in every characteristic needed to be an outstanding student as well as a phenomenal person… Jenna achieves her success without compromising her integrity, her morals, or her friendships. Jenna also attains her success while remaining upbeat, positive, helpful, friendly and possessing a great sense of humor."
Hirshfield plans to major in either biology or neuroscience on the pre-med track. "In high school, I always enjoyed my science classes," he explained, "and all of my science teachers inspired me to want a future in the science/medical field."
Martin Shields, Hirshfield's AP Biology teacher, had nothing but kind words to say: "I was lucky to have Noah in class last year. He's an exceptional student and a great person. He set the learning bar high while also keeping things fun."
Although on similar career paths, the valedictorian and salutatorian are headed to different parts of the country for their college education. While Hirshfield will be down south at Duke University, Golub will stay true to her East Coast roots as she ventures off to the University of Pennsylvania.
"I'm really excited about a lot of things Duke has to offer," Hirshfield said. "I'm really looking forward to meeting new people from all over and making new friends. And, of course, I'm excited for the college basketball season."
Golub expressed her eagerness to explore Penn in the fall. "I'm super excited to live in Philly. It's such a fun campus and there's so much to do and experience there. I've met a lot of people already who I really like, so I'm excited for that too. And Greek life, of course!" With eleven different sororities at Penn, Golub is sure to have a busy rush season.
Hirshfield and Golub have spent four years together in many of the same Honors and AP courses, growing as students and individuals alongside each other. As they celebrate their respective accomplishments as valedictorian and salutatorian, they are able to acknowledge and appreciate each other's hard work.
"Jenna has worked so hard and deserves this more than anybody. I'm so proud to be standing next to her at graduation," Hirshfield praised.
Golub quipped, "He doesn't deserve this at all. Kidding, Noah is the most naturally intelligent person I've ever met, and even though it's frustrating for me that he can understand new material at ten times the average human speed, he is super smart and hardworking and definitely deserves valedictorian."
Hirshfield and Golub aren't the only ones to show pride in their respective accomplishments; their close friends also had kind words to share.
"I couldn't have been happier for [Noah] when he told me he was the valedictorian, " senior Nikhil Indugula expressed. "I've had over 20 classes with him and I've seen how hard he works every day. He deserves everything that he's accomplished and I'm looking forward to continuing our friendship for the next four years and beyond."
Senior Victoria Pietrunti described Golub as "someone who never fails to work hard at everything she does and is always so determined for success. When she told me she was officially salutatorian, I was beyond happy for her because she has such a strong, positive presence in our graduating class. No one deserves this more than her, not only for how great academically she is, but for what an amazing friend and leader she is as well."
Hirshfield and Golub's fellow students as well as teachers and faculty congratulate them on their respective achievements of valedictorian and salutatorian for the Class of 2021.
Leave a Comment
More from the contributor(s):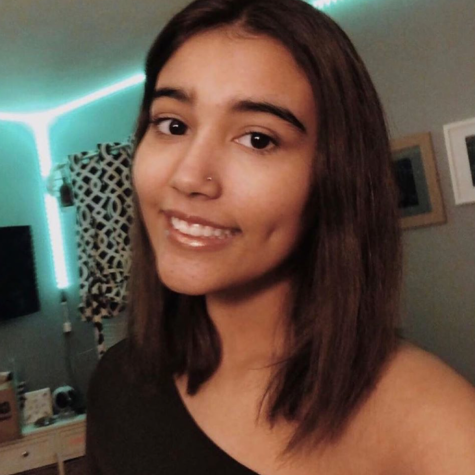 Lauren Eusebio, Opinion Editor
Senior Lauren Eusebio has been a part of the Trailblazer since her junior year, when she was a staff writer. Now, along with Claudia Kim, Eusebio will be in charge of editing the Opinion section, which she is very passionate about. She defines the section as one that "expresses the identity of Hills students and makes our newspaper different and unique. I know each and every Hills student has something worthwhile to say."

Fun fact: Eusebio has her own YouTube channel.