'We have to do what is right for the district': BOE discusses masking during the school day
Members of the public expressed their opinions on students and staff members wearing masks in school and whether or not they should receive the Covid-19 vaccine. 
At their meeting Monday night, the Pascack Valley Regional High School District Board of Education engaged in comments from the public and discussed the 2021-22 year budget.  
Members of the community expressed their opinions on students and staff members wearing masks in school, and whether or not they should receive the Covid-19 vaccine. 
"Kids should not be wearing masks if there is excessive heat," River Vale resident Eli MoAllem said, "stay in your lane…it's education." 
"These measures could not be said to be effective," Montvale resident Ben Friedman said. Sheila Mita of the same town added, "the policy [for quarantining based on vaccination status] is just causing segregation…just like Germany if we go back in history." 
The public mentioned that schools in New Jersey have not followed Governor Phil Murphy's orders for masking in schools, and questioned the BOE's decision to follow them. Mita stated that Monmouth and Middletown are two examples of towns that did not follow Murphy's orders; however, interim superintendent Daniel Fishbein confirmed that "Middletown was told to stop." 
"We have to do what is right for the district," BOE member Gini Varghese said. 
The BOE also approved the cost of bills up to the meeting date, which totals $4,532,112.05. This total is from budget expenditures and payroll until Aug. 31. Usmai discussed the budget calendar for next school year with the BOE. 
While the calendar is subject to change, Usmai said that the tentative budget will be established by March 7 at the Finance Committee's meeting. On April 25, the BOE will have a budget hearing during their regular meeting where they will vote on adopting the budget. 
"It's a long process," he said. 
After, BOE President Tammy Molinelli updated the public on the process for finding a permanent superintendent. On Oct. 11, the BOE will identify candidates for the position and contact them. After the election in December, the new BOE will have a list of candidates to interview.  
Earlier in the meeting, the student BOE representatives for this year were announced. Seniors Hilary Siegel and Evan Scalia represent Pascack Hills and Pascack Valley respectively, and will give updates to the BOE on each school once a month. Siegel was officially appointed through an oath of office given by BOE member Yas Usami. 
"I am excited to be a student Board representative and to speak on behalf of my school," she said. 
The public also made comments on surveys at school and infrastructure. 
Montvale resident Carolee Adams said that she thinks parents and guardians should review surveys prior to them being sent to students so they can decide whether or not they want their children participating in them. MoAllem agreed, and disliked the idea of personal information being submitted through the surveys. 
In response, Molinelli said, "children and parents always have the option to not participate [in these surveys]."
"None of these items [such as social security number, political affiliations, and religious beliefs] are on the climate survey," Varghese added, "if a survey asks about any of these, students have to get a written consent from a parent." 
Some members of the community questioned the importance of purchases the BOE made for infrastructure updates. BOE Vice President Joseph Blundo confirmed that the item approved by the BOE was to reduce the cost for upgrading old equipment. Since the full amount of money was not needed, the BOE voted to reduce it. 
Former BOE member Dave Steinberg commented on earlier comparisons of vaccination status to the Holocaust. 
"I'm really very upset to hear [the public] talk about things in Nazi Germany; I don't know how you put those two things together," he said.
At the end of the meeting, Molinelli addressed the public.
"This has been a difficult couple of years…we don't make judgement calls, we vote on policy. We can answer questions when it comes to a factual matter, but we cannot engage when it comes to personal opinions," she said.
Leave a Comment
More from the contributor(s):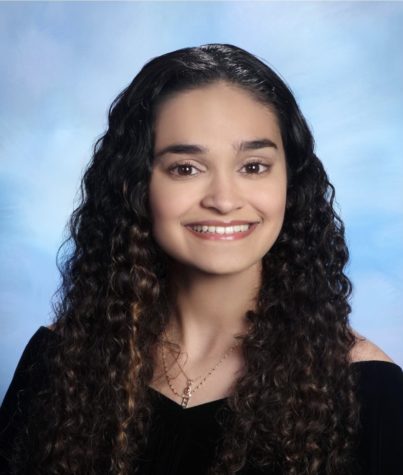 Briana Keenan, Editor-in-Chief
Briana Keenan is a senior at Hills. She joined the Trailblazer her freshman year as a staff writer and edited for the In-Depth and School News sections her sophomore and junior years, respectively. This year, Keenan is looking forward to being the publication's Editor-in-Chief and continuing to write, edit, and manage stories for the Hills community.

Fun fact: Over the summer, Keenan went to the School of the New York Times for two weeks.