Frank Eufemia to retire after 25 years with PVRHSD
He was interviewed about his career at Hills and his decision to retire this year.
When you walk into the Pascack Hills gymnasium, you may be greeted by the sound of Frank Eufemia's joyous laughter or one of his witty jokes. However, this June will be Eufemia's last few weeks here at Hills.
Eufemia is retiring at the end of the 2022-2023 school year after being a part of the Pascack Valley Regional High School District for 25 years. He was interviewed about his career at Hills and his decision to retire this year.
Bethany Chen: What roles have you had in your 25 years here in addition to teaching Physical Education?
Frank Eufemia: I coached baseball, volleyball, we ran a paddleball tournament years ago, [Matthew] Bruh did the Fashion Show with me. There were always things to do, and I got involved in stuff. I was at Valley for nine years, started in 1999, and came to Hills in 2009 or 2010. I've been through a few several principals, several superintendents, seen a lot of people come and go, seen kids come and go. 
BC: Why did you decide to retire?
FE: Have you gone out there and seen what goes on? [laughter] Timing's right . . . and I've gotten to the fork in the road.
BC: What's next on the road?
FE: So many things . . . I have a lot of hobbies. Gonna get away from Mr. Bruh!
BC: What was your favorite part of teaching here?
FE: My coworkers, they're fun. They're like mushrooms–they're fungis! The kids are fun. It's been a fun time.
BC: How has Hills impacted you?
FE: I hope I impacted Hills. Hills is a good place to work.
BC: Do you have any final words?
FE: I want to thank everyone for making this day necessary. [laughter] It's time to go, it's time to move on and do things I like to do and have fun and not have a bell go off and have to go to another room! That's the bottom line. There's no other reason honestly, just time to move on.
Leave a Comment
More from the contributor(s):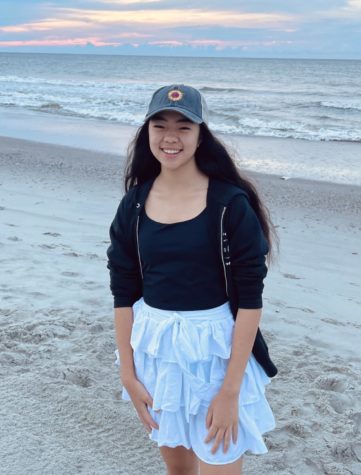 Bethany Chen, Hills Life Editor
Bethany Chen is a senior at Hills. She joined the Trailblazer her sophomore year as a staff writer and edited for the Hills Life section her junior year. This year, Chen is excited to continue reporting on the clubs and student life at Hills.

Fun fact: Chen was born in Los Angeles, California.