'Nurse Debbi' to retire from Pascack Hills
She was interviewed by the Trailblazer about her nursing career and her time at Hills. 
Deborah Alt, also known to students as Nurse Debbi, is retiring after 16 years in nursing. She started working as a summer nurse at Pascack Hills during the 2021-22 school year.
She was interviewed by the Trailblazer about her nursing career and her time at Hills. 
Kaitlyn Verde: What has been your favorite part about being a school nurse?
Debbi Alt: It's simple, my favorite part has been helping the kids. 
KV: How has Hills impacted you these past two years? What message do you hope to leave behind?
DA: I see a lot of great teamwork in the school. It's such an important foundation for everything.. Whatever you need in life…from cooking to scholastic to sports, it's all here. The teachers to me, have the most important job, to teach our youth. I wasn't always a nurse, my background was in accounting. When my children got older, I was a Middle School lunch aide. And I went back to school to become a nurse. That's how it started, and it worked out perfectly…the combination of a love for kids and helping. There are some kids I will never see in the nurse's office, but there are plenty I do. I remember their face[s]. It's a good feeling. Whether it's something funny that happened that we can laugh about or someone injured themself…just making sure our kids are okay. I like it here, everyone is on the same page.  
KV: I know you mentioned your kids, and how you want to be home with them more. Is that part of your plans after you leave? 
DA: Yeah, that's exactly it. Unfortunately, both of my daughters are on the West Coast, so we're moving…a lot of our family has moved also. But I have fond memories in New Jersey. I'll always remember those. 
KV: Do you have any advice for incoming students or staff?
DA: I understand school is very stressful, but one day you will look back…and it might not seem like it now, but you'll miss these times, these high school memories. You need to savor it…you live from exam to exam for so long, and here you know, it's only a few more days of school. So that's my advice, to enjoy it. It all works out in the end. 
Leave a Comment
More from the contributor(s):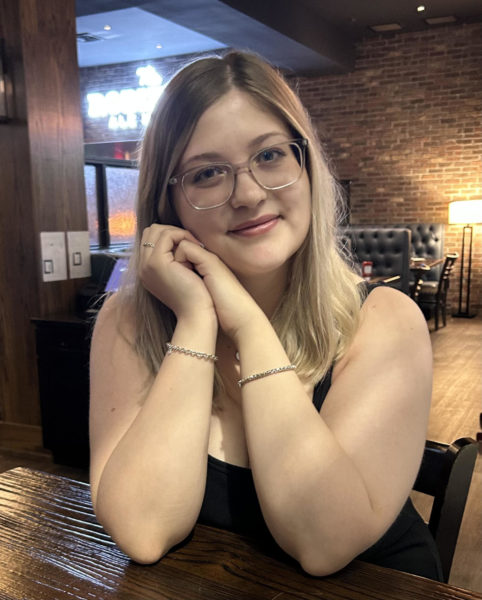 Kaitlyn Verde, Editor-in-Chief
Kaitlyn Verde is a senior at Hills. She joined the publication her freshman year as a staff writer and edited for the Arts & Entertainment and School News sections her sophomore and junior years, respectively. This year, Verde is excited to be the Trailblazer's Editor-in-Chief alongside Olivia Ge and report for the community with Hills Pride.

Fun fact: Verde enjoys reading in her free time, and her favorite book is "The Invisible Life of Addie LaRue."