On Tuesday night, the Pascack Valley Regional High School District Board of Education recognized staff achievements, listened to a score report presentation, and heard comments from the public. 
School Nurse Rose Welyczko was recognized and congratulated for her 25 years of service at Pascack Hills. Principal Tim Wieland reflected on Nurse Rose's accomplishments, stating she is a skillful nurse and counselor to all school members.
"Her knowledge when it comes to medical is unparalleled . . . her dedication to providing high-quality care to our students, their families, and our staff is exemplary," he said.
Superintendent Sarah Bilotti introduced newly tenured staff members by highlighting their accomplishments earned through hard work.
"Having served for four years, three years, or two years and one day, depending on your position at the Pascack Valley Regional High School District, each of you has earned tenure," she explained.
Newly tenured Hills staff members include Physical Education Teacher Dana Amato, Mathematics Teacher Kimberly Caminiti, Athletic Director and Supervisor of Physical Education Steven Papa, and Media Assistant Karoline Scheck.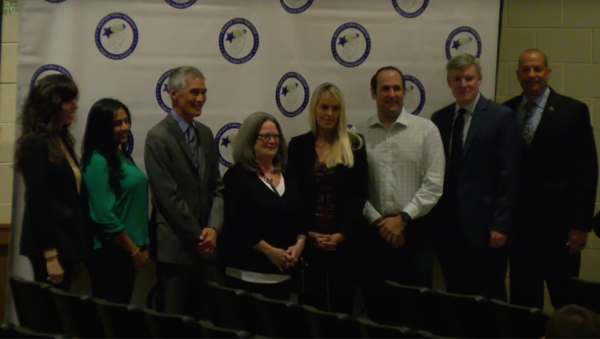 Principal Wieland also recognized the following newly hired staff members:
Julia Abahazy, Science/Physics Teacher 

Melissa Comitto, Spanish Teacher 

Kelly Dugan, Paraprofessional 1:1

Leslie Manfredonia, Paraprofessional 1:1

Michele Reale, Spanish Education ABA Life Skills Teacher 

Danielle Guertin, Speech/Language Specialist 

Angela Rossi, Art Teacher 

Carlos Salazar, Night Custodian 

Agostina Trass, Spanish Teacher 

Segundo Valderrama, Night Custodian

Tara Wholey, Part-Time School Nurse
BOE president Joseph Blundo acknowledged River Vale Country Club Men's Club, River Vale Country Club, Long Ball Golf Management, and fellow contributors for their help in raising $12,000 for Camp Raspberry.
"I am going to go out of order because I know what typically happens when recognition is over…but there is a presentation that we want to make…there was an event held by the River Vale Country Club and the River Vale Men's Golf Club which raised over $12,000 for Camp Raspberry," he said.
After the recognition, BOE representative Drew Varian presented the monthly student report for September. He discussed back-to-school night, new business classes, new clubs, spirit week, and athletic updates.
Supervisor of Special Services Tara Flannery presented the 2022-23 Dynamic Learning Map (DLM) Score Report Results. She discussed mathematics, English Language Arts (ELA), and science scores with charts for reference. 
I can echo that for Hills. It was really beautiful. I loved the enthusiasm and the teachers. It was just great.
— BOE member Debra Stephans
"All of our students, which I am extremely proud of, tested in the advanced level for ELA," she highlighted.
Questions were raised by board members concerning the girls' wrestling team within the Pascack Valley Regional District. Bilotti answered questions regarding full-time coaching, student interest, and regional team limitations. 
While discussing old business, BOE member Kristin Martin called attention to back-to-school night, claiming that it was a great experience. She congratulated the teachers who made it enjoyable. 
BOE member Debra Stephans reaffirmed Martin's claims.
"I can echo that for Hills. It was really beautiful. I loved the enthusiasm and the teachers. It was just great," she said.
The BOE opened to take comments from the public on non-agenda items. A Hillsdale councilman spoke about running for mayor. Additionally, River Vale resident Vita Becker discussed the possibility of homeschooled students participating in extracurricular activities within the district.
The BOE did not enter executive session after the meeting.