Boys' and Girls' Basketball Preview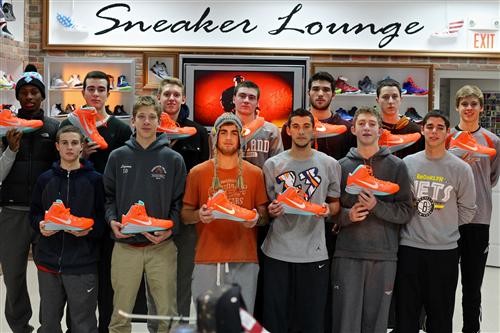 Boys Basketball:
When it comes to winning championships, the boy's basketball team has had the best reputation around school. They have won four straight sectional titles and have captured seven out of the last ten. This year's team sure hopes to add to the tally by completing the "5peat". After losing ten seniors, it is tough to re-establish leadership. However so far, this senior class featuring Zach Bernstein, Josh Soiro, Nick Bigos, and Tom Harris have been doing a great job leading a young and inexperienced varsity basketball team. Coach Kirby briefly talked about the differences between the team from last year and the team from this year: "This team is much different than last year's.  Last year's was not as talented as this year's, but they had played together for so long. This year's team is much younger, much more inexperienced, but has a lot of talent to be able to score.  The key will be our ability to play defense and rebound." For someone who has not been to a boy's basketball games yet, I highly advise you to attend, especially in our gym. The atmosphere in the gym on December 19th (opening night) will be electric due to the great dedication of the student body also known as the Cowboy Crazies. Coach Kirkby also said, "The fun and up-tempo style of basketball that we play is a thing to look out for. Another is how hard we play as a team.  With regards to players they should be excited to see, the group of 4 seniors will definitely provide leadership and having Zach Bernstein back as the high scorer from last year will definitely help.  Having a solid group of juniors, especially the backcourt mates of Evan Schumer and Evan Lazarus should complement Bernie's [Zach Bernstein] scoring and make us very dangerous." A goal for this year's team is to win the league title and win that elusive 5th straight sectional title: Kirkby's "team" goal and goal as a coach is to try to make this team better everyday and he hopes that if people see them play opening night on December 19th and then sees them play again at the end of the season they will leave saying, "Wow, that team has really improved and jelled as a team."
Girls Basketball:
The Girl's basketball team is still a force to be reckoned with. Although they graduated 1,000 rebounder Taylor Hendrick, they still have firepower in their line up. "The team graduated 5 seniors last season. 4 of the 5 made up the starting lineup for the past 3 years. This year, the team has rebuilt over the summer and has had to create new chemistry and learn how to play with each other. That's something we haven't needed to do for while. The team now has 4 seniors, 1 junior and the rest is comprised of underclassmen. This year we're all about defense and hustle" said senior forward Mackenzie Evans. The team's four seniors Brianna Cieszko, Mackenzie Evans, Jess Ashkinaze, and Alexa Schechter are trying to lead this year's cowgirls to their ultimate goal: a league and sectional title. Mackenzie also said about this year's team, "We're striving to improve everyday, working hard and having fun. I'm happy that we were able to come together over the summer and rebuild. We're looking forward to a great season but we're never satisfied. We'll have to work really hard to accomplish what we want to, it's not going to come easy. But we're ready to see how we match up with other teams in our league and excited for what's to come." The girls' home opener will be on Friday, January 2nd.
Leave a Comment