Papa's Presence at Pascack Hills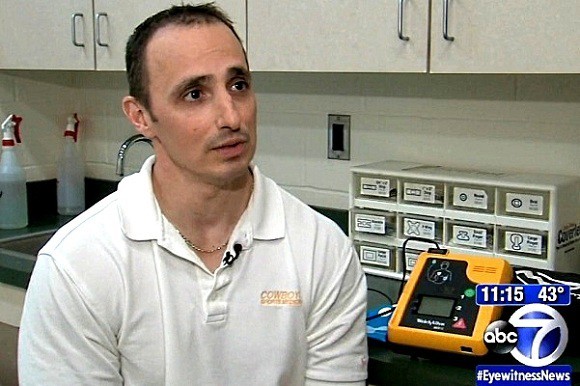 It is an issue every athlete must face when training and competing: injuries. Whether you are dealing with an inflamed knee or shin splints, something is bound to happen, resulting in a storm of tears and frustration. In the past, coaches at Hills were in a sticky situation. If only there was a heroic individual that worked at Hills that could help their athletes recover and prevent injuries…
Those were the immense difficulties that caused strife at Hills before Mr. Steven Papa set foot in our school. Day in and day out, Mr. Papa (or just "Papa", as they call him), works in his office to aid the students and teachers of PHHS. Recently, I had the pleasure of interviewing Mr. Steven Papa, our helpful physical trainer. Considering almost every student athlete throughout the school has been to Papa's at least once throughout his or her season, Papa's constant efforts and hard work make him the daily superhero for all of the coaches and athletes. After 13 years of Papa's dedication to this school, he was recently named Outstanding Educational Services Professional.
Papa realized he wanted to become an athletic trainer when he was in college. "I started off as a physical therapy major and realized I wanted to work with athletes instead," he says. "[I also] didn't want to be stuck inside of a clinic. That kind of swayed my mind and I was friendly with my physical trainer in high school, so I thought this was a nice way to go."
For many college-bound students, becoming an athletic trainer seems like a fun experience and good choice for their careers. Papa and the professionals make their jobs look easy; however, he had an important message to convey.
"Sometimes you do not always see all the things that I do, but there are a lot of things you have to know. Thank god that if something bad happens, you have to know what is happening, and when and how to treat it." Papa also said, "Study. That's the hardest thing. [Make sure you] study and be prepared to put in some long hours… hours are difficult."
Nevertheless, becoming an athletic trainer is definitely rewarding because of the immense help to athletes that it provides. As these individuals spend hours upon hours working their best to aid the school, this position is a fulfilling commitment to undertake.
A true sign of Papa's dedication to this job is how much time he spends working in his office. He says, "The hours are always a tough part. You do not always get to see the family as often as you'd like." Although the hours are difficult, Papa enjoys his days at Hills. Beginning the day at noon, he waltzes into the school, ready to fill out all of his paperwork from the day before. Our trustworthy athletic trainer is constantly filling out injury reports and rehab papers before the after school bell rings at 2:51 p.m. Papa describes the rest of his day filled with chaotic but normal events, saying, "I have to get the athletes ready for their games and practices… doing some therapy for those who need therapy, taping, …and then it's out watching a game. I'm always making sure no one gets hurt, or treating if anyone does get hurt. If I'm not at a game, I am usually helping with strength training in the weight room with those who enjoy to lift, teaching CPR, or helping/training my college interns who come to help me down in my office."
When the day is over, Papa returns home to his family, finally seeing his two daughters aged eight and 14, respectively. Although his days may be long, all of Papa's hard work is demonstrated throughout the success of the sporting programs at our school. Athletes and students of Pascack Hills are grateful to have someone like Papa here to assist the faculty in case of an emergency, as well as to prevent and treat injuries that plague almost all young competitors.
Leave a Comment