Dig Pink: Playing Big for a Cure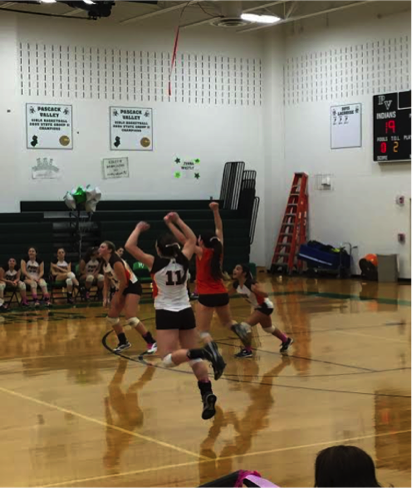 Perri Cochin, Arts and Entertainment Section Editor
November 5, 2015
The Side-Out Foundation's enormous October volleyball event known as Dig Pink occurred Thursday, October 29th at Pascack Valley High School. The Side Out Foundation was created to help bring together the game of Volleyball, the players and the coaches, to help raise money for Breast Cancer. Pascack Hills was victorious in the volleyball match over Pascack Valley in three sets, but the fundraiser was the ultimate winner.
Both schools were able to raise $9,400 from t-shirt sales, event tickets, and more for the Side-Out Foundation. The foundation uses these funds at renowned medical institutions for clinical trials. In addition, the money that is put towards these clinical trials will help save the lives of individuals with stage four breast cancer.
The Dig Pink Rally unites volleyball players throughout the nation in order to increase funds for breast cancer research. This illustrates how strong the power of teamwork has the ability to be, in addition to displaying support for those fighting their breast cancer battle.
Jamie Spelling, a senior libero, for Pascack Hills volleyball team said, "Our team knew this game was not about the points. For our coach and for the crowd, this game was about so much more: recognizing the people we've lost to cancer and raising money to better the cause. For that reason, we knew we had to win".
The JV and freshmen matches were at 4:00 p.m., and the varsity match was at 5:30 p.m. The first game of the varsity match was 25-22 Hills, the second game was 24-26 Valley, and the third game was 25-19 giving Pascack Hills to a victory.
Mrs. McDonald, the coach of the varsity volleyball team at Pascack Hills said, "I feel that the support from the student body and the staff was really good this year. We raised a lot of money selling t-shirts, and in the future, I hope more people come to the game". There was an abundance of incredible planning and preparation for the Dig Pink event, but Mrs. McDonald hopes that more people will actually attend the match in years ahead.
Every October, not only do students and volleyball await the return of Dig Pink, but community members do too. Ultimately, Dig Pink is an exciting event and encourages individuals to support breast cancer and contribute to the Side-Out Foundation in a unique way.