D One and Only, Sean Bannon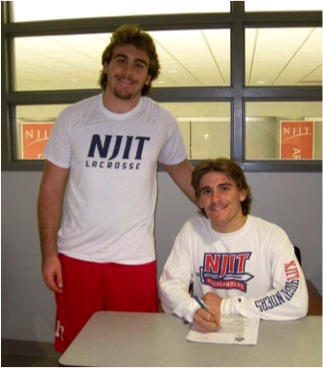 Tim Belden
December 8, 2015
After dominating the PHHS lacrosse program for two years together, the talented Bannon Brothers are reuniting to play Division 1 lacrosse next year. Hills's senior lax captain, Sean Bannon, signed with the New Jersey Institute of Technology (NJIT) Highlanders Division One lacrosse program this November.
Bannon, a dexterous defender, accepted NJIT's offer to continue his lacrosse career that began in sixth grade to a collegiate level. Bannon's older brother, Mark, has been a strong influence on him as a person and a player alike, so the option to play together again was a major factor in his decision. Mark was the first Hills lacrosse player to play D-1, and Sean is going to be the second. The two brothers were a dangerously skillful duo when they played together at Hills. Additionally, NJIT is one of the only technology schools with a good engineering and lacrosse program. NJIT was one of several schools offering Bannon to continue lacrosse, including many D-3 schools in Pennsylvania.
When Sean hung up his baseball cleats and decided to join his friends by playing lacrosse nearly six years ago, he instantly fell in love with the game. "When I'm on the field, I just want to have a great time. I'm out there running and playing with these kids and it's just a great experience. I don't know. Words can't describe it. I just love the feeling of being out there and playing," Bannon said.
Aside from being a key role in the lacrosse team's defense, Bannon is also an important leader. Sean ran cross-country this fall as a secondary sport, which has been part of his training for the past three years. As a leader, he pushed the underclassmen to reach their full potential and kept everyone motivated during the difficult runs and workouts. He's looking to carry this leadership role and help to the lacrosse team this spring.
Sean is currently the only captain named so far this year, and he was the only junior in Hills history to receive the impressive title last year. Bannon acknowledged that the team's goal this season is to win a league title. "We just really want to put a banner up in the gym. We always have great starts, so we need to start the season well, taking it game by game and taking it slow," Bannon pointed out. However, from a personal standpoint, Sean recognized he has big shoes to fill and knows how imperative his leadership is. "Personally, I want to focus more on being a leader. Rather than focusing on my own playing I want to make sure the team's in a good place. We lost a lot of strong seniors and senior leadership last year and I'm trying to make up for that."
Although the decision was finalized just a few weeks ago, Bannon verbally committed to NJIT last February. However, Sean said once his brother signed there in 2014, he knew that's where he wanted to go. "I knew I would play in college, but just not exactly where. NJIT was one of the only technology schools with "lax" and engineering. That was a big thing. Then ever since my brother went to NJIT, I knew that's where I wanted to play," Bannon said. The school scouted the Bannon brothers and watched them play on the same summer team a few years ago, and then they came to Pascack Hills to watch one of the games. Afterward, Sean went on an unofficial visit and met the coaches and toured the facilities while meeting chemical engineers and "lax" players.
Although it's not the end of the road for Sean Bannon's future in lacrosse, he's looking forward to leading the Hills team to a league championship before reuniting for two more years of success with the Bannon Brother's dynasty.